Both nations have to find ways to be sensitive to each other's politico-strategic and economic concerns, say Dr Rahul Mishra and Sana Hashmi.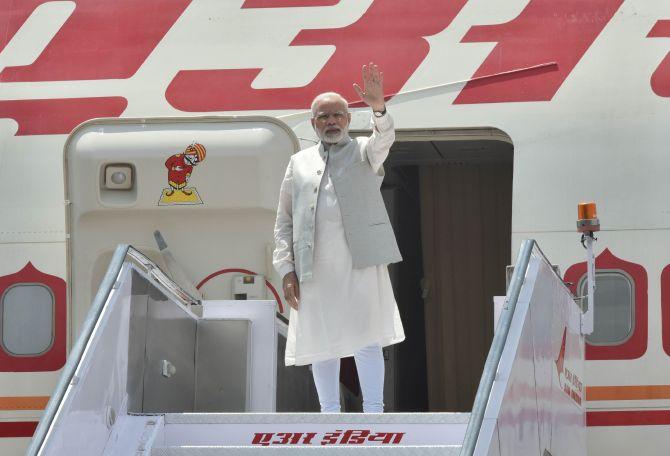 IMAGE: Soon after the expansion of the Union council of ministers, Prime Minister Narendra D Modi emplaned for China to attend the 9th BRICS Summit in Xiamen, China, September 3, 2017. Photograph: Press Information Bureau
One of the positive outcomes of the Doklam standoff is that there is now little doubt about the significance of BRICS for India and China.
With the ninth edition of the multilateral summit kicking off on Sunday, both nations have displayed maturity in resolving the Doklam issue.
India and China's success in containing the differences and rising jingoism over the boundary standoff, has not only demonstrated New Delhi and Beijing's astute diplomacy at a moment of crisis but also disproved the popular media perception, particularly Western, that BRICS cannot sustain the differences among its member countries, all of whom are aspiring to lead the regional and global order.
It has also signalled that China understands well that it alone cannot lead the five-nation grouping that includes Brazil, Russia, India, and South Africa, which are together home to ore than 40 percent of the world's population and who contribute roughly 20 percent of the global nominal Gross Domestic Product.
The ninth BRICS summit in Xiamen, Fujian, which will conclude on September 5, has numerous tests to pass before it can be termed a forward-moving, cohesive group that holds a bright future.
Together, the following five challenges are a litmus test for BRICS, and will shape the group's future.
One, terrorism has been the biggest menace to the modern world, and has infested almost all the countries.
Within BRICS, India and Russia have suffered the most at the hands of the terrorist and Islamic radical organisations.
Of late, China too has witnessed first-hand, the wrath of terrorists.
For Beijing, securing its supplies and human resources outside China has been of critical importance.
China is vulnerable to Pakistan's Lal Masjid-like episodes in the future.
Two, climate change has turned out to be another long-term challenge for the fast growing economies of BRICS.
This is particularly significant in view of the Trump administration's reluctance to join the climate change dialogue process, and China's expression of interest in leading the world in fighting climate change and global warming.
Three, tardy implementation of several proposals that were agreed upon in the past eight BRICS summits has led to delays in executing plans that have remarkable potential.
For instance, the Currency Resource Arrangement agreed in the 2016 Goa summit is a critical step still waiting to be taken.
Likewise, the proposal to have an independent BRICS credit rating system is another major initiative that needs to be expedited as it will help members counter the current system which is heavily dominated by Western countries and is arguably tilted against developing economies.
Four, rising disparities within BRICS pose a long-term challenge to the grouping.
For instance, China is the biggest trading partner of the other four members. However, the other four countries are not robustly linked with each other in terms of trade.
India, for one, has a trade volume worth $7.4 billion with Russia, $6.5 billion with Brazil, $9.36 billion with South Africa, which are insignificant in comparison to India's whopping $71.4 billion trade with China.
The other significant challenge for all members barring China is that all of them have a huge trade deficit with China; something they must think through to deal with.
Five, BRICS, which began as BRIC in 2009 before inducting South Africa in 2010, has been trying to reach out to other growing economies. In fact, there have been talks of forming a BRICS Plus, but that is still at the conception stage.
A few years ago, there was a debate over whether BRICS should turn into BRICSI with Indonesia adding 'I' to BRICS.
Nevertheless, BRICS has evolved as an outreach mechanism whereby the host country is allowed to invite a regional organisation of its choice, or countries of its choice.
At the 2016 Goa summit, India had invited the BIMSTEC countries -- Bhutan, Bangladesh, Myanmar, Nepal, Sri Lanka and Thailand.
This year, China has invited Guinea, Mexico, Egypt, Thailand and Tajikistan to participate in the meeting.
Clearly, while inviting countries, China has kept its massive infrastructure and connectivity project, One Belt, One Road, in mind.
Although, expanding BRICS or working on the outreach programme is a good idea, it must be ensured that cohesion within the group, and bonhomie among the five BRICS members, is of prime importance.
In this context, the pivotal relationship that has the potential to determine the fate of BRICS is the India-China dynamic.
Both nations have to find ways and means to understand each other in a more comprehensive manner, resolve outstanding differences, and be sensitive to each other's politico-strategic and economic concerns so that an incident like Doklam is not witnessed in the future.
Dr Rahul Mishra is a New Delhi-based strategic affairs expert. Sana Hashmi is a Delhi-based Sinologist and the author of China's Approach towards Territorial Disputes: Lessons and Prospects.