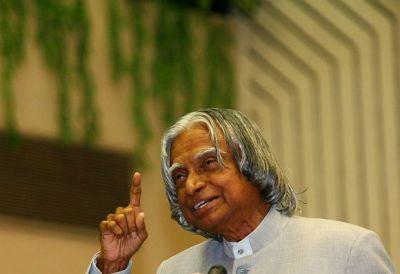 People like Dr Kalam teach us to dream and to chase our dreams. It is their humility that they wore on their sleeves that makes them truly great people. While we weep for a true Ratna that has left us on Monday, let us be happy that we lived in a period when he was alive and with us, says Rediff.com reader M C Sujil Bose.
"Dreams are not what you see in sleep, but what doesn't let you sleep"
People like me grew up reading stories about how Pandit Jawaharlal Nehru, India's first prime minister enjoyed being with children and how November 14, his birthday, came to be commemorated as the children's day. But with more and more classified documents seeing the light of the day, Nehru's image as the maker of modern India is getting under the scanner as days go by. But in a certain conventional sense, yes he was a role model. He was a great orator and a handsome Indian who with his charismatic presence and affluent English soon rose into a higher stature as an international statesman who even defined the non-aligned movement which was India's foreign policy since Independence.
Thus, after Mahatma Gandhi and Nehru, my generation never had a role model. Gods entered our lives because hopes went out and there was none to look upon as a guarding angel. There was no last man standing to truly stand guard while we slept.
There was no man we would be proud of until the cricketers arrived in the 1970s. There was a Sunil Gavaskar with his hunger for runs made teams across the seas respect him and we saw us being respected in the process. When India won the cricket world cup in 1983, a billion lives danced and started to believe that we can do it. The impact of that win resonated in every Indian mindset and reflected in the growth of the Indian confidence and self esteem.
When Gavaskar hung up his boots, the pint-sized Sachin Ramesh Tendulkar arrived with a bat which weighed almost his own weight. He thrashed every bowler in sight and every country he went to laid the red carpet for him. When a Shane Warne said he had nightmares of Sachin hitting him for sixes and when Mathew Hayden almost beatified him saying he saw god batting at No.4 for India, it was a nation being respected. When Tendulkar after every landmark achievement looked up and thanked the almighty, we thanked almighty for giving us such a delight and a pride to look upon.
We didn't have anyone else till one man came along. He was A P J Abdul Kalam.
I have to say we seem to have had more role models in India before independence than after it. Those who fought for it, inspiring a generation and taking on the mighty British, either were sidelined or simply got drunk in the heady concoction that came with power. They were the new lords who now ruled over their subjects. In government offices, in history books, in speeches, the ruling apparatus ensured that the venerable deeds of the political masters led by Nehru were lavished with the most ornamental descriptions, that we were forced to worship them alongside our gods.
For some time, they were our role models.
What makes a person a great man? Let us consider these eight values as milestones of qualifications that make a man great; He should be a gentleman, He will be direct in his dealings, will always be faithful to his convictions, will have the highest form of integrity in his actions, honest to the core and conscience, is mature in the way he conducts his life, is confident of himself and has an infectious positive attitude that helps him inspire the people around him. If these qualities make a man great then I see only one man who had them all in recent times. Sadly he is not with us anymore. He has left us yesterday with fond memories and with a lasting legacy built on sound values.
He came to be known as the people's President.
Great people are not made; they are born, so they say. Here was a man who rose from a pitiably low background to become the first citizen of the world's largest democratic republic. When a billion plus Indians take pride in their President, it is no mean achievement. Here was a man who didn't rise up the ladder from the ward committee to the state level and then to the national level. Here was a man who built and armed India with a strong modern weaponry system.
Here was a true blood rocket scientist whose innovations and intense research made Indian space environment competitive, that barely a month ago, we could send five foreign satellites into orbit riding pillion on our own indigenously made space vehicles. Here was a man who loved the environment, the people around. Here was an Indian President who opened the doors of the Rashtrapati Bhavan to the common man, made a portion of it into a museum and invited men of letters and young minds to chat with him. While he left indelible memories of those interactions in those minds who visited him, he learned from his guests, the nuances of how his people thought and lived.
Being a man who loved peace and perhaps the most humble President India ever had, I am sure he never wanted India to build a nuclear arsenal to attack others. He knew that India with its growing economic might would be a sitting duck if not armed with a nuclear deterrent. He knew India had to be a nuclear power to earn the respect of the bulldozing West.
If reports are to be believed, the crack team under Dr Kalam went through various unmarked routes under various disguises to reach the test site to circumvent the American satellites that can even capture the dial of a watch on the ground. Such was the tactical move by the team under the Indian apparatus under Dr Kalam.
He was a man who didn't hide his faith to appease others. Instead he chose to represent and interpret his faith to the people around by his own conduct and character. He didn't ask the tenets of Quran to be hung all over the presidential abode nor did he give preference to the scholars of his faith. His idea of faith was to make people owe allegiance to his country. For him, the nation came first before anything else.
People like Dr Kalam and Sachin Tendulkar teach us to dream and to chase our dreams. More than the thrones they sat on, it is their humility that they wore on their sleeves that makes them truly great people. While we weep for a true Ratna that has left us on Monday, let us be happy that we lived in a period when he was alive and with us.
Thank you Dr Kalam, for inspiring us, for teaching us how to be humble, for being with us, for being one of us.