'I hope he will continue to be what he is. And by doing so, he won't be much different from those whose example he is being given right now,' says Utkarsh Mishra.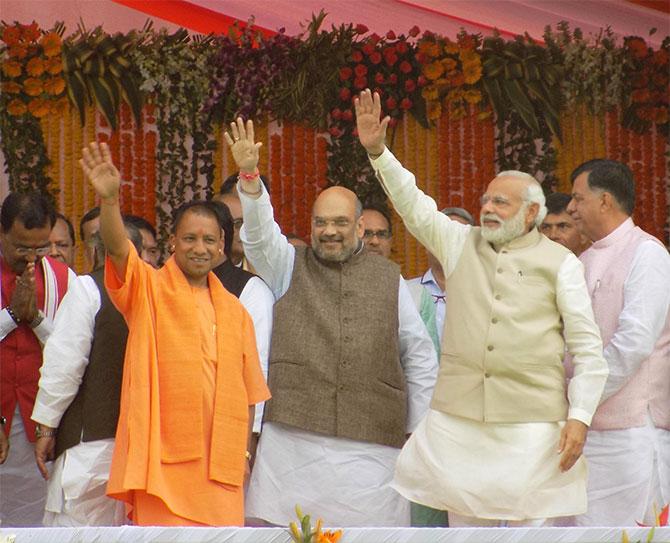 Like it happened during the United States presidential election and the Brexit poll in Britain last year, the section referred to as liberals was once again proved wrong on Saturday afternoon.
They thought Yogi Adityanath, the firebrand MP of Gorakhpur who doesn't shy away from making 'controversial' statements, would never be elected chief minister of Uttar Pradesh, especially after the Bharatiya Janata Party won such a massive mandate in the state, in which it was said a substantial amount were Muslim votes.
But it happened, defying all odds and expectations. And, once again, outrage followed.
Two very famous journalists quoted their 'sources as saying' that they voted for the BJP, but if they knew that Yogi would be the UP CM, they wouldn't have done so.
Well, if those journalists were honest to their profession, they should have asked those 'BJP voters' a follow-up: Had Yogi Adityanath been the BJP's CM candidate, whom would they have voted for?
Akhilesh Yadav or Mayawati? Can either politician be called 'secular'?
And when was India secular in the true sense of the word?
Go back to September 2013. When Narendra Modi was named the BJP's prime ministerial face, there was similar outrage. The Janata Dal-United, the BJP's ally for 17 years, snapped ties with the saffron fold protesting this move.
Why was a section so against Modi's candidature despite him getting a 'clean chit' from the Supreme Court over the 2002 riots issue just days before his elevation as the PM candidate?
Maybe because he took out a 'Gaurav Yatra,' or Procession of Pride, soon after the 2002 riots; maybe because he mocked the then chief election commissioner J M Lyngdoh for not allowing early polls in Gujarat, referring to him by his full name, James Michael Lyngdoh, again and again, to make a point about 'who' he was.
Perhaps the JD-U had a problem with that, but the majority of India had long forgotten it. Modi won a thumping majority and continues to do so. Now he has become a 'sabka saath, sabka vikas' man.
People say they didn't expect Modi to let a person like Adityanath become UP CM.
But there was a time when Modi was seen as an Adityanath-like figure, and the 'sabka saath, sabka vikas' man was Atal Bihari Vajpayee, famously advising the then Gujarat CM to follow 'raj dharma' after the 2002 riots in Gujarat.
Go back further in time to December 5, 1992 and see the same Vajpayee reportedly asking a crowd in Lucknow to 'level the ground' (external link) at the 'Ram Janmabhoomi.'
The Babri Masjid was demolished the next day, and the then PM P V Narasimha Rao hesitated to take any action to prevent it. Why? Perhaps he knew that it would afflict only a small section of people.
Rao had to confront this crisis only because his predecessor from the Congress, Jawaharlal Nehru's grandson Rajiv Gandhi, ordered the opening of the locks at the Ram temple even when the matter was sub judice.
With this move, Rajiv aimed to calm down hardline Hindus unhappy at his decision to overturn the Shah Bano verdict.
The same Rajiv had replied to the brutal massacre of Sikhs in the aftermath of his mother Indira Gandhi's assassination with his infamous 'When a big tree falls...' remark.
How different is it from Modi's 2002 'Gaurav Yatra'?
Indira Gandhi was assassinated because radical Sikhs, whose ambition her Congress party once fanned to oppose the Akalis, had turned into a Frankenstein's monster.
Keep going back in time to find a secular India.
Perhaps, when you arrive at the Nehruvian era, you may be able to say that India gave a mandate to a truly secular leader.
But the same India opposed the reformist Hindu Code Bill Introduced by Nehru and Dr B R Ambedkar. Dr Ambedkar, then India's law minister, was not allowed to speak in Parliament. Anguished and dismayed, he resigned.
Where do you find a secular India?
What did the Communist government in Bengal do to migrant Bangladeshis?
How did the 'messiah of Muslims' Mulayam Singh Yadav's party responded to the Muzaffarnagar riots in 2013?
Why single out Adityanath or Modi then?
The liberals asked Modi to be like Vajpayee. Now, they ask Adityanath to be like Modi!
I hope it ends here. I hope Yogi Adityanath will not let such people forget everything.
He should not let them use himself as an 'example' for his successors.
I hope he will not euphemise himself after securing office as others from his party did.
I hope he will continue to be what he is. And doing so, he won't be much different from those whose example he is being given right now.
Better still, he will not be putting on a façade like they did.
DON'T MISS the columns in the RELATED LINKS below...
IMAGE: Uttar Pradesh Chief Minister Yogi Adityanath, Bharatiya Janata Party President Amit Shah, Prime Minister Narendra Modi at the swearing-in ceremony in Lucknow, March 19, 2017. Photograph: Sandeep Pal