'As an idea, cleaning up India is a good one,' says Mitali Saran.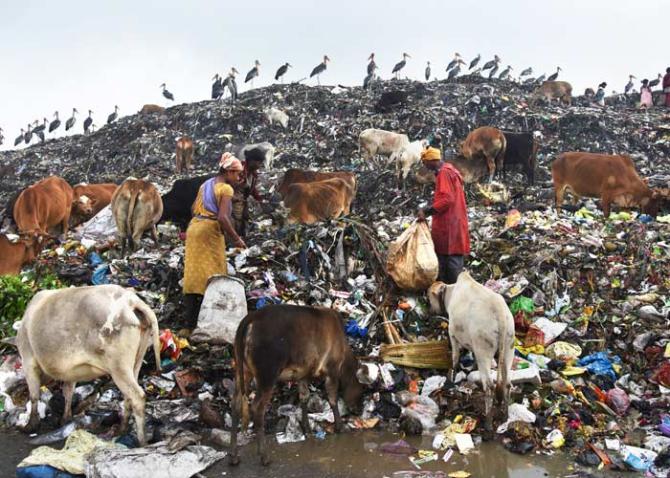 India is obsessed with pollution.
Caste is a pyramid of purity defended so fiercely that 'cleaner' people higher up quite often beat up, or murder, the 'dirtier' ones for, say, drinking from the same well, or growing a moustache, or using the same wedding procession route through a village.
You no longer hear the bells that the polluted once had to ring while walking, to warn the pure of their presence, but the pure know they are still around, and they still keep them at arm's length.
Many won't have them in their offices.
Many discriminate against them in the classroom.
Many will kill their own children for romancing them.
By the laws of injustice that seem to plague most societies in the world, the 'pure' are vastly outnumbered, but control both power and purse strings.
Naturally, they conduct endless purification rituals.
Cleanliness is serious business, and it's important to keep the filthies feeling bad about themselves, because if they suddenly said 'Says who?' and stopped playing by the rules, all would be lost.
(Today, of course, a growing list of people are seen as pollutants -- minorities, Communists, dissenters, and liberals -- but that's a different story.)
It is interesting, in the sense of mad as a bag of frogs, that a power structure so revulsed by one kind of pollution should be so utterly unmoved by pollution of other kinds.
How can we be this finicky about caste, but this oblivious of our grotty conditions, knee-deep in garbage, filth, and squalor, breathing poisoned air, drinking poisoned water, eating contaminated food, and attacking green cover in the name of development?
We are surrounded and immersed in real adulteration, degradation, contamination, decrepitude, waste, and extinction, yet the only thing that really gets people's blood moving is imagined deficiencies in other human beings.
If there is one BJP government idea I can get behind, it is Swachh Bharat.
It's another matter that the programme is failing in many respects and that it is more bluster and advertising than substance and delivery.
Photos of powerful people wielding brooms on pre-cleaned roads are risible.
You can't get people to use toilets that don't work, even if you get them to take to toilets in the first place.
Still, as an idea, cleaning up India is a good one.
But even Swachh Bharat is meaningless unless it is put in the context of a renewed commitment to preserving and enhancing our natural heritage.
It's hard to believe in Swachh Bharat when, at the same time, the environment ministry has been turned into a facilitator for business rather than a desperately needed protector of our environment (and consequently our health and rights), and the agencies set up to monitor food and pharmaceutical quality and delivery are unable to safeguard us from spurious medicine and poor nutrition.
We suffer not only from a degradation of our environment, but from a degradation in our standards and ambition for quality of life, associating quality of life with material prosperity at the cost of clean air, water, and public spaces.
It takes us further away from meaningful development.
The fact is that citizens, businesses, and governments have to cooperate closely to help rescue the environment and get the clean-up job done.
It is up to businesses not to produce crappy products and food and to manage the pollution and effluents they produce.
It is incumbent on the administration to provide infrastructure like garbage bins and dumps, regular pickups, and safe disposal, and to make environmentally friendly policy.
It is up to citizens to help maintain a cleaner system by minimising and recycling waste, and getting rid of it in designated spots rather than flinging it out of the car window on the road.
Some adults who give a toss, so to speak, do organise themselves to pick up litter, and to keep neighbourhoods clean.
It's both heartening and shameful that children are advocating for themselves, demanding fewer crackers on Diwali (and being shouted down by idiotic arguments about how the Hindu way of life is in danger) and trying to protect trees (and being told that they're getting in the way of development).
There are campaigns to spend a few hours picking up waste from streets and beaches and hillsides. But individual hands can only do so much.
The massive amount to garbage in most cities and towns and along highways, requires industrial scale tools and handling.
The more we alienate ourselves from nature, railroading it with badly planned and executed 'development', the more we come to view miles of road festooned with rotting heaps of garbage and thoughtless waste disposal, and a low quality of life, as normal and acceptable.
And all the while we disrespect our own humanity by treating people as pollutants.