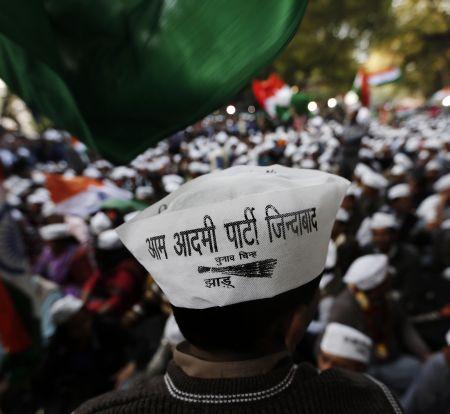 Could the Arvind Kejriwal-led AAP become the rallying point of new energies that are getting unleashed all over urban India, in quest for a different kind of politics, to such an extent that he can rein in Narendra Modi? It all depends on how it pans out its politics in the coming weeks, says Neerja Chowdhury.
If there is one question engaging many in the wake of the four assembly elections verdict in the Hindi heartland, it is this: Can the Aam Admi Party, which has taken Delhi by storm and electrified many across the country, checkmate Narendra Modi in 2014?
Theoretically, the answer is a yes. Practically, it depends on how politics pans out in the coming weeks.
Certainly the AAP is changing the way politics has been conducted, and the Delhi elections have opened up the political scene as it has existed for several decades, segmented along caste and community lines particularly since the Mandal era.
The AAP has altered the rules of the game to such an extent that the BJP, which is only four seats short of forming a government in Delhi, is not getting into the game of "jod-tod" (horse-trading) that political parties normally indulge in.
In the past, whenever there has been a hung assembly, mainline parties have immediately got into the act of "persuading" the newly elected MLAs to cast their lot with them so as to "facilitate" a government. This has been even more endemic in smaller states, be it Goa or Jharkhand or Uttarakhand or others.
The AAP effect compelled the BJP to declare the clean- imaged Harsh Varadhan as its chief ministerial candidate in Delhi. Also, the saffron party's decision to go in for 70 separate manifestos in 70 constituencies of Delhi, was a leaf taken out of AAP's book. And now, the BJP is wary of breaking other parties to form a government in the national capital.
Unlike Rajasthan where there was a landslide for the BJP, or in Madhya Pradesh and Chhattisgarh, where it effectively trounced anti-incumbency, the AAP could rein in the BJP in Delhi. Had it not been for AAP, the BJP would have swept Delhi, its bastion for long, given the kind of anger that prevailed against the Congress.
AAP's appeal cut across caste, class, community lines. It struck a chord in middle class colonies as well as in the jhuggi jhopdi clusters, and its candidates won nine out of the 12 reserved seats.
Many had dismissed its prospects, given past experience with those in the NGO sector entering politics. Like the Lok Satta party of Jayaprakash Narayan, who had started out with similar dreams but was limited to a single seat in the Andhra Pradesh assembly.
Earlier, others had also tried this experiment but come a cropper. Even the Chhatra Yuva Sangharsh Vahini, the youth group of JP in the 1970s, whose aim was "total revolution", had worked intensively, mobilising the downtrodden in the Gaya region of Bihar. But they had lost badly when some of the Vahini members decided to contest assembly elections. People accepted -- and respected -- them as activists, but not as politicians.
Others had prophesised that the AAP would not be able to make a mark because without well-organised electoral machinery, down to the booth level, they would not be able to convert goodwill for them into votes.
Could AAP stop the Modi juggernaut at the national level?
Could Arvind Kejriwal become the rallying point of new energies that are getting unleashed all over urban India, in quest for a different kind of politics, to such an extent that he can rein in Modi?
Delhi is a microcosm of India. And the AAP success was not just about an individual called Arvind Kejriwal, who had the courage to break out from his mentor and tread on a path where others similarly placed, who had headed NGOs, had failed to get elected.
Nor does its success lie in the new organisation called the Aam Admi Party, emphasising the ordinary Indian, as opposed to the traditional politician who has become a dirty word, and AAP in many ways a manifestation of a revulsion against the white kurta-pajama figure.
Its unprecedented showing in Delhi stems from the current mood in large parts of India -- for a change, a new kind of politics, for fresh and credible faces to come into politics.
Arvind Kejriwal was right when he repeatedly said that it was "people's victory"; and that AAP was only an instrument. People did not need to be hauled out of their homes, or transported to the polling stations, or fed and watered, or be given liquor or saris to be persuaded to cast their vote. They came on their own, and AAP was one important reason why the voting percentage in Delhi went up by around 10 per cent this time.
Those who argue that AAP got an impetus in Delhi because the capital was its `karmabhoomi', its laboratory, where the Anna movement for greater political accountability took place, as a result of which Kejriwal decided to launch his party, have a point, but only to an extent.
For the mood that AAP tapped into, is not confined to Delhi alone, though this is yet to be tested.
Narendra Modi owes his emergence also to this mood in the country.
Theoretically speaking, the AAP could make a national showing for the ground is fertile for its emergence in many parts of India. Its leaders will undoubtedly have to move wisely, unitedly, humbly and strategically.
As of now -- and in a dynamic situation, its strategy is bound to evolve by the day -- it plans to pursue a four-pronged strategy. The AAP has its units already in 309 districts across the country, and there will be pressure from these units to field candidates from the Lok Sabha constituencies located in these districts. The AAP leadership is also planning to invite certain individuals and groups across the country to contest from areas where they have worked for years on people's issues, like Medha Patkar, using the "jharooo" symbol.
It also plans to appeal to "good" people in other parties, like Jaipal Reddy, to join hands with them.
And fourthly, it plans to up the ante against the mainline parties and politicians by taking on high-profile leaders like Rahul Gandhi, Arun Jaitly. Manish Sisodia announced this at the AAP victory rally. Earlier Kumar Vishwas had challenged Jaitley to face AAP. These moves will give the party an impetus and a higher profile nationally.
The catchment area of the AAP is going to be the same as that of Modi-led BJP -- the Hindi heartland. The AAP is likely to have a better chance in the urban areas, even though its spokespersons call this a "myth".
The urban constituencies -- there are around 100 of them -- were expected to go the BJP way this time. AAP may have some chance in the metros of Delhi and Mumbai, but is unlikely to cut much ice in Chennai or Kolkata.
The same is true of BJP, given the hold of Mamata and Jayalalithaa in these states, but also because the BJP as a party does not have a presence in these states. But AAP could have a chance in places like Chandigarh, Gurgaon, Vizag, Meerut and many others.
Given the prevalent mood -- this may appear far fetched today -- but AAP could well win 40-50 Lok Sabha seats. But even in constituencies where it does not emerge victor -- it has only four months' time to mobilise and organise -- the "AAP effect" may end up helping the existing regional parties, where they are strong. To that extent, its effect could end up reducing the BJP's final tally. That would have its own fallout as far as Modi's prime ministership goes.
This is no doubt a tall order. For AAP is a fledgling organisation. The BJP is a well established party of six decades standing, and has the well-oiled cadre based organisation of the Rashtritya Swayamsevak Sangh behind it and has already swung into action to support Narendra Modi this time.
The BJP also has the advantage of a clear PM candidate, when the middle class is yearning for strong leadership, and Modi has generated a certain momentum.
And yet, India is changing at the ground level. What looked impossible yesterday is being made possible today. One thing is clear, and AAP leaders are clear about this: they have to go national and go for the jugular, or they will be limited to Delhi.
Image: Aam Aadmi Party supporters listen to their leader Arvind Kejriwal during a rally in New Delhi
Photograph: Anindito Mukherjee/Reuters