'The verdict will open up the floodgates for Pakistan to take the ICJ route on many issues in context of Jammu and Kashmir,' warns Rajeev Sharma.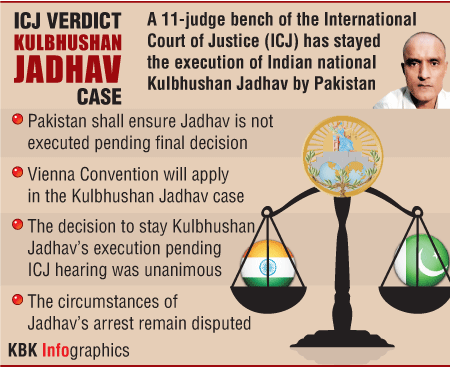 Celebrate India, now that the International Court of Justice's 11-judge bench unanimously ruled in India's favour in the Kulbhushan Jadhav case and directed Pakistan not to execute him till the ICJ's final verdict.
It also asked Pakistan to allow Indian consular access to the former naval commander.
The consular access is a breakthrough as it will not only bring before the world Jadhav's real story, but will also prove that he is alive.
But hold your horses folks. There is a flip side too.
In the ICJ verdict as such there is nothing for Pakistan.
And yet the verdict throws up several downsides for India which should keep Pakistan happy.
Here is how:
India approached the ICJ after 46 years which shows New Delhi has had a very low comfort quotient with the ICJ process.
Thursday's verdict over-ruled the India-Pakistan bilateral agreement of 2008 on consular access on spies and upheld India's arguments that denial of consular access to Jadhav despite 16 requests by India was in blatant violation of the Vienna Convention.
The downside is that Pakistan will use the same argument for its spies/terrorists and take the ICJ route.
India used this in a one-off case and that too when the person in distress (Jadhav) had been awarded a death sentence by a military court in closed door proceedings, something that happens rarely.
Pakistan has a huge army of spies and terrorists and Islamabad is bound to exploit it to the fullest for times to come.
India has seldom gone to international fora to seek relief and intervention from Pakistan.
India's stand has been that most of its disputes are bilateral and New Delhi doesn't favour third-party intervention.
This is particularly true about the Jammu and Kashmir issue.
The ICJ verdict in the Jadhav case will open up the floodgates for Pakistan to take the ICJ route on many issues in context of Jammu and Kashmir, even though India has told the ICJ categorically that its petition before the ICJ in the Jadhav case in no way impinges on Kashmir and other outstanding issues with Pakistan.
Nonetheless, the ICJ victory in the Jadhav case has been India's biggest diplomatic victory.
Eighteen years ago, Pakistan had moved the ICJ when India had shot down a Pakistani aircraft, but the ICJ had refused to admit Pakistan's petition. Thus, that case could be construed an Indian victory.
Some 46 years ago, Pakistan had handed out a diplomatic defeat of sorts to India when it successfully appealed against India's decision to denying overflight rights to Pakistan before an international aviation body.
The case had gone to the ICJ later, but by the time the matter became infructuous as Bangladesh had been born by then.
It is not often that India wins a diplomatic battle against Pakistan on an international platform. The ICJ judgment is a welcome victory in that context.
After the most frigid era in years, the two nations should now look for a turnaround.
Pakistan's initial positive reaction in the Jadhav case suggests that after the storm it is time for some quiet diplomacy which will be largely behind the scenes.
There is a strong possibility that Prime Minister Narendra Modi will have a photo-op with his Pakistani counterpart Nawaz Sharif on the sidelines of the Shanghai Cooperation Organisation in Astana, Kazakhstan, in the second week of June. This could lead to a more substantive meeting.
Rajeev Sharma, a strategic analyst, tweets @Kishkindha