'While military acts such as the Uri surgical strikes are one option, cultural, economic and diplomatic isolation should also be part of the arsenal,' argues Sankrant Sanu.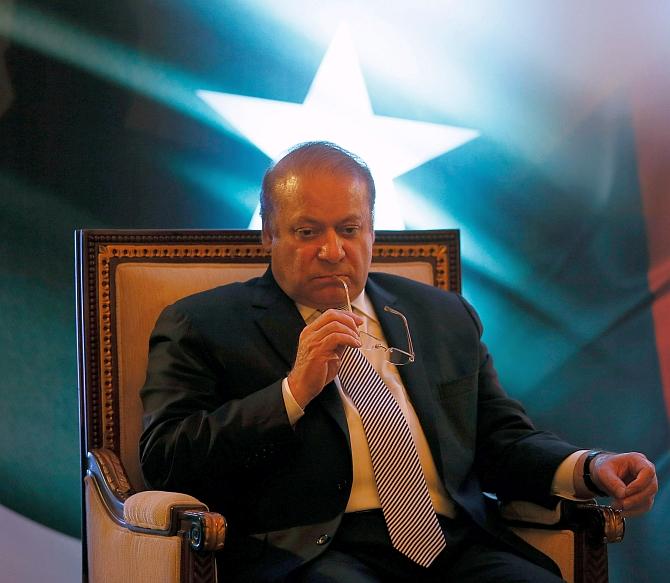 The ban on Pakistani artists by the Indian Motion Picture Producers Association and other film groups has evoked mixed reactions. There is, however, a precedent for using diplomatic and cultural isolation to put pressure on States to change their behaviour.
Pakistan's State sponsorship of terror has not only endangered its neighbours, leading to a boycott of the recent South Asian Association of Regional Cooperation summit in Islamabad, but also countries across the globe where terror acts trace to training in Pakistan.
Pakistan is a terror-exporting State. Isolation in the model used against South Africa for its apartheid practice in the past is a legitimate response.
As the recent terror attacks in Pathankot and Uri show, it is clear that the Pakistani establishment has little interest in abandoning its sponsorship of terror.
United Nations-designated terrorists like Hafiz Mohammed Saeed address big gatherings and have popular support across the border.
With increasing control of the media narrative by intelligence agencies in Pakistan, a large section of the populace there has also bought the establishment line that blaming Pakistan for its actions is part of a vast American-Jewish-Hindu conspiracy.
Thus, even as the terror Frankenstein's monster turns on its maker, as in the case of the horrid 2014 Peshawar school massacre or last week's attack in Quetta on a police training school, the Pakistani establishment narrative quickly blames India and its Research and Analysis Wing (India's external intelligence agency, RA&W). This stymies any introspection for course change within Pakistan.
Given that the unelected Pakistani army oligarchy exercises control over all aspects of society, from commerce to communication, and from the civilian government to foreign policy, the situation is not unlike that of States behind the Iron Curtain in the Cold War.
Lessons to counter Pakistan can be found in both the international response to the apartheid State of South Africa as well as the Western response to information-controlled Soviet-Communist regimes.
When a society is in such collective denial, and has no clear path to displace authoritarian control, international pressure has successfully worked as a catalyst for change.
Between 1960 and 1990, South Africa was subjected to a variety of sanctions aimed at causing it to end apartheid.
Catherine Barnes, writing in Conciliation Resources, documents its effects (external link): 'While other external and internal factors were decisive, it seems that sanctions had the effect of strengthening the position of those in the white community -- and crucially, in the business sector -- who recognised the need for reform. They were also likely to have been an important factor in building support for negotiations amongst a white electorate tired of international isolation and being treated as a pariah in the global community.'
Among the most effective sanctions were cultural sanctions.
As Barnes writes: 'Perhaps most innovative were the efforts to isolate South Africa socially and culturally that were instigated by civil society activists and then incorporated into the policies of sympathetic governments...'
'Cultural sanctions during the 1980s were endorsed by a UN resolution indicating foreign artists should not work with South Africa,' Barnes points out. 'These sanctions were, however, a voluntary code enforced through public pressure and championed by celebrities and some cultural institutions. White South African artists were effectively banned from touring the world and non-South Africans were ostracised for performing in South Africa.'
'Perhaps the most influential initiative was the 'sports boycott', she adds.
'Sports are a key interest in much of South Africa's white communities. So their exclusion from the international arena was more widely felt than the other academic, cultural and economic sanctions,' Barnes writes.
So, contrary to the pontifications of track II candle-lighters of 'keeping arts away from politics,' sanctions in the cultural arena have been effectively used to pressure sick States and create civil pressures for change and precluding outright war.
No amount of candle-lighting will get Pakistan to change its policies.
This is why, as analyst C Christine Fair has pointed out, the 'Aman Ki Asha' and 'Track II' initiative actually have the support of Pakistan's military.
The Pakistani establishment favours an India lulled into a false sense of peace and create a constituency that favours 'talks', while it coercively pressures India with terrorism and a thousand cuts.
After repeated failures of Pakistan's civilian leadership to exercise control over the faujis in security, terrorism and foreign policy, and with the army also now exercising direct judicial power, it is of little value to separate out the different parts of the Pakistani establishment.
The Pakistani establishment is de facto the military-jihadi security State.
Of course, no one would want war. But the peace constituency in India must see that we are already at war.
Pakistan is waging war using proxy fronts. Thus, India is already at war, not of its own choosing.
The Mumbai attacks of November 2008, which killed more than 160 people, were aimed at India's financial capital. The attacks conducted by the Pakistan's proxy Lakshar-e-Tayiba were monitored and facilitated by the Pakistani forces.
Thus, Pakistan cultivates the 'peace constituency' in India not because it is interested in stopping the waging of war, but because it wants the cost of this war to remain one-sided.
The question is not whether or not India goes to war, but how it responds to the war being waged.
To ensure that India does not respond to Pakistan's war, and suffers one-sided consequences, is the job of the peace constituency in India that Pakistan so proactively cultivates.
India does have a favourable trade balance with Pakistan, but its $2 billion worth of exports to Pakistan represents less than 1% (external link of its total exports.
Pakistan's exports to India stand at only about half a billion dollars, but they are still enough to make India a top-15 destination for Pakistan's exports.
Still, a trade embargo will not make a significant impact to Pakistan's economy unless India is able to get Pakistan's big trade partners, such as the United States on board.
Cultural exchanges with India, on the other hand, are far more significant for Pakistan.
India is a much bigger cultural market for Pakistani artists, its writers, musicians and film stars.
India is the big stage for Hindi/Urdu.
India has also been open and welcoming.
India is the big daddy in the most popular sport in the subcontinent, cricket.
Thus, a cultural and sports embargo led by India, and advocated by it first in the subcontinent (on the lines of the SAARC boycott) and then globally, will make a real impact.
India should also downgrade its diplomatic ties. With no visas to be issued between the nations, a much-reduced staff would suffice at the high commission.
There is, however, one kind of Pakistani scientist, artist or star who should be welcomed. These are star dissidents who would disavow the Pakistani State.
Adnan Sami and Tarek Fatah are good examples of this.
If India had a dissident sheltering policy, many top stars would defect to India using the Dubai or London route.
India should welcome dissidents who publicly reaffirm their roots in the pluralistic Indian civilisation and reject Pakistan's military-Islamist complex.
This strategy was used with success in the Cold War against the totalitarian Communist Iron Curtain countries and highlighted the failure of the closed totalitarian model.
Psychologically, Pakistanis have an umbilical civilisational chord to India and the freedom to accept Indian roots releases a knot in their psyche.
Getting multiple prominent personalities from Pakistan to defect to India would be a natural assertion of India's pluralistic civilisational ethos, though it may be opposed by a few narrow-thinking knee-jerk anti-Pakistanis in India.
Pakistan's policy of exporting terrorism, deliberately killing innocent civilians, conducting a proxy war and holding its own people hostage through force and propaganda does not need to be condoned any longer.
But to counter it needs creativity beyond the methods that have been tried to tame it for the last 70 years.
While military acts such as the Uri surgical strikes are one option, cultural, economic and diplomatic isolation should also be part of the arsenal.
India should work with the international community to designate Pakistan a terrorist State, but it does not need to wait for this to happen before making a significant impact.
Actions it can take unilaterally will make a significant difference.
The real peaceniks should support and welcome this initiative of the IMPPA and seek to extend it to all areas, not just films.
IMAGE: Pakistan Prime Minister Nawaz Sharif. Photograph: Dinuka Liyanawatte/Reuters