It is a timely reminder that when faced with twin threats, India has succeeded by wisely choosing allies, points out Colonel Anil A Athale (retd).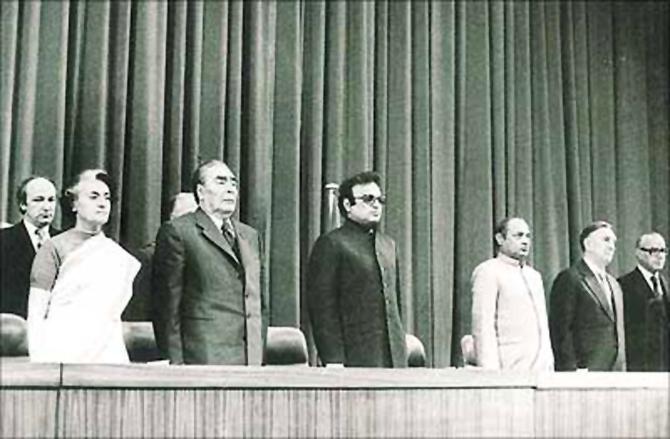 August 9 is etched in golden letters in history of India's freedom movement as the day when Mahatma Gandhi gave the call 'Quit India' to the British in 1942.
Twenty nine years later, on this very day, India signed a 'Peace and Friendship' treaty with the Soviet Union to lay the foundations of a glorious victory in the war for liberation of Bangladesh that took place three months later.
In 1971 as India faced an unacceptable refugee burden, it faced a dire situation. The US and Britain as well as China were on Pakistan's side in the upcoming conflict.
The only course open to India was to bring in the countervailing force of the Soviet Union on its side.
Shorn of the usual diplomatese, the India-USSR Peace and Friendship treaty ensured that Soviet military power was exercised to help India achieve its war aims.
The treaty signed in New Delhi by Sardar Swaran Singh and the redoubtable Andrei Gromyko of the Soviet Union -- the foreign ministers of their respective nations -- ensured that India checkmated possible Anglo-American and Chinese help to Pakistan.
It is well-known that when the Americans and British sent their navies into the Bay of Bengal (task force 74 and task force Eagle respectively) the Soviet navy confronted them.
Under Admiral V Kruglyakov, the Soviet navy deliberately let its nuclear submarines surface, to be picked up by American satellites, to threaten the American surface fleet.
The Soviets also organised a flotilla of cruisers and destroyers under task force 40 to help Admiral Kruglyakov's much smaller force.
Faced with these twin threats, the US and British task forces withdrew from the Bay of Bengal and could not interfere with Indian land operations in erstwhile East Pakistan now Bangladesh.
But in 1971, India also faced the threat to its land borders from China. In fact, Pakistan had pinned its hopes of a successful defence on Chinese intervention in its favour.
Many Pakistani communications of that period talk of 'our friends from the North coming to our help'.
To conduct successful operations against East and West Pakistan, India sorely needed to avoid a two front war situation.
Indian troops from the China border were needed in the west on the Pakistan border.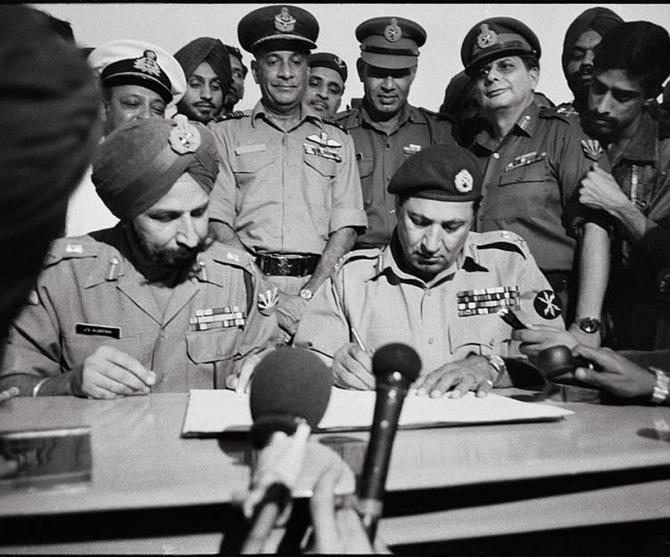 It is here that the Soviet Union came to our help.
Just two years earlier, in 1969, Soviet and Chinese soldiers had clashed near Damansky Island on the Ussuri river. Tensions between the Soviet Union and China had been building up since 1968 and China's planned aggression resulted in armed clashes in March 1969.
The clashes continued for over seven months and though the Soviets were initially taken by surprise, they later rallied and used devastating artillery bombardment with Grad BM-21 rockets to decimate Chinese positions on Damansky Island.
A ceasefire only came about in September 1969 when Soviet and Chinese leaders met at North Vietnamese lader Ho Chi Minh's funeral in Hanoi.
Vietnam played a mediatory role between the Communist giants as it was worried that a clash between the two would jeopardise its war against the Americans.
Against this background the Soviets saw an opportunity to limit Chinese influence by siding with India.
In place of the usual deployment of 3-4 divisions, the Soviets deployed 44 motorised divisions on the Sino-Soviet border, creating a land threat to China. This has been documented by the usually reliable International Institute of Strategic Studies in London.
It is this action by the Russians that stopped the Chinese from acting on the India-China border that facilitated India to thin troops there to be used against Pakistan.
The Indo-Soviet treaty can thus be said to have played a major role in our success in December 1971.
Luckily for us, the Sino-US alliance was still in a nascent stage and there was very little co-ordination between Anglo-American naval moves and Chinese moves on the land border.
Indira Gandhi played her diplomatic cards adroitly and had most NATO countries back India.
This pre-empted any NATO move against Soviet Union at that moment. A threat by NATO on its Western border could have hamstrung Soviet help to India.
Why then is this triumph of Indian diplomacy generally downplayed? The answer to this question is to be found in the juvenile attachment (almost like puppy love) of the New Delhi-based cabal to the defunct concept of 'Non Alignment'.
These worthies as late as 2012 were promoting 'Non Alignment 2.0' when the so-called non-alignment was dead as a dodo on August 9, 1971 when we became allies of the Soviet Union.
It is a timely reminder that when faced with twin threats, India has succeeded by wisely choosing allies. The recent moves on the Quad have to be seen in that light.
The enduring geopolitical fact is that irrespective of the current hobnobbing between China and Russia, geography and history dictates that these nations are likely to remain long term rivals or even enemies.
For without the resources of its eastern territories, which are coveted by the China, Russia will be reduced to being a middling European power and not a great power as it aspires to be under Vladmir Putin.
Military historian Colonel Anil A Athale (retd) is a former Chhatrapati Shivaji Chair Fellow at the United Services Institute of India.
Feature Presentation: Aslam Hunani/Rediff.com