The assembly election results on May 19 altered India's political landscape and with it dented Janata Dal-United leader Nitish Kumar's prime ministerial ambitions, says Devanik Saha.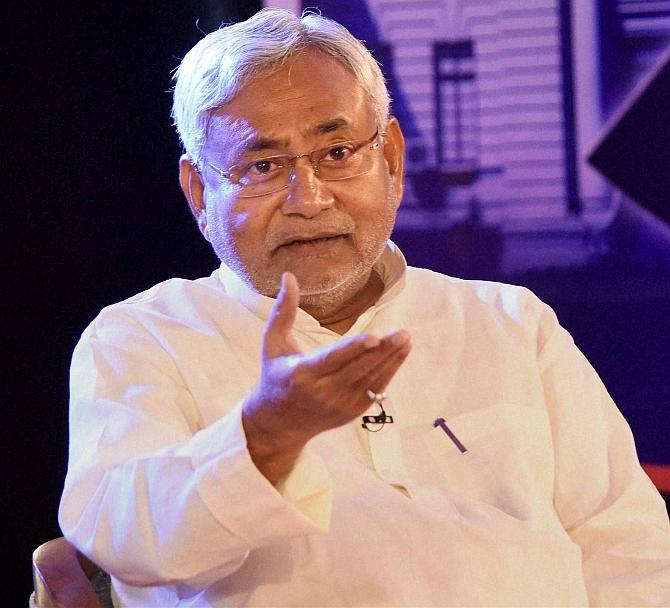 With three years remaining for the 2019 Lok Sabha polls, politicians having prime ministerial ambitions have started playing their cards.
The most notable name which has emerged is that of Bihar Chief Minister Nitish Kumar, who is fancying himself to challenge Modi in 2019.
Though he has not expressed his intentions explicitly, his recent actions are a clear pointer.
The Janata Dal-United's plans to contest the Uttar Pradesh elections, Kumar's call to build an anti-Bharatiya Janata Party front and a Rashtriya Swayamsevak Sangh-Mukt Bharat, and jibes and verbal attacks at the BJP are some of them.
The May 19 5-state assembly election results, however, have changed the equation completely.
By securing a second consecutive term in their respective states, Jayalalithaa and Mamata Banerjee have thrown the race wide open and severely dented Kumar's chances.
Let us analyse why.
No national presence
Nitish Kumar's far-fetched dream of taking the Janata Dal-United to Uttar Pradesh and fight polls is unlikely to have any major impact, given it is not a force to reckon with either nationally or even within that state.
By the most ambitious estimates, the JD-U would not be able to win more than 4-5 seats in UP -- thereby, not even within sniffing distance of challenging either the Congress or the BJP.
As far as Lok Sabha polls are concerned, the best performance by the JD-U has been 20 seats in 2004. Now compare that with the 34 seats won by Trinamool Congress and 37 seats by AIADMK in 2014 -- which essentially means that the TMC or the AIADMK would have more bargaining power in case of a coalition government or a third-front possibility.
Therefore, it is extremely unlikely that other regional politicians would agree to Kumar's candidature as prime minister and not their own.
Model of governance
In his Prime Ministerial quest, Modi marketed the Gujarat model -- rapid development, 24x7 electricity, renewable energy growth, industries vying to invest in Gujarat, etc -- which struck a chord with voters nationwide as they believed that he had the potential to develop India rapidly on the lines of Gujarat.
However, Nitish cannot do the same.
Despite all his achievements and making Bihar the fastest growing state in India, he cannot propagate the "Bihar model" as the state is still industrially backward and lacks behind many states in most economic and social indicators.
Even Jayalalithaa has an advantage over Nitish, as she can promote the "Tamil Nadu model", which is quite economically advanced and ranks well on social indicators as well.
Congress backing required
It is an unpleasant fact that nationally it will either be the Congress or the BJP which will always form the government -- unless the Aam Aadmi Party or any other regional party grows exponentially. Therefore, the possibility of a third front forming the government seems implausible.
The 1977 Janata Dal debacle is still fresh in many people's minds, and as for younger people, the information age has ensured that we get ourselves acquainted with the instability such a coalition can create.
However, given Congress president Sonia Gandhi's lifelong dream of making Rahul Gandhi the prime minister -- regardless of the Congress's rapid decline -- under no circumstances will she agree to Nitish over her son.
Apart from the electoral permutations and combinations, another big challenge which Kumar has to ward off is the allegation of the return of 'Jungle Raj' in Bihar post his alliance with Lalu Prasad Yadav's Rashtriya Janata Dal.
According to an analysis done by this author for IndiaSpend, the number of cognisable crimes have increased by 42 per cent in the past five years whereas the conviction has come down 68 per cent.
While it is too premature to proclaim 'Jungle Raj' is back, but as several media reports show, internally, Nitish is indeed worried over the rising crimes and has been working very hard with his team of officers in controlling it.
His problems are exacerbated by the fact that the BJP, through its super-active IT cell and media machinery, is pushing through this argument more vehemently.
Days before the recent assembly elections results were announced, television channels ran endless debates on whether or not 'Jungle Raj' was back. They highlighted heinous crimes which gave the BJP and their spokespersons the ammunition to fire at Nitish.
May 19 was a significant day, which altered India's political landscape and with it dented Nitish Kumar's prime ministerial ambitions.