The scandal surrounding Lalit Modi serves as a reminder for how similar our mainstream political parties are in resisting institutional reform.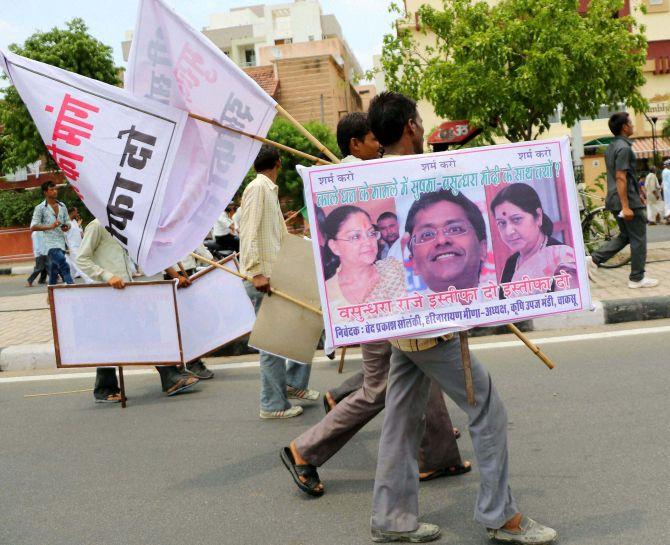 Congress workers take out a protest rally against Rajasthan Chief Minister Vasundhara Raje and Union Minister Sushma Swaraj over Lalit Modi controversy. Photograph: PTI
In precisely 10 days, a mildly sensational story about India's foreign minister coming to the aid of an Enforcement Directorate accused fugitive has snowballed into a grand action-filled apologue. At the centre of it is a James Bond like ringmaster sitting in faraway Montenegro, horsewhipping New Delhi's supreme powers like animals in a circus show.

If a fortnight ago one despised Lalit Modi's guts, today the chameleonic cricket czar is providing cathartic release. Rich boys don't usually open their mouths. But the former Indian Premier League supremo is a delightful loose cannon, whose tantalisingly explosive Twitter timeline threatens to imperil many a political fortune.

Lalitgate has now spiralled out of control. By design or circumstance, one can only guess. But Modi's motto is clear: If I go, you go down with me. From Rajiv Shukla to Arun Jaitley to Anurag Thakur, the man has been firing fresh salvos by the minute while dropping surreptitious hints about Swiss bank chiefs, income tax commissioners and hawala operators. He wants those on a witch hunt to know that they 'all live in glass houses', and has even 'advised' government officials who've taken bribes or favours from him or other businessmen to either set the record straight or face the music.

Conceivably, there is more to come. 'What's the hurry, picture abhi baki hai' (What's the hurry, the movie is only half done') he tweeted in reply to someone's plea for more information.

Ignore the swashbuckling bravado for a moment, and this unfolding murky saga is a sorry reminder of precisely the kind of deeply embedded politician-businessman nexus that characterised the United Progressive Alliance regime and which, despite vigorous claims by the finance minister of having disinherited, seems to be becoming the National Democratic Alliance government's continuing legacy.

One year into office, Narendra Modi's government is well and truly caught between a rock and a hard place. Use all might to exercise the extradition treaty with the United Kingdom, and it risks the prospect of having more damaging skeletons tumble out of its closet. It is unlikely, anyway, that a government not serious about bringing Vadra to book will extradite Lalit Modi. But defend its ministers (and by default, Lalit Modi) every evening on television, and it hazards a tragic loss of face to an electorate that gave the party a thumping mandate to govern.

Moreover, in weeks from now, as the monsoon sessions begins, the Opposition benches will go all guns blazing, accusing the Bharatiya Janata Party government of cronyism. Legislative reform agenda will take a firm backseat as the government firefights in Parliament.

Much of this gives one a bilious attack of déjà vu of the UPA days, when Parliament virtually came to a grinding halt as the BJP targeted the government of the day on a plethora of corruption charges. It also serves as a reminder to those that were carried away by the wave of so-called change that much has actually remained just the same. This regime, like successive ones before it, is far too deeply entrenched in nepotism and corruption to show any inclination for radical institutional reform, whether in sporting bodies, administrative services or campaign funding.

Prime Minister Modi, who is often accused these days of being a tardy incrementalist, may soon be charged with a far graver offence -- of being a UPA status quoist.