Mobile Internet, of course, helped Burhan Wani to spread his message. And some rumour-mongers at the inception of the current unrest spread falsehoods at least on two occasions, but why ban all mobile communication including cellular network and cable TV when deep-seated alienation among youth has shaped their ideology which is now playing out in the form of massive protests, asks Athar Parvaiz.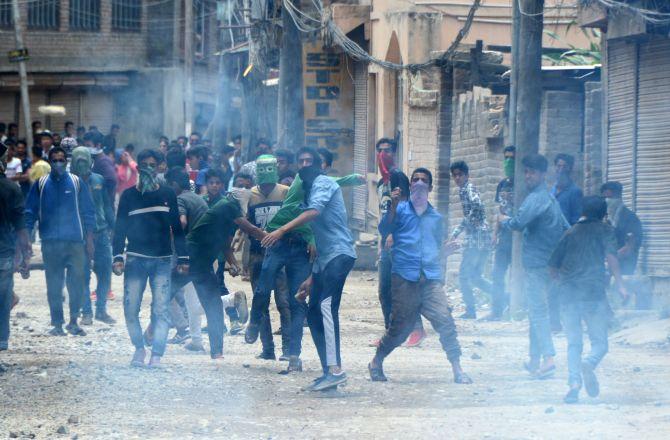 IMAGE: Protesters throw stones at the police during a protest against Burhan Wani's killing in Srinagar. Photograph: Umar Ganie
It has been a week since the killing of Hizbul Mujahideen's 'commander' Burhan Wani, but Kashmir continues to reel under the upheaval which has already claimed 40 lives apart from the reported 1,800 injured people, 135 among whom have received eye injuries.
Burhan had become a sensation among Kashmiri youth months after he chose to pick up arms in 2010 when he was just 15 years old. He had reportedly decided to take up arms so that he could get back at the Kashmir police's anti-insurgency wing personnel who had purportedly humiliated him and his brother while they were enjoying a motorcycle ride in their neighbourhood in the Tral township, south Kashmir.
Following his decision, and driven by his resolve for retaliation, he did not only stop at becoming an armed rebel himself, but also thought of persuading Kashmiri youth to join militant ranks or extend indirect support to the armed rebellion.
Spinning it out on Social Media
Two things helped him to make a strong connection with the youth of his age across Kashmir.
First, being a local lad, Burhan retained his original identity and second, his skills of using social media as he shot off attractive messages at regular intervals using Facebook, YouTube and Whatsapp.
Audiences, especially youth, started lapping up his videos which earned him thousands of fans and sympathisers while some decided to join him as fellow rebels.
Many, including police officers in Kashmir, agree that his messages on YouTube and Facebook had a magical effect on the youth, especially those in south Kashmir where he came from.
'His messages on social media were quite appealing,' a police officer was quoted as saying in a news story.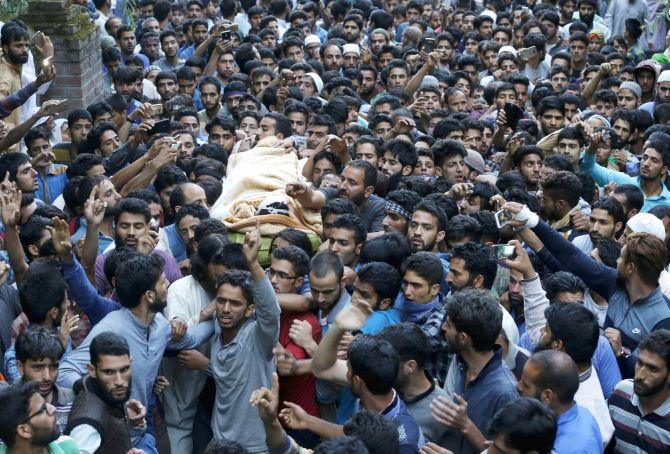 IMAGE: Burhan Wani's funeral procession in Tral. Photograph: Umar Ganie
The poster boy (as he is often referred to) of Kashmir's new age militancy, despite not directly involving himself in any armed encounter until his death, was able to woo youth who took arms training within Kashmir and outnumbered -- for the first time in 10 years -- the foreign militants (from across the Line of Control in Kashmir) as per the figures issued recently by the Jammu and Kashmir police.
Not only this, an extraordinary personality cult got created around him, with youth all across Kashmir raising slogans in his support during stone-pelting protests.
Social media earned him so much fame that most of the national media outlets carried stories about him. Only last month, a popular New Delhi-based television anchor conducted a special debate, 'The Kashmir diaries: Is social media the new weapon of war' (external link), asking the panellists to respond to how this lad had used social media so successfully.
Following his death, even liberal talking heads in New Delhi studios started marvelling at the popularity he had achieved.
A fair idea of his popularity was reflected by the sheer number of people who, despite strict restrictions in most parts of the Kashmir Valley, made it to his funeral. The funeral rites had to be performed around 50 times with all the people who kept pouring in wanting to pay their religious respects to Burhan.
Former Jammu and Kashmir chief minister Omar Abdullah, who is now the Leader of the Opposition in the state assembly, told a news television channel that there were 150,000 people at Burhan's funeral as per, he emphasised, modest estimates.
Many youth, as depicted in a photograph widely published by local media and news outlets outside, were jostling to touch his feet following his death, part of the enormous love and sympathy he had evoked through social media.
Social Media and Misinformation
As mourners took to the streets and pelted stones at the security forces in various areas of the Kashmir Valley to express their anger over his killing, the security situation has worsened with many youth falling to the bullets of security personnel and hundreds injured.
Amid this mayhem, a social media user sent out a tweet wherein he said that a mob had attacked a temple with stones as there were no security personnel around.
This post was re-tweeted several times, spreading panic among people, especially Kashmiri Hindus who live inside and outside the Kashmir Valley.
Interestingly, people shortly realised this bluff as the man claimed to have been trapped in a temple in Kakran village in Anantnag where mobile services had been withdrawn and there was no possibility of a broadband connection in the temple (Note: Broadband services are not withdrawn in the state).
'We believe that he tweeted from some other state with malicious intentions,' a police official was quoted as saying in a local newspaper.
Another social media user claimed in a Facebook post that two Kashmiri Hindus had been killed in an attack.
'According to sources two Pandits killed in Kashmir at some village... Many Hindu Houses Burnt... Internet Services Suspended,' he wrote on his Facebook page.
Later, the police registered a case against the man though he has apologised saying he was fed misinformation which he shared with his followers.
In January panic gripped thousands of households in Kashmir following messages spread on Whatsapp and Facebook that the polio drops administered to children in the region had expired.
These messages, which spread like wildfire across the length and breadth of Kashmir, urged parents to get their children examined immediately at nearby hospitals if they had taken the polio drops.
Hospitals were flooded with children and their panic-stricken parents while people made frantic calls to relatives in other villages in a bid to 'inform' them that they had to rush to hospital to examine their children. This situation led to utter chaos.
Not surprisingly, this rumour had a lot to do with the Kashmir conflict and the conspiracy theories which often get woven around it.
A youth, Parvaiz Ahmad, was found to have been involved in spreading the rumour and a case was registered against him.
Internet blockades
More often than not, the social media in Kashmir, which thrives massively on the mobile internet, comes to a juddering halt with the authorities withdrawing mobile internet facilities even when they merely suspect that protests are about to begin.
However, broadband connections, which are used by government offices and a negligible percentage of households, are not withdrawn. The authorities fear that mobile internet access facilitates mobilisation of protesters through social media. Human rights activists have always questioned the withdrawing of internet services, saying it is a violation of the people's right to information.
In a recent report, Freedom House, a United States-based research and advocacy NGO, said that people in Kashmir were denied access to the internet from 18 to 25 days between 2012 to early 2016.
If we add the ongoing internet blockade over the past six days, which is expected to remain in effect for at least two more days, Kashmiris have had not internet access for eight days at an average every year over the past four years.
Sometimes, like on Friday, even mobile phone services are completely blocked though the BSNL mobile phone network is spared. Reports from most areas in Srinagar said that cable television networks have also been withdrawn so that people don't get updates about protests across Kashmir following the Friday prayers.