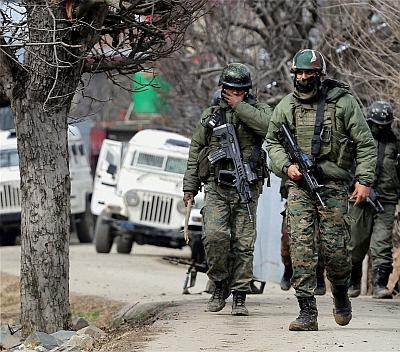 Sanjeev Nayyar suggests 16 measures by which we can tackle our unrelenting and untrustworthy neighbour.
In the recent Nagrota terror attack, seven army personnel were killed. Before that there was the Uri attack. Every time there is a terror attack people are upset, commentators debate in the media then things cool off till the next attack.
Narendra Modi was innovative when he invited the heads of SAARC countries for his swearing in in 2014. His visits to Saudi Arabia, UAE and US were attempts to cut support for Pakistan. Using an Independence Day speech to tacitly support Baluchistan caught most by surprise. The post Uri surgical strikes showed the government was willing to hit back. However, attacks on army continue unabated with casualties at 60 in 2016, amongst the highest in recent years.
So where has the National Democratic Alliance has gone wrong?
India's policy towards Pakistan has been inconsistent. One day, it talks tough and says Kashmiri separatists cannot meet the Pakistan High Commissioner only to change it later. It is perceived as an inability to hold your ground and a sign of weakness.
For the last 30 odd years India's response to Pakistan's sub-conventional war is a conventional one. Since May 2014 mindsets are changing but slowly.
India's response to terror attacks and ceasefire violations is a tit-for-tat military approach. She has not significantly hurt Pakistan and its army in any way.
Asking the world to isolate Pakistan has limitations because every country has its strategic interests to protect.
By repeatedly referring to Pakistan in public speeches India has given disproportionate importance to her neighbour. There is no better motivation for the votaries of jihad than to hear India's prime minister refer to them.
The nation-wide jingoism post Uri, including by some in the government, was as if India had won a 20-day war. Indians can boast of victory only when Pakistan is broken into independent countries like Baluchistan, Baltistan. Till then it is work-in-progress.
According to army veteran Prakash Katoch, "On November 25, Defence Minister Manohar Parrikar told a rally in Panaji, Goa, 'There is no doubt that the army is gallant, but for the first time, the country's political leadership took a strong policy decision. And after that too, we have given an appropriate response to other cowardly attacks. It was such a powerful response that some days back, finally they called us that please stop this we are pleading with you'." Can Indians stop bragging and boasting?
Stop treating the ministry of defence and the armed forces as 'holy cows'. Subject them to reform and constructive criticism.
How to deal with Pakistan is a question that has haunted every Indian prime minister? Here are some ideas:
1. India must have a coherent strategy and consistent approach.
2. Indians must accept that India will be in a state of perpetual war with Pakistan and China will support Pakistan infinitely.
3. Learning's from the pre-independence era must be reinforced.
In 1940 Dr B R Ambedkar wrote in Thoughts on Pakistan, "The Indian Army today is pre-dominantly Muslim in its composition. The Muslims who predominate are from Punjab and North West Frontier Province."
Learning 1: During British rule the army got entrenched in regions that constitute modern day Pakistan. Nothing can change that.
"After taking into account what the Muslims demanded at the Round Table Conference one would have thought that the limit of Muslim demands was reached and that 1932 was a final settlement. But it appears that even with this the Muslims are not satisfied. A further list of new demands for safeguarding the Muslim position seems to be ready".
Learning 2: Even if India were to concede to every Pakistani demand this sub-conventional war will continue.
In his presidential address at the 12th session of the Congress in 1896, R M Sayani said, "Before the advent of the British in India, the Muslims were the rulers of the country. The court language was their own. Every place of trust and responsibility, or carrying influence and high emoluments, was theirs by birthright."
Learning 3: Pakistan wants Muslims to rule India again.
4. Pakistanis have a good sense of history. India must note dates associated with Islamic rule in the sub-continent or losses for Pakistan. On those days there should extra vigil.
5. The government of India must take the following steps with regard to Pakistan:
Consider downgrading diplomatic relations by withdrawing the high commissioner.
Ignore it by requesting media and politicians to stop giving mind space and primetime.
Stop export of those items that contribute to the Pakistan economy for e.g. export of livestock and steel. The former would reduce beef exports from Pakistan that leapfrogged post 2005. Let China supply steel through the China Pakistan Economic Corridor.
Do what it takes to fully utilise India's share of waters under the Indus Water Treaty.
Stop the Samjauhta Express. Trains make smuggling easier.
Every attack has to be met with a retaliation at a time of India's choosing.
Devise a strategy to hurt and increase the cost for the Pakistani army.
Keep the window of communication open with the Sufis, Shias, scholars and members of civil society etc.
Keep Pakistan under pressure from east and west. Cultivate assets in Afghanistan.
Take action against Pakistan's assets in India and rebuild covert capability.
Be steadfast in our resolve to talk only after it stops exporting terror as an instrument of State policy.
6. Conduct a security audit of army installations in Jammu and Kashmir regions. Weaknesses should be plugged immediately.
7. Build walls around all units and garrisons in Jammu and Kashmir regions. It is expensive but needs to be done. Floodlights with generator backup is a must. Double gates at entrances with well located bunkers which can cover the gate by fire. Bypass bureaucratic delays implement now!
8.The infantry soldier's kit that has remained unchanged for decades, needs a drastic overhaul. He needs a modern assault rifle fitted with day and night weapon sights and accessory rails capable of fitting multiple sensors and a grenade launcher. A lightweight bulletproof combat helmet, lightweight bullet-proof jacket and durable combat boots. This should be done on mission-mode with inputs from soldiers on their specific requirements in field (OFB/ DRDO labs have negligible interaction with soldiers on the ground).
9. Create a 'Sadbhavana Trust' where families of battle casualties would receive, say Rs 3 lakh, contributed by ordinary citizens and corporate India. This will show the army that people of India truly care.
10. A border visit by Akshay Kumar is good but not enough. More celebrities must visit and boost troop morale.
11. Speak sparingly; let the guns talk as India's former high commissioner to Pakistan G Parthasarathy recently wrote. 'It is often forgotten that the Indian response to infiltration, between 2000 and 2003, was so devastating that in areas like Neelum River Valley life was regularly brought to a standstill. It was this policy that forced General Pervez Musharraf to ask for a ceasefire in November 2003.'
12. Army's Technical Support Division must be re-established since it was getting excellent trans-border information about terrorist infiltration.
13. The ministry of defence must also be manned by serving military professional either on deputation or on permanent absorption and vice versa. It will create appreciation for each other's contribution and improve relationships.
14. Unlike the Sittwe port in Myanmar where it is work in progress, India must get Chabahar port in Iran operational at the earliest. It is a gateway to Afghanistan and Central Asia.
15. Continue to aggressively pursue co-operation with other SAARC countries.
16. ISRO must create capability of 24 x 7 surveillance of borders.
The situation on the ground is dynamic and tools of response have to change within an overarching strategy.
Sanjeev Nayyar is an independent columnist. He tweets @sanjeev192