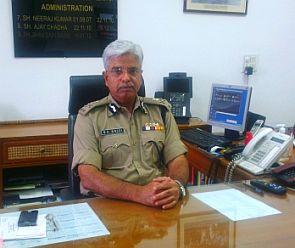 There is a great need to introduce a transparent process to select information commissioners, who are expected to oversee transparency, says former Central Information Commissioner Shailesh Gandhi.
Delhi Police Commissioner B S Bassi was almost certain to be made a Central Information Commissioner since he was to retire at the end of February. Considerable opposition from civil society has managed to stall this. Bassi is not perturbed since he could get some other reward for the service he rendered of not acting against the lawyers who resorted to hooliganism in the precincts of the Patiala House court.
This again raises the issue of the method or lack of it in appointing information commissioners and other such commissioners and Lok Ayuktas. Most of these positions are filled without any process and hence getting someone who performs his duty without fear or favour is not very common. Readers may wonder how I got selected, if I am critical of the process. This is the story:
In the first week of August 2008, Arvind Kejriwal learnt that the government had decided on the names of four persons whom they would appoint as Central Information Commissioners. These were Satyananda Mishra, M L Sharma, Annapurna Dixit and R B Sreekumar.
Kejriwal discussed with me that though we had been fighting for the appointment of good commissioners and transparency in the selection process we were not making any headway. He therefore suggested that we propose four names from civil society.
We got together a list of credible persons and Kejriwal arranged to get letters sent to the prime minister, L K Advani, then the Leader of the Opposition, and Prithvraj Chavan by some prominent civil society members recommending these on August 17.
On August 20, Chavan, then a central minister, asked for a meeting of the selection committee to be called on August 21 at 6 pm. The previous night, the four names were shown to L K Advani.
Advani strongly objected to Sreekumar's name since he had been a senior police officer in Gujarat at the time of the Godhra riots and had openly criticised Narendra Modi.
He said he would oppose Sreekumar's selection and casually said, 'Why not one of the names suggested by civil society in their letter?' The selection committee meeting was not held on August 21.
I did not know Chavan nor did he know me. Whether he made any checks about the other three members of our panel I do not know. As for me, he called up a business person in Mumbai and asked him what kind of person I was.
This person had never met me, but based on what he had read in the newspapers he said I would be a good choice. After this Chavan called me and asked if I would accept if I was selected as a Central Information Commissioner, and I said yes.
On August 27, a meeting was called and my name was put in R B Sreekumar's place.
Though there was no political patronage involved, there was no logical process and my selection was a random occurrence. There is a great need to introduce a transparent process to select the information commissioners, who are expected to oversee transparency.
There should be an insistence on public exposure for those who are interested in becoming information commissioners. Many information commissioners have no understanding or interest in transparency, or the Right to Information Act. This is an affliction which is true for many people in power.
A transparent process for selection would lead to a better environment for the RTI Act implementation. The Central Information Commissioners are selected as per the law by a committee consisting of the prime minister, the Leader of the Opposition and one minister. This committee has no time to understand and evaluate the applicants. Hence, the recommendations and shortlisting is generally done based on political and bureaucratic patronage.
The process I am suggesting is as follows:
1. The information commissions should set a target for disposal of cases -- over 5,000 per commissioner per year. Presently the annual disposal varies from 1,000 to 6,000, with most commissioners disposing around 2,000 to 3,000.
2. Every six months they should review the actual performance per commissioner and forecast the expected receipts and disposals for the next two years. This information should be displayed on their Web sites. This forecast would show the requirements for new commissioners to be appointed by taking into account the expected retirements.
3. The government should advertise its intention to appoint a certain number of information commissioners depending on the need, six months in advance. A detailed list of eligibility criteria should be made available giving essential and desirable qualifications. Eminent people could apply or be nominated by others.
4. A search committee perhaps consisting of two members of Parliament, one Supreme Court judge and two RTI activists could be formed to shortlist a panel which could be three times the number of commissioners to be selected. These could be announced with the minutes of the meeting at which the shortlisting was done.
5. An interview should be held by the search committee in public view, to give citizens and the media the opportunity to hear the views and commitment of the candidates. Citizens could give their feedback and views to the search committee.
After this the search committee could give its recommendation for two times the number of commissioners to be appointed.
Based on these inputs, the final decision to select the commissioners could be taken by the committee as per the Act consisting of the PM, LoP and one minister. (A similar process could be adopted for state commissions with MLAs instead of MPs and a high court judge instead of Supreme Court judge).
Presently most commissioners have no passion for their work which leads to their output and quality being seriously affected.
During 2011, six Central Information Commissioners disposed 22,351 cases, whereas in 2014 seven commissioners disposed only 16,006 cases.
The Maharashtra commission has set a target of 4,800 cases per year for each commissioner. Accountability must be the hallmark of the transparency commission's working.
Commissions must publish data on the performance of each commissioner monthly. At least half the information commissioners should be less than 60 years. There are many RTI activists who have gained considerable understanding of the nuances of the law, and have a natural empathy for transparency. Some of these should be appointed as information commissioners.
Another useful function which civil society groups could perform is to analyse all the decisions of each information commissioner each month continuously in a transparent manner.
This would build pressure on those who may be giving errant decisions. Presently individual decisions are randomly criticised and this does not give a picture of the overall trend of a commissioner's decisions.
If we can get a transparent process to select commissioners and put continuous pressure on them for accountability, we will get much better results from our cherished RTI Act.
If this works well, it could be used as a model for selecting commissioners for various commissions. The commissions are designed as our checks and balances of democracy. Presently most of them are not delivering their expected functions effectively.
We must ensure a proper process for their selection and vigilantly monitor their performance if we desire a better India.
IMAGE: Delhi Police Commissioner Bhim Sain Bassi was all set to be Central Information Commissioner after retirement, but the JNU and Patiala House court controversy stalled his appointment.