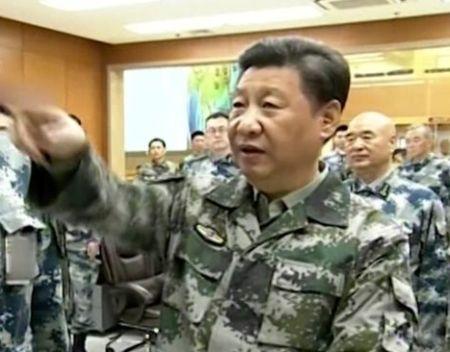 As China begins rejuvenation of its military power, there is an urgent need for transformation of the Indian military, says Lieutenant General Anil Chait (retd).
Throughout Chinese history, political power has always been founded on control of the military.
President Xi Jinping's appearance in battle dress, with insignia on April 19, highlights his more direct role in military affairs.
Xi, with the new title of commander-in-chief of the joint operations command centre on his collars, asked the officers to follow trends in military revolution.
He asked them to 'change their ideas, innovate and tackle difficulties, in a bid to build a joint battle command system, that was absolutely loyal, resourceful in fighting, efficient in commanding, courageous and capable of winning wars,' driven by information technology, Xinhua quoted Xi as saying.
Xi has overseen reorganisation of the People's Liberation Army's command structure into theatre commands aimed at better integrating of the different services. Coordination between services has traditionally been regarded as a weak point.
He also ordered a 300,000-person reduction in forces, balancing it with joint operations.
The notion of the 'Chinese Dream' by Xi, has been built around the 'rejuvenation' of the Chinese nation, with military power as an important component for its revival.
The strategy involving military campaign in the war zone is to be operationalised under the strategic guidance of a designated Central Military Commission member.
A series of synchronised battles/engagements under a unified command are expected to be fought for political capitulation of adversary, as the military end-state.
The PLA over a period of time has been transitioning itself, to undertake integrated joint operations across the services, through a networked 'system' which is flat, short and horizontal, besides being functional at all levels, across domains and depths at all times.
Are we prepared?
While the threat that India faces colloquially is referred as two fronts, but the envelope it covers is 360 degrees, considering the continental cum maritime context of India.
Lethality, in virtual cum physical plane involves physical, informational and cognitive domains.
Proactive doctrine against Pakistan and coping with China's conventional and asymmetric capability, demands joint integrated operations under structured and fast politico-military decision making ability with sophisticated crisis management procedures.
Scope also involves dealing with asymmetric hybrid threats, periodic transgressions extending to limited localised operations under a nuclear backdrop.
War fighting for meeting the above has to be based on the tenets of joint-ness employing all elements of power since the window for fighting is extremely small and control of escalation in a 360 degree battle space against a nuclear backdrop, a major challenge.
Needed reforms and higher directions of war
The central feature of modern warfare has to be the creation of desired 'effects' through joint application of calibrated efforts at the locus of engagement.
It simply cannot be achieved under the present higher decision making architecture which suffers from lack of continuity, temporary charge, short tenures, lack of exposure and lastly conflict of interest between the services.
We need urgent reforms in the form of a leader who as permanent chairman, Chiefs of Staffs Committee or Chief of Defence Staff and is made responsible and accountable, to coalesce activity of all, for unity of effort.
Success demands synergistic and synchronised application of power, across the designated battle space through crafting of strategy by one single strategic cum operational commander and not through an amalgam of distributed stovepipe efforts.
At the apex, interagency architectures under the National Security Advisor joint in nature, combines these means. However hard power in the form of military, continues to be disaggregated, especially when battle space is the very same for all stake holders.
Inability to vest appropriate authority under Integrated Defence Staff and absence of designated command and control structure for a joint military perspective, in the form of Chief of Defence Staff or permanent chairman, Chief of Staff Committee, is therefore a crying reform which is most needed.
This requires immediate implementation if we want to develop a joint vision which can initiate adaptive planning process.
Optimised contingency military planning and development of holistic capabilities 'in-sync' with the requirement will accrue under conditions of austerity in the process. This will be in step with the risk management process.
Joint-ness under such an authority will also ensure optimised force structures, acquisitions, joint training and logistics.
Such a structure, supported by regulations, inserted in the allocation/transaction of business rules will allow strategic military decision making process to evaluate options and choose the most cost effective one, instead of forcing the political decision makers for dealing with the only one recommended after in house compromises.
The need for reform is therefore urgent for transformation of the Indian military.
Only then can it punch above its weight for deterring threats, existential or those under formulation, proactively and aggressively, in sync with the doctrine.
Lieutenant General Anil Chait (retd) served as chief of the Integrated Defence Staff; he was also Central Army Commander.