'How can Kashmir be demilitarised if the terrorist threat remains and Pakistan continues to incite elements in Kashmir to keep the internal situation unstable?' asks former foreign secretary Kanwal Sibal.
Exclusive to Rediff.com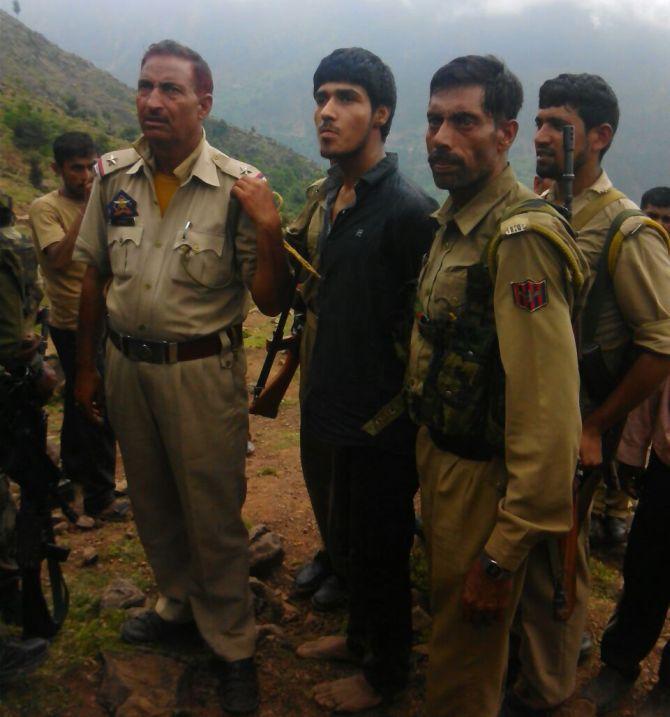 IMAGE: Mohammed Naved Yakub, a Pakistani terrorist from the Lashkar-e-Tayiba, who was captured after ambushing a Border Security Force convoy near Udhampur in August.
True to form, Pakistani Prime Minister Nawaz Sharif attacked India on Kashmir in his speech at the United Nations General Assembly session and forced India's External Affairs Minister Sushma Swaraj to respond.
Habitual critics of the government overlook the fact that it is Pakistan that provokes these exchanges, not India. We would rather not engage in these polemics with Pakistan at the UNGA or anywhere else.
Apologists of Pakistan in our country excuse its conduct on the ground that this is an annual ritual that all Pakistani leaders have to perform to satisfy public opinion at home and remind the international community that this outstanding issue awaits resolution.
By raising the issue at the UN and calling for self-determination in J&K, Pakistan violates the Simla Agreement, but we ignore this. In fact, we no longer hold Pakistan to that agreement, which is now buried under the numerous joint statements we have issued with Pakistan since then and has lost its centrality, with our complicity.
In his speech Nawaz Sharif talked about sufferings of Muslims across the world and provocatively referred to 'Palestinians and Kashmiris oppressed by foreign occupation.' This is vintage Pakistani policy to link the Kashmiri cause with that of the Palestinians to mobilise support from the Islamic world.
Muslims are suffering in Nawaz Sharif's own country more than they are in India. Muslims are killing Muslims in Pakistan because some are considered heretics. The Pakistan military is carrying on military operations with heavy weapons and air action against its own Muslims in the Pashtun areas.
It is Pakistan that is illegal occupying parts of Kashmir. Even the UN resolutions that are dear to Pakistan required it to vacate the areas it occupied by force. We have yielded ground to Pakistan to such an extent that only our J&K is now seen as 'disputed' territory.
Nawaz Sharif violated the UN resolutions by endorsing President Xi Jinping's provocative proposal of establishing the China-Pakistan Economic Corridor. Even the 1963 'border' agreement between Pakistan and China recognised that the sovereignty of the part of J&K under Pakistan's control remained to be settled. How can this project be therefore called the China-'Pakistan' corridor when it passes through territory that is not legally Pakistan's.
China is in fact now modifying the de jure position by calling it the 'China-Pakistan' corridor. PoK, which includes Gilgit/Baltistan, is now being doubly occupied -- by Pakistan and China, with Chinese People's Liberation Army construction units present on territory that is legally India's.
Nawaz Sharif wants this project -- a model of South-South cooperation as he calls it -- to be emulated. But he does not extend this logic to India-Pakistan relations. He will not normalise trade relations with India, nor give it transit rights through Pakistan to Afghanistan, and beyond that to Central Asia.
Pakistan chokes politically when it comes to an East-West corridor, which can be activated at little cost as rail and road linkages largely exist already.
If the history of South Asia is one of missed opportunities, as Nawaz Sharif says, whose fault is it?
It is Pakistan's obsession with Kashmir and its deep-seated hostility towards India that are responsible. Pakistan has also debilitated SAARC because of its differences with India.
How can development be his government's first priority when Pakistan resists a strong trade and investment relations with a country next door whose economic rise is attracting the world?
Yes, peace can be achieved through dialogue, not disengagement, as he rightly says. But how can peace be achieved if Pakistan continues to use the arm of terror against us and sustained dialogue and engagement is made politically impossible because of terrorism and Pakistan's ambitions in Kashmir?
Pakistan must change its conduct to make engagement a two-sided gain and not a platform for seeking one-sided concessions.
If the primacy and urgency of addressing the two issues of Kashmir and peace and security is even more compelling today, as he says, what is in his mind? If Pakistan's position is that there cannot be peace and security unless the Kashmir issue -- which is a 'national issue' for Pakistan -- is not resolved, then the only outcome is a stalemate.
Yes, consultations with the Kashmiris is an essential to evolving a peaceful solution, but how much consultation is Pakistan having with the people of the areas it is occupying?
If Pakistan cannot function as a proper democracy because of the power of the armed forces within the polity, what democratic consultation is Pakistan having with the Kashmiris under its control?
What Nawaz Sharif really meant was that Pakistan would continue to consult with the Hurriyat as the true representatives of the Kashmiris. We have yet to figure out who are the true representatives of the people of Kashmir in PoK/Gilgit/Baltistan whom India can consult.
If, as he says, he has reached out to India after he took over and believes that 'cooperation, not confrontation, should define our relationship,' what explains his repeated statements that Kashmir is Pakistan's jugular vein?
If that is so, the issue is geopolitical for Pakistan and has nothing to do with self-determination. If tomorrow, theoretically, the Kashmiris exercise their right to self-determination and decide to stay with India, will Kashmir then cease to be Pakistan's jugular vein, or will become more of it?
If today ceasefire violations along the Line of Control and the Working Boundary are intensifying, as he says, who is to blame?
India has no interest in provoking violence on the LoC as it does not serve our purpose. We are not infiltrating terrorists into Pakistan and we have nothing to gain from keeping the situation on the boil for domestic or international reasons, as is the case with Pakistan.
Wisdom, Nawaz Sharif says, dictates that India refrains from fomenting instability in Pakistan. This is an astonishing statement as the same wisdom did not dictate Pakistan to give up its three decade-long efforts to destabilise Kashmir and abet terrorism in India.
Nawaz Sharif's new peace initiative with India requires respecting the 2003 ceasefire on the LoC, which we should have no quarrel with. But he exposes the insincerity of the proposal by calling on UNMOGIP's expansion to monitor the observance of the ceasefire.
India does not recognise the mandate of the UNMOGIP as it does not cover the LoC defined by the two sides after 1972. Actually, the UMNOGIP mission needs to be wound up. Nawaz Sharif is taunting India. Incidentally, he never mentions the Simla Agreement in his statements.
That Pakistan and India should reaffirm that they will not resort to the use or the threat of use of force under any circumstances would make sense only if Pakistan definitively abjures terrorism against India.
Otherwise, such a proposal is a cover for continuing its double faced policy of using jihadi forces to make terrorist strikes against India while stoutly denying any official responsibility, as it has done in the case of the most recent Gurdaspur and Udhampur attacks.
The proposed agreement is intended to prevent any retaliatory strike by India while giving Pakistan room to persevere in its provocative acts through the so-called non-State actors.
How can Kashmir be demilitarised if the terrorist threat remains and Pakistan continues to incite elements in Kashmir to keep the internal situation unstable?
The religious radicalisation of Pakistan, the liberty given to jihadi groups to target India, the refusal to try those involved in the Mumbai carnage and allowing its mastermind to go free are not conditions which permit India to lower its guard in J&K.
The Pakistani State itself is militarised. So what does demilitarisation of Kashmir mean on the Pakistan side? The Chinese PLA elements have to be evicted too from PoK.
Why should India agree to an unconditional mutual withdrawal from the Siachen Glacier when it is legally Indian territory, the Pakistanis have allowed China to implant itself in PoK, and Pakistan has engaged in cartographic aggression against India by unilaterally extending the LoC from NJ9842 to the Karakoram Pass? As a first step Pakistan should undo this and show the correct delineation of the LoC on its maps.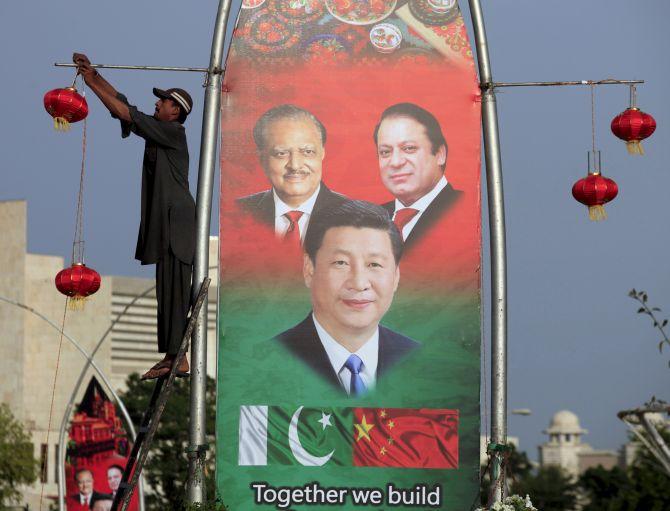 IMAGE: 'President Mamnoon Hussain, Prime Minister Nawaz Sharif and I agreed to elevate China-Pakistan relations to an all-weather strategic partnership,' Xi Jinping said a day after unveiling a $46 billion ambitious China-Pakistan Economic Corridor.
As China has given Pakistan nuclear and missile capability and is Pakistan's biggest defence partner -- and also claims Indian territory -- strategic stability in South Asia is possible only if China is made part of the 'serious dialogue to achieve nuclear restraint, conventional balance and conflict resolution' that Nawaz Sharif proposes.
That Pakistan is the primary victim of terrorism, as Nawaz Sharif claims, is politically farcical, as Pakistan is almost unique in using terrorism as an instrument of State policy and has nourished jihadi forces that have now turned against it. It is paying for its sins and is still unwilling to atone for them when it comes to India.
To say that Pakistan will fight terrorism in all its forms and manifestations, irrespective of who their sponsors are, would have meaning if Hafiz Saeed and Lakhvi were proceeded against at the very least. And the ISI is curbed.
The less said about Pakistan's game in Afghanistan, the better. President Ghani of Afghanistan has now expressed his frustration about Pakistani policies and intentions. Even as Pakistan is supposedly assisting in the reconciliation process, the Taliban has stepped up its activity in Afghanistan, as the developments in Kunduz have shown.
Sushma Swaraj made some telling points eloquently in exposing Nawaz Sharif's deceptive speech. None of us can accept that terrorism is a legitimate instrument of statecraft, she said. She recalled that not only is the mastermind of the Mumbai attacks walking free in Pakistan, cross-border terrorist attacks have taken place recently in which two Pakistani terrorists have been captured alive.
She underlined that these attacks are meant to destabilise India and legitimise Pakistan's illegal occupation of parts of the Indian state of Jammu and Kashmir and its claim on the rest of it.
She spelt out our approach clearly. India remains open to dialogue, but talks and terror cannot go together, she asserted.
She made short shrift of Nawaz Sharif's four-point new peace initiative, proposing in return a one-point peace plan -- that Pakistan give up terrorism so that both sides can sit down and talk. She proposed national security advisor-level talks on all issues connected to terrorism and an early meeting of the directors general of military operations to address the situation on the border.
If the response is serious and credible, India is prepared to address all outstanding issues through a bilateral dialogue, she said.
It is unfortunate that some of our commentators have characterised our response to Nawaz Sharif and our recent more robust approach to Pakistani provocations as a 'great Indian sulk' and advise that we find more creative ways to push our counter-terrorism concerns and articulate clearly and consistently the steps we want Pakistan to take.
Haven't we -- and even the US -- consistently and clearly asked Pakistan to try those responsible for the Mumbai massacre? Isn't this is a simple, minimalist, concrete demand?
If Pakistan refuses, our own critics will advise us of some new concession to placate Pakistan, as raising our voice only makes us look loutish and hurts Pakistan's delicate ears!!
Ambassador Kanwal Sibal is a former foreign secretary of India.