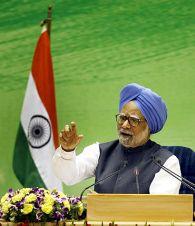 'History will never forgive Manmohan Singh for having ended the Indian growth story and created a culture of entitlement instead of creating a culture of hard work and development,' says Colonel Anil A Athale (retd).
With the announcement of election dates, Dr Manmohan Singh and his United Progressive Alliance-II government has become a caretaker government. This is an appropriate time to assess his legacy. At his last press conference, he lamented that his opponents and the media were unfair to him and that 'History' would be much kinder to him.
In a way Dr Singh already made history on January 3 when he announced his intention to hand over the baton to someone else after the general election. He is the first Indian prime minister to retire -- all other prime ministers before him either lost power in elections or died in office. This may not be the only thing for which he will be remembered.
At his press conference, the prime minister admitted that his government failed to check inflation, rising prices and failed to create employment. Remember he was hailed as an economic wizard when he took over in May 2004, and this was indeed a shocking admission.
I have no pretensions of being an economist, but common sense dictates that when a country has enough food (even now the granaries are full with a another bumper harvest due) and enough capacity to produce other wage goods like clothing etc, one would have expected a push for build up of infrastructure -- roads, railways, ports and industrial plants.
This would have created jobs -- putting money in people's hands and also creating the basis for further economic growth.
Instead, what did our economic wizard do? The surplus revenues were squandered on freebees and doles. The prime minister took India back to the 1950s when the only gainful employment provided was digging and moving earth.
He cannot hide behind the facade of 'party direction' since as an honest person he had the option of resigning when forced to take illogical and disastrous long-term economic decisions.
History will never forgive Manmohan Singh for having ended the Indian growth story and created a culture of entitlement instead of creating a culture of hard work and development.
The effects of his internal and external security polices are long lasting and disastrous.
His regime in the last 10 years scaled new heights in a divisive approach and vote bank politics. On December 9, 2006, addressing the National Development Council meeting in New Delhi he asserted that 'Plans for minorities, particularly Muslims, must have the first claim on resources." This was not mere rhetoric. Soon enough, his government began schemes of discriminatory scholarships, grants and even bank loans exclusively targeted at one minority.
The government under his leadership has divided poverty, illiteracy and backwardness on the basis of religion. The so-called 'targeted' approach in plain words is basically discriminatory sops. Imagine a poor villager's daughter/son belonging to the 'majority' community -- studying in the same class, with similar paucity of resources, s/he has to do with his own means. But in the same school another student belonging to the 'minority' gets a scholarship.
Under the pretence of 'inclusiveness' the UPA government has torn asunder the fabric of social harmony. Instead of applying 'secular' criterion like income, geographical location, parental literacy etc, the prime minister and his government has gone around dividing the social ills and problems on a minority/majority basis.
This does not mean that the persons belonging to the minority community do not suffer from additional disability just due to their faith, they do. But the solution to this genuine problem is to have tightened existing laws and regulation and punish administrators who discriminate.
Creating quotas and discriminatory legal regimes and encouraging separatism is a remedy worse than disease.
I am associated with Bharatiya Vidya Bhavan schools and can vouch for the fact that the economic quota through Right to Education has been a positive development, for which the Singh government must get due credit. We found that poor children have integrated well in school and even parents have found that to be good for the social awareness of their children.
But while on one hand this government has gone to be economically inclusive, it is promoting separatism in schooling and education. The recent spate of opening 'minority' institutions and their branches (the extension campus of the Aligarh Muslim University, for example) is a step in wrong the direction.
But the disaster of his economic stewardship and internal security pales into insignificance when one considers his handling of terrorism-related national security issues.
The economy can still be turned around, but can the nation absorb if (or more ominously when?) in future terrorists attack India with nuclear weapons or India's nuclear installations?
This is not some fictional scenario conjured up by a paranoid person. Recently an arrested Indian Mujahideen terrorist revealed that his organisation was contemplating a nuclear attack on Surat.
These emboldened plans of Pakistan-supported Indian terrorist groups stem directly from the lack of Indian reaction to the Mumbai train bombing of July 2006 and the 26/11 Mumbai terror attacks of 2008.
The 2008 Mumbai attacks took place in the background of the 2001 terror attack on the Indian Parliament. At that time we mobilised our full strength and threatened full scale war on Pakistan.
The threat was only withdrawn after Pakistan gave a concrete assurance that neither its own territory nor territory under its control (Pakistan occupied Kashmir) will be permitted to be used for a terror attack against India. This assurance was guaranteed by the Americans.
Once it became clear that the 2008 attack was launched by terrorists based in Pakistan, we should have held the Pakistan government responsible and carried out punitive actions to hurt that country. We also ought to have invoked the American guarantee in this regard and brought further pressure on Pakistan.
But instead of any of these actions, no sooner had the public outcry died down we began talks with Pakistan and even separated action against terrorism and the peace process.
Many short-sighted 'peaceniks' have hailed this as a 'pragmatic' step. But the logic of deterrence says that through this act of insanity the Indian subcontinent has actually come closer to a likely nuclear disaster, a disaster that will affect both India and Pakistan.
At that time history will recall the folly of the Manmohan Singh government in not giving a robust response to the 2008 attack and bringing on a greater catastrophe on the billion plus people of the Indian subcontinent.
Colonel Dr Anil A Athale (retd) is a military historian and analyst of security issues.