'When Nawazuddin Siddiqui -- one of India's finest actors -- was told not to perform in a Ramleela, I realised how much Hinduism has been hijacked by Hindutva forces in the last 30 years,' says Syed Firdaus Ashraf.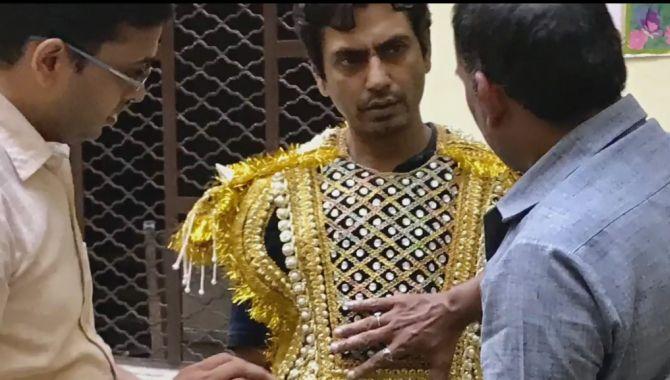 In the early 1980s, when the Internet revolution was still a decade-and-a-half away, life was difficult for an inquisitive child like me. There were no easy answers to questions on religion.
As a child I used to ask a teacher, a Muslim cleric, all kind of questions on Islam for which, at times, I was beaten.
At that very young age I realised that Islam may be the religion of peace, but if you ask too many questions, you will be beaten for sure.
So I preferred to keep quiet rather than question anything about Islam.
On the other hand, at that very impressionable age, when I saw a 'Modern day Ramayan, a drama performed at a school camp, I was shocked. My school-going Hindu friends were making fun of Lord Ram, Sita and Laxman in the drama. Even Lord Hanuman was not spared.
To my disbelief, the next day the same students worshipped the same gods they had lampooned the previous night.
Another shocker for me was Jaane Bhi do Yaaron. I remember the concluding scenes in which filmmaker Kundan Shah gave a comic twist to a sequence in the Mahabharat where the Pandavas lose Draupadi to the Kauravas in a gamble.
I felt what a beautiful religion Hinduism is. No one says anything about what not to do.
Unfortunately, my impression of that religion was about to be shattered soon.
In 1987, then prime minister Rajiv Gandhi opened the locks of the Babri Masjid in Ayodhya for a stone-laying ceremony. The Ram Janambhoomi frenzy started thereafter. L K Advani began his Rath Yatra to build a Ram temple at the site of the Babri Masjid.
A society which four years earlier had not been afraid to present its gods in a comic manner started to change drastically.
The forces of Hindutva hijacked Hinduism and Indians became mere spectators in this process.
Slogans like 'Jo nahi Ram ka, woh nahi hamare kaam ka' ('Those who don't participate in the Ram temple cause is of no use to us') and 'Garv se kaho hum Hindu hain' ('Declare with pride you're a Hindu') were manufactured by Hindutva forces and circulated through most of India.
Anyone who questioned the Hindu religion risked being beaten, the practice my Islamic cleric teacher adopted for those questioning Islam.
One might wonder what the difference between Hinduism and Hindutva is. A Google search will provide the answer.
Hinduism developed from the ancient Vedas. Hindutva is an ideology, seeking to establish the hegemony of Hindus and the Hindu way of life in India.
When Nawazuddin Siddiqui -- one of India's finest actors -- was told not to perform in a Ramleela at Budhana, his hometown in Muzaffarnagar, Uttar Pradesh, I realised how much Hinduism has been hijacked by Hindutva forces in the last 30 years.
Mukesh Sharma, the Shiv Sena's Muzaffarnagar chief, said, 'Nawazuddin is a Muslim and no Muslim has played any role in the Ramleela in Budhana.'
Nawazuddin regretted he could not play a role in the Ramleela as it was his 'childhood dream.'
Sharma is perhaps unaware that B R Chopra's famous television series, Mahabharat, was written by Rahi Masoom Raza, a Muslim scholar. Mohammad Rafi sang innumerable bhajans in films and so did many Muslim actors, who have worshipped Hindu gods on screen.
Bollywood, which is known to succumb to any threats, somehow withstood the onslaught of Hindutva forces and defined its own Hinduism by giving a creative twist to its stories.
OMG-Oh My God! -- ironically with current BJP MP Paresh Rawal in the lead role of the man who challenges faith -- and PK showed Hindu 'godmen' in a comic way and mocked some religious practices.
Sushma Swaraj, then the Leader of the Opposition in the Lok Sabha, said other religions were not touched by filmmakers for fear of reprisals and films only targeted Hinduism.
When the debate on intolerance in Indian society was going on -- after a man was lynched in Dadri, Uttar Pradesh, for alleged consumption of beef -- Bollywood writer and poet Javed Akhtar (external link) said something very interesting in a television debate:
'There was a scene in Sholay where Dharmendra hides behind Lord Shiva's idol and imitates his voice to fool Hema Malini. Today, if Sholay is made,' Akhtar, who wrote the blockbuster with Salim Khan, said, 'I will not be able to write that scene because it will create problems.'
'What is the beauty of the Hindu community, Hindu tradition and Hindu culture? It gives you permission to say everything, listen to everything and believe anything. This is the value system and therefore there is democracy in India, which is not there till the Mediterranean coast,' Akhtar added.
After last week's Nawazuddin Siddiqui incident, one feels Hindutva has hijacked Hinduism and Hinduism has lost the battle.
IMAGE: Actor Nawazuddin Siddiqui during a rehearsal of the Ramleela, in which he was to play Ravana's uncle Marich, in his hometown Budhana, Muzaffarnagar, Uttar Pradesh. Photograph: Kind courtesy @Nawazuddin_S/Twitter