There is going to be no defence of freedom of thought from this government, observes Mitali Saran.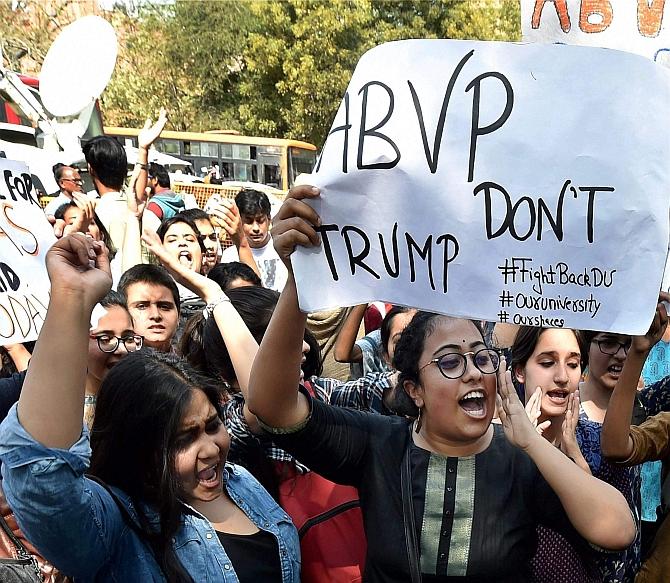 Another day, another display of the Akhil Bharatiya Vidyarthi Parishad's thuggishness. The student wing of the Rashtriya Swayamsevak Sangh specialises in taking violent offence.
This time, it was a two-day seminar called Cultures of Protest, planned at Ramjas College, Delhi University. One of the segments, called Regions of Conflict, was scheduled to include the Jawaharlal Nehru University research scholar Umar Khalid, who, last year, was jailed for allegedly raising seditious slogans.
In case you missed the episode on account of being dead at the time, the JNU campus event blew up into national hysteria, spearheaded by the BJP, RSS, ABVP, and fire-breathing news anchors.
The Union home minister got involved. Everybody pledged their lives to the motherland, firing over the shoulders of the armed forces.
People told each other to go to Pakistan.
There were melodramatic speeches in Parliament.
JNU was branded a nest of anti-national vipers.
In other words, we had a collective hissy fit about nationalism that made our previous collective hissy fit about tolerance look like tea with the Queen.
By the end of a long slanging match, two things had happened: First, Khalid had been let out on bail for lack of evidence, and second, the words "nationalism" and "anti-national" had graduated from emotive to truly radioactive.
Today, the mere words are enough for people to shut down their brains and break out the pitchforks. The nationalism bugle is blown often and loudly; and once it is blown, reason can see itself out the door.
The ABVP, a collection of nationalist vigilantes eternally on the lookout for anyone threatening the nation with an idea, met with Ramjas faculty and promised a peaceful protest against the inclusion of Khalid in the seminar on the grounds that he is anti-national.
It doesn't matter that there is no evidence to that effect. The police, which has consistently displayed its partisanship alongside every ABVP tantrum, declared that it would not be responsible for Khalid's safety.
As a result of that meeting, Ramjas College retracted its invitation to Khalid. Following this, college faculty and students, including from the All India Students Association and students from JNU, organised a peaceful march protesting the ABVP's intrusion into the seminar.
It is at this point, inexplicably -- after the objectionable speaker had been cancelled, after the college had conceded -- that violence broke out between, among others, members of the ABVP and the ABVP-led Delhi University Students' Union, and AISA.
Students were locked into a room, bricks were thrown through the windows, rocks and hockey sticks were reportedly used to wound people, a Ramjas professor was almost strangled, students were beaten up, some of the police allegedly took off their badges and waded into the fight -- in short, all hell broke loose.
There is no earthly justification for the violence.
Why on earth did it happen at all?
The ABVP's political parents are certainly not asking, because the ABVP is the tip of their educational spear, enforcing a culture of fearful intellectual servility.
Students are universally the perfect proxy -- young enough to be cut some slack, old enough to be effective, free of reputations to protect.
As far as the talking heads from the BJP and the RSS were concerned, naturally violence is condemnable, but of course it is understandable that youngsters whose hearts beat a tattoo of "Bharat Mata ki jai" cannot contain their emotions.
Union Minister Kiran Rijiju, a consistent advocate of brain-free ultra-nationalism, repeated last year's mantra: We will not let universities turn into hubs of anti-national activity.
Who, then, is going to hold the ABVP accountable?
The ABVP itself flatly denies starting the violence.
A police probe is on to investigate what happened, but the police is firmly controlled by the central government, and not known for its espousal of academic and intellectual freedom.
There is going to be no defence of freedom of thought from this government.
It is heartening to see students themselves marching in protest against the ABVP's hooliganism, as one hopes they will against hooliganism from any party's student proxy.
Only students themselves, committed to the idea of academic freedom, and intellectual possibility, adventure, exploration and achievement, can rescue Indian education from the slow throttling grasp of "one nation, one thought" politics.
It is a desperate shame that in an increasingly complicated world, we cannot see the value of equipping our young people to open their minds, and to think for themselves.
It is only going to get worse, and it is going to be up to students to fight for their own minds.