'The writers fear that the fringe is threatening to become the mainstream and the liberal space -- a must for any creative expression -- is fast shrinking,' says Mohammad Asim Siddiqui, as the Sahitya Akademi Governing Council meets in Delhi today.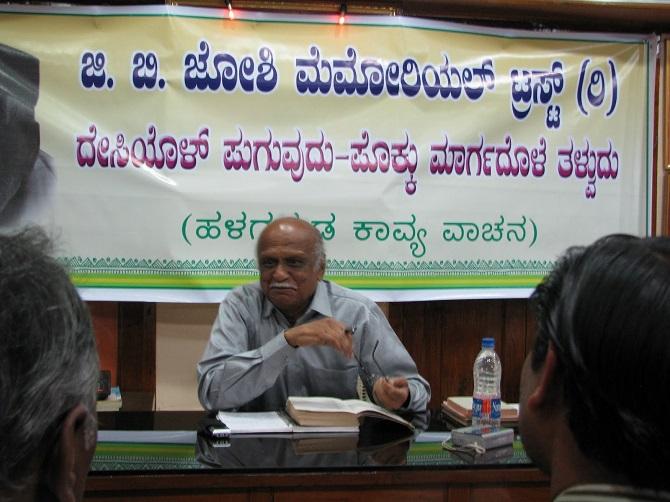 IMAGE: Professor M M Kalburgi, the Sahitya Akademi Award-winning writer. 'Writers are our precious cultural capital. They are the conscience-keepers of the nation without declaring it explicitly from the rooftop,' says Mohammad Asim Siddiqui.
The return of Sahitya Akademi Awards by our writers -- and the number keeps growing each day -- has generated a very heated debate in the media. Arun Jaitley criticised them for their 'manufactured protest' and many others have launched a counter attack on the writers, calling the return of awards an example of ideological fundamentalism and seeing a sinister motive in their protest.
The timing of the return of these awards is also being questioned. Many are making the point that there were book bans, book burnings and hate crimes during earlier regimes, but the writers did not return their awards then.
Putting aside our guess about the possible intentions of the writers, let us first see the form of their protest. In the past also writers have returned awards. It is difficult to agree with Shashi Tharoor when he says that the return of awards by writers is an act of disrespect. Writers are writers in the first place because they distinguish themselves from their writing not because they have got awards.
In many cases awards get legitimacy because they are given to those who are worthy of that honour. However, if writers feel uneasy about some issue like any other citizen of the country they have the right to register their peaceful protest.
Moreover, what binds these writers is not their common ideology -- certain not Left ideology -- but their common concerns and their common worries about the possibility of expressing their creativity in a fast deteriorating atmosphere.
The writers who write in different Indian languages fear that the fringe is threatening to become the mainstream and the liberal space -- a must for any creative expression -- is fast shrinking.
We must also make a clear distinction between writers and intellectuals. An intellectual, whether he be a historian or an economist, will make his arguments in unambiguous language. S/he would praise or criticise government policy in a language understood by most people. S/he will be ill-advised to use language that is highly figurative, metaphorical and allusive.
Intellectuals expressing themselves through the popular medium of newspapers and television are common enough. In recent times with the menace of paid news challenging the credibility of television and newspapers, not only some anchors of television, but also some intellectuals who appear on different channels have lost their credibility.
In any case it is not very difficult to see the stance of intellectuals on issues as they are often linked to a party position or a stated ideology. We have had Left intellectuals, Right intellectuals, Neo-Liberal intellectuals and even anti-intellectual intellectuals who claim to speak for the common man. During the season of T20, We even have IPL intellectuals.
Who makes a mistake in judging the point of view of an Amartya Sen or Jagdish Bhagwati? Mani Shankar Aiyar and Swapan Dasgupta, both intellectuals without any doubt, are not likely to say anything that you did not expect them to say.
We do not have the equivalent of public intellectuals whose opinions are sought by people across party lines. A public intellectual was a person who could give his informed opinions on a variety of subjects which concerned the lives of the common people. In the changed climate your public intellectual is somebody else's bundle of prejudices.
The hostile mails that any opinion piece generates just goes to suggest the kind of trust deficit that is so common. Also with superspecialisation becoming a new ideal the public intellectual would become even a rarer commodity.
But creative writers are a different entity altogether. In all civilised societies writers have been placed on a pedestal. Their worth is not evaluated in terms of their financial status despite many millionaire writers. Kalidas, Shakespeare, Kabir and Ghalib are invaluable cultural capital of the world. In fact, the popular prototype of a writer presents them as poor, moody, and a bit eccentric.
If knowledge tends to serve power, this applies more to knowledge presented discursively. But creative writers have generally been seen as the voice of resistance. The reason why writers are seen as the voice of resistance has something to do with the very medium of their art.
Poetry that has palpable designs on us, as Keats puts it, is considered inferior art. A novelist or a story writer is a presentational thinker. S/he thinks through his characters, symbols, motifs and setting. It is up to her/his readers and critics to join the dots and arrive at some interpretation. For something to be considered literature, it should sufficiently disguise its message .
A writer never lies because s/he never states anything categorically. Or alternatively s/he always lies because her/his words can always be interpreted in a thousand different ways. There is a view that all readings of literature are miseadings. The way we read literature has a lot to do with what we consider literature.
It is because of their ability to entertain and educate at the same time that writers have been accorded a high status in most societies. They have nothing to declare but their talent, their genius and their art. Pity a society which cannot boast of its writers.
Ever since identity became an important part of intellectual discourse, different communities and groups started discovering their writers, their lost writers, to be precise. It gives them prestige.
There are different voices of human civilisation. Can a voice which includes religion and science but excludes the artistic dimension can be considered authentic? For that matter even proper understanding of religion requires some exposure to great texts of literature, some training in literary appreciation.
Writers are our precious cultural capital. They are the conscience-keepers of the nation without declaring it explicitly from the rooftop. They document in their works what only they can. They do not explicitly hold a brief for any ideology in their works, whichever party they decide to vote for in their real life. They are not creative writers if they do.
Our writers need to be respected and listened to whichever party is at the Centre.
Mohammad Asim Siddiqui teaches English at Aligarh Muslim University.