'The Army must always be balanced in response.'
'Rabble rousers will demand that it be given a free hand against anti-national elements in the streets. That is exactly what the adversaries want.'
'Burning the Kashmir Valley through the summer is their desire; the Army will never contribute to enhancing their aim,' says Lieutenant General Syed Ata Hasnain (retd), who served as the General Officer Commanding 15 Corps in Kashmir.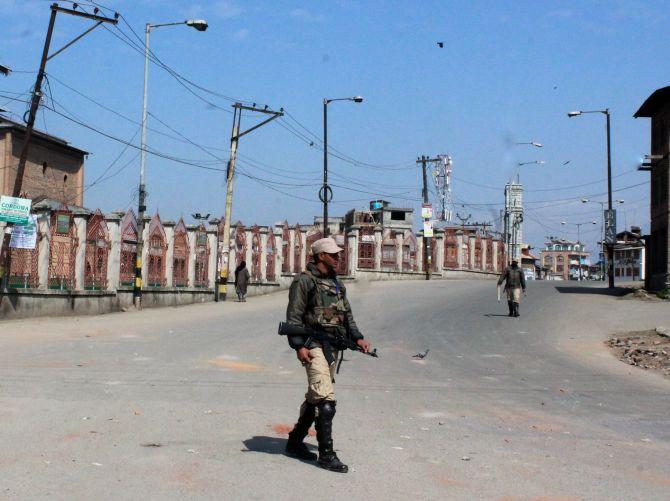 IMAGE: Security personnel patrol the barren streets in the aftermath of the Handwara incident on April 12, 2016. Photograph: Umar Ganie
A few weeks ago I wrote in a column that with the focus of terror and separatist activity in South Kashmir it was just a matter of time that the shift to North Kashmir would to take place.
The new insurgency in South Kashmir was tending to make the Hurriyat irrelevant. Sopore, Baramula and Pattan cannot be kept quiet because they are competing centres of attention of the separatists. However, the place which is always used for triggering negative situations is Handwara.
It has happened again, true to prediction and in a most predictable manner. Why is Handwara so important?
It is a hyperactive town on the edge of the Rajwar forest on the road between Baramula and Kupwara. Historically, it has been a nerve centre of separatist activity.
The general area around Handwara has been a haven for the creation of safe houses for terrorists because this is the area easiest to approach after a successful infiltration by terror groups from across the LoC.
Reception parties of terrorists move into the thickly wooded Rajwar and Hafruda forests from the Shamshabari heights. The routes from the Lolab Valley are also easy and well covered by the forest. This is Minister Sajad Lone's constituency, but even more important it is MLA Engineer Rashid's neighbouring constituency.
Rashid represents Langaite and is a vocal politician unattached to any political party. He is in confrontation mode at most times and can rustle up a mob in a few minutes. Rashid's forte is that he is by reputation incorruptible and has little to display by way of wealth. Consequently, he has a large following in the area.
Both Langaite and Handwara have each a headquarters of a Rashtriya Rifles battalion for the last 20 years and more. Handwara has quite a record in terms of disruption of normal life in Kashmir. The road to Kupwara offers scope for disrupting the Army's convoys to the Kupwara sector where there is a large deployment. This can be done with minimal disruption of civilian traffic which has alternative routes through Sopore.
The Army prefers to avoid the built up areas of Sopore for its movement. There are networks of separatist cadres in all these towns who are always prepared to concentrate on the road at different points to ratchet up the overall disruption if the separatist bosses feel the need to exploit a situation.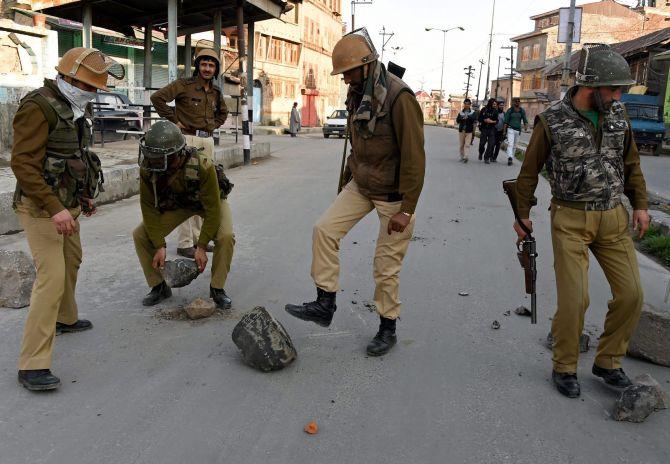 IMAGE: Security personnel remove a boulder from a deserted street after protests following the alleged molestation of a girl by a jawan. Photograph: S Irfan/PTI
Any situation can be built up on the basis of a trigger. It can start from an inadvertent traffic accident of an Army vehicle with a civilian vehicle or pedestrians or it can be a deliberate attempt at a honey trap for a soldier or even just a rumour.
The separatist network has a collection of workers of different professions on its rolls. Most prominent are lawyers who can advise what sort of an incident can embarrass the Army.
Even more important perhaps is the separatist intelligence network which can put the Army/police intelligence to shame. Potential triggers are planned by them and individuals identified among the soldiers who could be exploited.
If a situation presents itself without too much manipulation, then the means are analysed to see how this can be made worse by further manipulation. Rabble rousing is almost a profession here.
The Army's Rashtriya Rifles units deployed are probably the most experienced units it has. They have had some marked successes in the jungles. Their relationship with the local population is seasonal and contingent upon personalities as is usual everywhere in Kashmir. They are under full directions of the Army hierarchy to avoid any triggers, but in Kashmir's awkward environment even the best of units can be manipulated.
Sometimes these units make genuine mistakes, leading to loss of innocent lives. In the grey zone of intense counter-terror operations, it is many times difficult to discern between friend and foe. For the separatist cadres, sacrificing an odd life is of little concern.
Strict surveillance over the situation gives opportunities unwittingly offered by the Army. These are pounced upon, passions whipped up, mobs collected after bodies are laid on the road or paraded, much sloganeering and a possible clash with the police.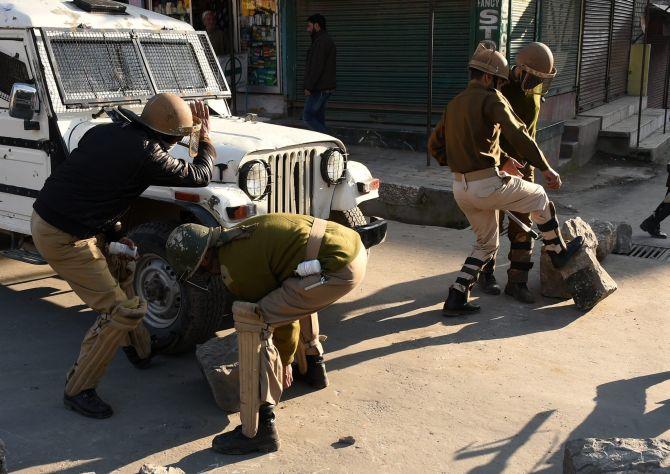 IMAGE: Security personnel remove boulders from a deserted street. The separatists have called for a shut down to protest the four deaths when the army allegedly opened fire. Photograph: S Irfan/PTI
The incident of April 12 has gone up by many notches over past experience and an existing Army bunker inside Handwara town too has been targeted and burnt with soldiers also put to risk. Separatists usually do not take such risks. In fact, the Army has been patient in reponse.
In such situations no one knows who fires and whose bullet hits whom. A few lives lost, vehicles burnt, blood stains everywhere and the photographs or videos are quickly uploaded on cable networks to generate negative passions all over the Kashmir Valley.
That is how it starts when street turbulence is the desire and demand of the separatists. The leadership will hope that Sopore, Baramula and Pattan will maintain a 'shut down' for the next few days, more confrontation with the police and CAPF, a possible targeting of an Army or CAPF (Central Armed Police Force) vehicle in a small convoy and further chaos on the national highway, which is the strategic artery linking the Army's deployment and crucial for logistics. All this tailor made for the beginning of a hot and angry summer.
The situation in the latest incident is absolutely unclear, but the local media will invariably focus on the Army's response and the alleged molestation; pushing away from focus issues such as the alleged victim's statement to the police on camera. No one will look at the mob's action, who instigated it and why law and order was taken in their hands by the local leaders.
No one can say with any finality what the truth is, but the entire incident is being relished by separatist cadres looking for a revival of anti-India activity in North Kashmir.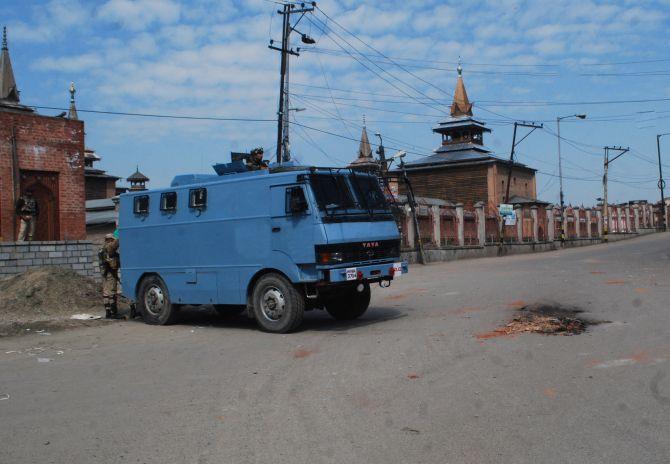 IMAGE: Security forces had to stay on a constant vigil to maintain order in the area. Photograph: S Irfan/ PTI
The Army has over a period of time learnt that it is best to defuse the situation rather than contest versions through counter FIRs etc. Invariably, issues of AFSPA will once again arise with demands for handing over the allegedly errant soldier for civil justice.
The Army cannot afford to do that as its soldiers have to be protected from manipulated triggers. While the Army trains its officers and soldiers to be wary of such situations and not fall prey, there will be one off failures, lack of alertness at times or simply genuinely rogue soldiers who may carry out an act of indiscipline. Determining the truth in all this is next to impossible.
Inquiries will be carried out, but in the rapidly changing situation every summer it is the next incident which draws attention, not the previous.
Being an Army officer in a position of responsibility in any of these areas is risky business. You have to be smart and deft, have an outreach to your own set of local cadres which need to be cultivated. Senior commanders who have faced such situations in their earlier years in the Kashmir Valley know exactly what this is all about and can respond with balance.
In this instant case if mobs target outnumbered troops there will be no alternative for the Army, but to fire in self-defence; it is not the best of responses, but the circumstances force such decisions. Very soon, human rights activists will be up in arms, but no one will look at the main trigger and how a situation was probably built up to force the response. Amnesty International, as expected, is demanding handing over of accused soldiers for justice through civil judicial procedure.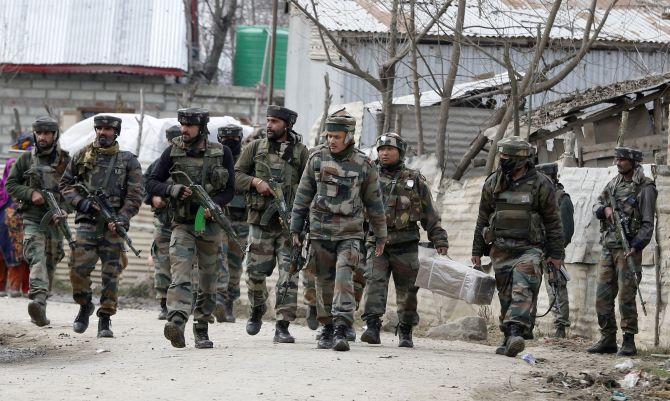 IMAGE: Indian Army soldiers during an encounter in Bandipore, Jammu and Kashmir, February 4, 2016. Photograph: Umar Ganie
How should the Army avoid such incidents? There is no set formula. Mistakes will be made as no Army can exist in a zero error environment. The current handling has been appropriate. There is no need to be over aggressive in defending your position nor allow the separatists to exploit it further.
Quell the passions first, institute an inquiry and allow the situation to cool down. Allow media handling only at the highest levels. Only the Division and Corps Commander must speak to the media in such sensitive situations unless competent staff officers are available. One off statements in the media can sometimes worsen situations.
The aim should be clear; the Army must always be balanced in response. Rabble rousers will demand that it be given a free hand against anti-national elements in the streets. That is exactly what the adversaries want. Burning the Kashmir Valley through the summer is their desire; the Army will never contribute to enhancing their aim.
Hybrid warfare is not the biggest challenge of modern armies for nothing. It extracts the last energy out of our professional uniformed forces. They have to remain professional and ensure that every soldier understands what he is deployed for and never fall prey to the machinations of the collaborative manipulation of the adversaries.
The current incident could well turn out to be a genuine case of misdemeanour by a soldier or a manipulation as has been the trend very often. The important thing is that there should be transparency in investigation and an early termination of that, whichever way it goes.
The Army has full courage to face the truth and take action as it has promised already. Detractors who do not believe in the manipulation theory need to be reminded of the 19 July 2011 incident of alleged rape two RR soldiers, of a Gujjar woman near Shupaiyan. The subsequent investigation, not even a formal one, put to rest all her allegations revealing how she had been instigated into making the allegations after she fought with her in laws.
Lieutenant Syed Ata Hasnain (retd) is currently associated with the Delhi Policy Group and the Vivekanand International Foundation.