Army chiefs in India, says Aditi Phadnis, have not been tactful about politicians, but they have stayed clear of politics.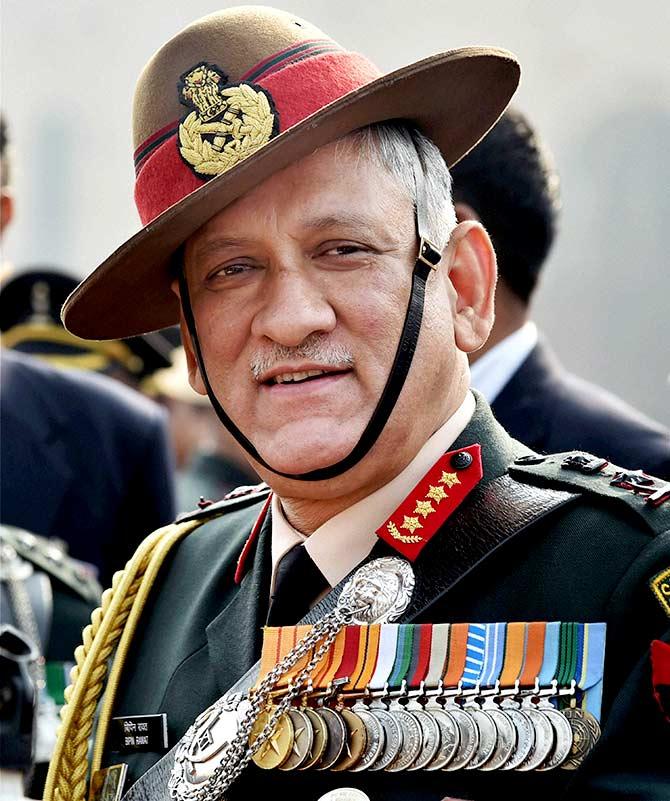 IMAGE: General Bipin Rawat's 'professional credentials are unimpeachable.' Photograph: Atul Yadav/PTI Photo
Chief of the Army Staff General Bipin Rawat's remarks on the growth of the All India United Democratic Front in Assam have caused a furore -- and not without reason.
'There is a party called the AIUDF. If you look at it, they have grown in a faster time-frame than the BJP (Bharatiya Janata Party) grew over the years. The BJP won only two seats in the 1984 national election. The AIUDF is moving at a faster pace in Assam,' General Rawat said.
'I do not think you can now change the population dynamics of the area. If it was five districts to eight to nine, inversion has taken place, whichever be the government,' General Rawat added, referring to districts in Assam that have a Muslim majority, and linking this with migration in the north east which has altered the demographics in the region, causing a security concern.
Factually, nothing that General Rawat has said can be contested.
But is the AIUDF -- which swears allegiance to India and the Constitution -- the problem?
Or a chief of army staff's apparent belief that political activity and India's security are mutually exclusive?
The AIUDF, formed in 2005, has three members in Parliament and 13 legislators in the Assam assembly.
Its leader Badruddin Ajmal, otherwise called 'perfume king' because he made a fortune in the scent business, is a Muslim, businessman and politician -- in that order.
Assamese Muslims who have joined the army from the districts where the demographic 'inversion' has occurred are probably so few that you can count them on the fingers of one hand.
But is it wise to single them out on the basis of region and religion?
Chiefs of Army Staff in India have not been tactful about politicians, but they have stayed clear of politics.
The most famous set down was from General (later Field Marshal) Sam Manekshaw.
When then prime minister Indira Gandhi asked him tersely if the rumours about a coup by army were true, he encapsulated in a very Manekshaw way, the philosophy of the Indian Army: 'You mind your own business, I'll mind mine. You kiss your own sweetheart, I'll kiss mine. I don't interfere politically, as long as nobody interferes with me in the army,' he told her.
There have been instances when ministers have been forced to explain comments made by chiefs.
The then army chief, S F Rodrigues, told a newspaper in an interview in 1992, that the army should have a role in governance because things were very bad in the P V Narasimha Rao government because of all the 'bandicoots'.
This created a storm in Parliament.
As defence minister, Sharad Pawar saved the situation by making a statement that army officers are not as clever as politicians in fielding questions from newspapers.
But General Rodrigues had to live with the shame of having to give a written apology to the defence minister for his remarks.
General S Padmanabhan, who led India in Operation Parakram, elliptically voiced his frustration with the political leadership when he told a reporter: 'If you really want to punish someone for something very terrible he has done, you smash him. You destroy his weapons, and capture his territory. War is serious business and you don't go in just like that.'
General Rawat's professional credentials are unimpeachable.
He commanded a company at Uri, a battalion of the 11th Gorkhas in the north east, the Rashtriya Rifles sector at Sopore (the heart of insurgency in north Kashmir), served in Sopore and commanded a corps in the north east, where he secured not just Arunachal Pradesh on the Sino-Indian border but also handled the insurgency in Nagaland, Manipur and Lower Assam.
He helped execute the raid along the Myanmar border in early July 2015.
He commanded the Southern Command at Pune before assuming the appointment of vice chief under General Dalbir Suhag.
The government superseded two officers senior to him -- General Praveen Bakshi and General P M Hariz -- to make him COAS.
It could be a coincidence that Rawat belongs to the same Uttarakhand village as National Security Advisor Ajit Doval.
But he would do well to remember that loose lips sink ships.