In Shujaat Bukhari, Kashmir has lost a journalist, an activist, ambassador, a formidable voice and, above all, a great human being, mourns Athar Parvaiz.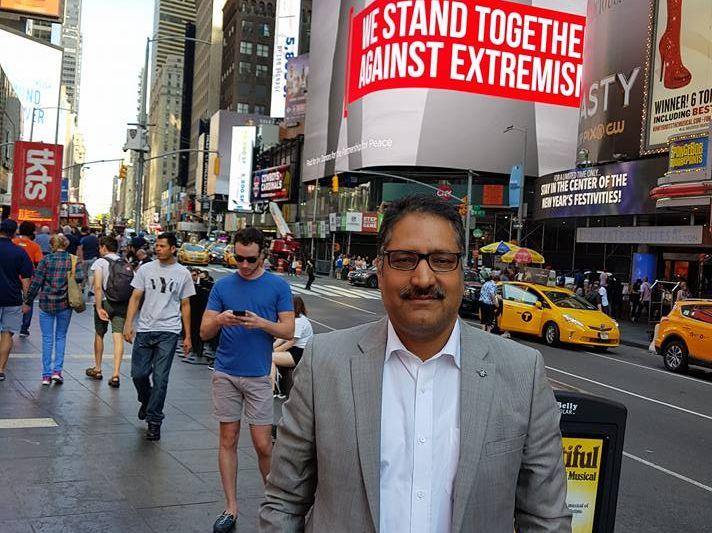 Some eight months ago, Shujaat Bukhari, arguably Kashmir's most popular journalist who is no more among us, spoke to me for around half an hour at an event, asking me why I had stopped writing for any Srinagar-based newspaper.
Despite writing for international and national news outlets, it is very important for a journalist, he said, to have local presence.
His advice straightaway cut ice with me as it came from a professional who I knew as someone whose success and prominence had a lot to do with the local contacts he had cultivated while working as a correspondent for years for a local newspaper, Kashmir Times, before launching his own publication, Rising Kashmir, which has now become a popular newspaper in Kashmir with thousands of followers, on social media, from outside Kashmir as well.
In between, he had also worked for The Hindu as its Srinagar correspondent for well over a decade.
Shujaat, as most journalists would call him (I, and all his juniors, always added the honorific title, Sahab), was silenced forever in a barbaric attack outside his office in Srinagar's Press Enclave on Thursday evening by unknown assailants.
A previous attempt to take away his life in 2006 had failed as the weapon aimed at him after abducting him miraculously stopped functioning right at that moment.
Unfortunately, this time round, the assailants made it sure to pump in bullets in his body till they thought they had done their job.
He thus became the 19th journalist to fall to the scourge of armed violence in Kashmir since its inception in 1989, and his killing evoked condemnation from all and sundry including some militant outfits.
Official condemnations also came from the governments in Jammu and Kashmir, New Delhi and Islamabad. All the media associations in Kashmir have condemned the killing, terming it as an attack on the entire media fraternity of Kashmir.
His funeral was attended by thousands of people who gathered at his ancestral village Kreeri, some 50 km north of Kashmir's summer capital, Srinagar, in Baramulla district.
My first interaction with Shujaat Sahab as journalist was quite brief and it happened when I was just cutting my teeth in journalism. That brief interaction had a deep influence on me.
One evening in early 2004, as my eyes were fixed on the desktop in the newsroom of the Kashmir Times with my seniors also busy at their desks, a strapping fellow entered the newsroom and lounged on a chair with poise before exchanging greetings with my seniors.
Our bureau chief, Zahoor Sahab, introduced me to him as someone who recently joined the organisation. After knowing my name, he said he had found my article on Kashmir's eminent cartoonist Bashir Ahmad Bashir very interesting. That was one of my first few articles.
"The article was very well written and was very interesting. Keep it up," he told me.
That commendation encouraged me a lot and motivated me further to get my journalistic work noticed.
Soon, I started visiting him in his office whenever I wished. He was always happy to have people around him.
I hardly remember any visit to his office when I didn't see less than three-four people sipping tea in his office while chatting with him. He would seldom let you go before getting the tea served to you.
His friends' circle included people with myriad backgrounds -- journalists, artists, doctors, lawyers, academics, activists, politicians, bureaucrats, foreign diplomats etc.
As his body lay at his home, the crowd of his mourning friends and fans was so huge that close relatives of the family had to profusely make polite requests to mourners, who wanted to catch a last glimpse of his face, to stay away in order to conduct the funeral prayers strictly as per the time announced earlier.
Shujaat Sahab always treated his fellow journalists with esteem regardless of whether they were junior or senior. During press conferences and other events, he would make it a point to interact and exchange pleasantries with junior journalists.
At his organisation, Rising Kashmir, he was able to groom dozens of journalists, many of whom landed jobs in some of the world's top media companies including Al-Jazeera and TRT apart from earning prestigious international fellowships. Part of their grooming included having sessions with persons of great repute.
Whenever a top journalist, intellectual or academician would come to Kashmir, Shujaat Sahab would get him to the Rising Kashmir office to interact with his team of young journalists. I had the privilege of sitting in on two of those sessions with renowned historians Ramachandra Guha and Ayesha Jalal.
If journalism was his profession, social worker was his second name.
After the devastating floods of 2014, one picture which kept doing the rounds on social media was one wherein he could be seen sailing in a boat wearing a life jacket as he rescued people and provided aid to those in need of it.
Recently, when one of his colleagues, Maqbool Sahil (a highly capable journalist, author and poet), passed away, Shujaat Sahab decided to continue his salary to support the family.
He was a man of great manners.
In December 2015, when I went to enquire about his health at the All India Institute of Medical Sciences in Delhi, he struggled to speak while recovering from a stroke.
Yet he managed to communicate, with great difficulty, and introduce me to an attendant and his sister who sat beside his bed reciting the Quran and praying for his recovery.
Kashmir's journalists and journalists from outside the valley who are familiar with Kashmir knew Shujaat Sahab as an epitome of success considering the great feats he had achieved in journalism. He was widely travelled and we would often say he is a globe-trotter.
Shujaat Sahab was a keen observer of Kashmir politics and India-Pakistan relations and involved himself as well in peace-related activities. He was the moving spirit behind various conferences in recent years over the Kashmir issue.
In a write-up in the last week of May for his newspaper, he wrote: 'In order to get Pakistan on board for a successful SAARC summit, it is imperative to cool down tempers in and on Kashmir. In this backdrop, the next few months will be interesting to watch.'
Alas, he is no more to observe those interesting months.
Shujaat Bukhari at Times Square, New York. Photograph: Kind courtesy Shujaat Bukhari's Facebook page