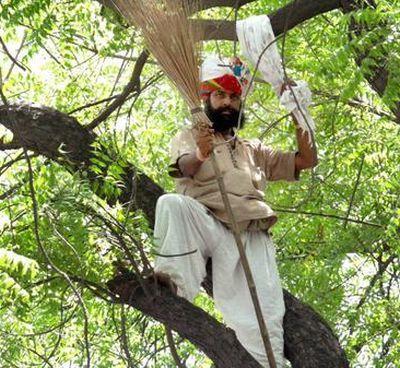 Livelihoods and lives are being destroyed in the name of building a 'better' India, writes Congress leader Sachin Pilot, in an exclusive column for Rediff.com.
A few days ago, a farmer Gajendra Singh of Dausa -- a constituency both my father and I represented in Parliament -- committed suicide in full view of thousands and millions more watched it on television.
He was an average 42-year-old, living off the land in his village. What made his act distinct was his disappointment and desperation overwhelmed his will to live.
His death is one of the ongoing tragedies of farmer suicides. Its stark visibility on prime time, endlessly looped as people sat down for meals provided for by millions of farmers like Gajendra, should not detract from its appalling ordinariness in suicide statistics.
As per National Crime Records Bureau numbers, 47 farmers commit suicide in the country every day. Gajendra's brief parting note hints at the monumental, existential questions that he faced. But because he is not among us, we must piece it together from his experience and experiences of millions of other farmers.
Sixty per cent Indians depend directly or indirectly on agriculture. Our present economy stands astride the shoulders of the Green Revolution. Loss of every farmer to such a tragic act of self-destruction, quite apart from devastating their family, is a national loss, a symbol of failure of the state and its institutions to ameliorate reasons behind the act of suicide.
Farmers are a hardy lot. Their harvests vary, and rainfall is uncertain. Such variations are so common in their lives that they learn to take them in their stride. It takes red tape, insensitivity and despair beyond imagination of the affluent, to drive them to take their own lives.
The period leading up to the Deccan riots of 1875 saw many suicides, a situation precipitated by extortionate taxes, usurious money-lending, and meager landowner rights.
Some 140 years later, many of their woes have returned with a vengeance under a government they returned with a clear mandate to improve their lives. Over 45 suicides have happened in Rajasthan, Gajendra Singh's state, in the last couple of months. Unseasonal rains wreaked havoc in his district, with most farmers losing a significant portion of their crop. However, hardly any, if at all, have been compensated for it. Not the insurance companies, not the state government, not the central government, have been able to give any comfort, financial or otherwise to these beleaguered farmers.
None of the famed and PowerPointed direct subsidies flowed into their accounts. Even the touted relaxation of crop-compensation norms has proved too tight for them.
The woes of farmers are legion. On the one hand, Minimum Support Price remains low. Input costs are rising due to inadequate support for soil health and high prices of fuel, power, and fertilisers despite historically low oil prices.
Oxbridge economists jostling for prime time seem to forget that in 2010, the European Union spent 39 billion Euros on direct farm subsidy given to their farmers that don't account for more than five-six per cent of their country's population. Agricultural and fisheries subsidies form over 40 per cent of the EU budget.
In India, overwhelming recent State support for manufacturing, the so-called 'Make in India' campaign, has created widespread insecurity among farmers -- most of whom live on even lesser land than Gajendra Singh's eight bighas -- who feel that this industrialisation comes at the expense of 'Grow in India'.
The land ordinance, which seeks to dispossess farmers to benefit vague corporate interests, unites those who till the land and bring food to our tables. The ordinance, promulgated yet again in defiance of democratic processes, seeks to bypass Parliament -- where at least two-third MPs represent rural constituencies -- and who cannot allow reckless land acquisition without regard for human, social, and long-term food security concerns, if allowed to listen to their conscience.
Unfortunately, no official redress appears in sight. Sometimes, farms loans must be written off so that lives are not. The alternate income stream of MNREGA has been a lifeline for countless families. There is at present no visionary plan to address structural ills ailing the agricultural sector.
No plan insulated from the back-breaking realities of small and marginal farmers will succeed. Planning Commission, one of the watchdogs for perspective planning in agriculture, is being dismantled before us.
In an Orwellian turn of events, livelihoods and lives are being destroyed in the name of building a 'better' India. It is a collective responsibility to take down the Damocles' sword of dispossession and abandonment by the State that hangs over our farmers. The sword, insofar as it hangs, hangs not just above them, but above us all.
Image: Farmer Gajendra Singh who committed suicide during an Aam Aadmi Party rally in New Delhi.
Congress leader Sachin Pilot is a former member of Parliament from Ajmer, Rajasthan, and was a minister in the UPA government.