'The top-most functionaries and destiny-makers of the nation have thrown away the pretensions of statesmanship.'
'They seem to have made a categorical announcement that the next general election will be fought on the solo plank of Hindutva, rather than on good governance, economic development, and employment to youth', says Mohammad Sajjad.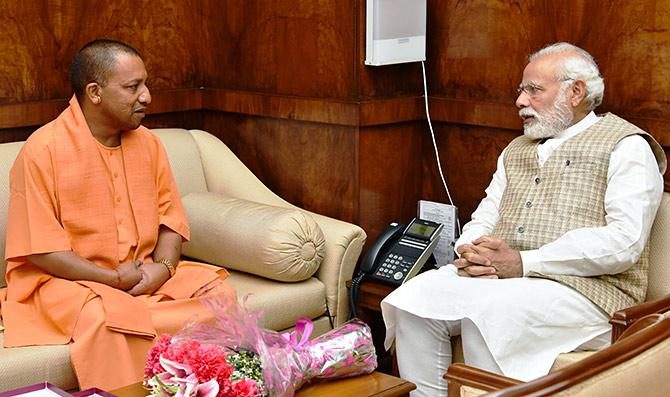 With the Janata Party's 'Open Passport Policy' in the mid 1970s, employment opportunities for the Muslims, along with Hindus, expanded in the Gulf countries.
This helped improve the economic lot of Indian Muslims. This upwardly mobile segment invested in employable technical education for their children as also in retail businesses and even in local politics.
All this created competition, rivalry, hostility. Besides, they made their presence felt in public spaces in various other ways.
Simultaneously, during the 1980s, the 'secular' nationalism in India's governance turned out to be inclined towards 'cultural' nationalism tilted in favour of the minorities.
The Shah Bano judgment overturned by Parliamentary legislation in 1986 was identified as the best specimen of this 'appeasement.'
This is when Indian politics came face to face with the expressions of 'pseudo secularism' and 'minority-ism.'
Since then, building up majoritarian Hindutva politics became easier.
The neo-rich segment of Muslims also resorted to enactment of their culture in India's public space -- higher and imposing minars and gunmbads (spires and domes); grander and brighter mosques; azaan on loudspeakers; night-long frequent milad ceremonies on loudspeakers; religious processions for the Prophet's birthday; holidays in public institutions/offices on such occasions; all of which makes the Muslim presence in public space even much exaggerated.
Outside India, the scholars, Uriya Shavit and Fabian Spengler, in their 2016 essay, based on an analysis of case studies in England, Germany, Sweden and Israel, argued that in recent years the azaan on loudspeakers has triggered fierce protests as it represents an Islamic quest for domination and a decline of Christian values.
Thus in the name of secularism what was played out by the Congress in the 1980s and in subsequent decades by the regional forces, which increasingly reduced to a specific dynasty of a specific neo-dominant caste, was cultural nationalism, 'favouring' Muslim minorities.
So, in the name of 'secularism', arrogantly leaving aside the ablest of politicians, even a novice like Rabri Devi could become chief minister. And even history-sheeters could rise to power. A Taslimuddin could become a Union minister of state for home affairs.
In short, administrative vision and capabilities were discounted while elevating someone to high office.
Kidnappings for ransom, non-payment of salaries to government employees for several months together, absence of roads, unavailability of electricity, growing unemployment, all were discounted.
Mockery and buffoonery could be taken as the modus operandi of nation building. Yet, quite disgustingly, such regimes kept getting votes in the name of 'secularism' and 'social justice.'
This was inevitably destined to be outdone by the cultural nationalism of the majoritarian onslaught.
Today, in the name of Hindutva, the saffron forces are happily going the same way of discounting ethical eligibilities, administrative vision and capabilities, while selecting a chief minister.
The cynical game of playing out 'cultural nationalism' has come full circle.
Today, when the history-sheets of the newly anointed Uttar Pradesh chief minister, Yogi Adityanath, is cited, the by now brainwashed and brutalised electorates, in this 'age of anger' can dismiss it by saying: 'Well, we give a damn to all these; we are getting Hindutva and that is it! Here is a leader who can show the 'appeased' minorities their 'deserved' place on the margins! Let this score first be settled.'
Representing this sentiment, the top-most functionaries and destiny-makers of the nation too have thrown away the pretensions of statesmanship.
They seem to have made a categorical announcement that the next general election in 2019 will be fought on the solo plank of Hindutva, rather than on good governance, economic development, and employment to youth.
In this post-truth era, truth is suspected, and falsehood is trusted.
Hence, there are only a few who make a cool headed introspection as to whether the new regime will be capable of mitigating growing rural distress, of undertaking agrarian development, of creating employment, etc.
Balanced regional development (intra and inter-provincial) is no longer a concern. Religious hysteria is. Accentuated most by the lack of a credible alternative in terms of leadership.
In short, the 'cultural' nationalism of exclusion and hate has overtaken economic nationalism, if at all an adeqauate content of it ever existed.
In the 19th century, colonised India had charted out its path in a different way. First, the nation-in-making that India was underwent self introspection through socio-religious reforms, 'informed by the twin pillars of humanism and rationalism.'
It preceded economic nationalism. Metaphorically speaking, a Raja Rammohan Roy preceded a Dadabhai Naoroji.
Subsequently, competitive communalism was also played out, as the popular phase of anti-colonial nationalism became more assertive and stronger.
Pakistan defined its nationalism in exclusionary ways. Zia-ul Haq's era was for even greater assertion along those reactionary lines of Islamisation. Pakistan is still living up to that dangerous idea regardless of what kind of ideological forces are formally in power there.
It is paying heavier human cost. Even its religious majority is not spared, and cannot remain unhurt. It is in the grip of blood thirsty, radicalised, non-State actors.
It is not that a Third World country like India is no longer colonised.
Make no mistake. India is certainly an informal colony of the global capitalist-imperialist powers.
But the moment this analysis is put forward, the smell of 'Leftism' creates repulsion. This is an era of ascendance of religious/majoritarian reaction across the globe.
Turkey's Erdogan, the US' Trump are only more prominent manifestations in our times. Erdogan has risen to power through the hate-filled communalisation of vernacular spaces. Our trajectory is no different.
India is increasingly choosing to imitate these countries without caring for the costs. Pakistan and others have paid, and continue to pay.
This exclusionary 'nationalism' will not solve everyday needs and the economic well being of the people. It will not create employment for the youth.
Human history is aware of it. It therefore does give us hope that such regressive trends never last beyond a specific brief duration. But such phases don't go away just inevitably.
Some new forces emerge and come forward to take humanity out of such an abyss. One may or may not be see any such force available at the moment.
But the enviably long civilisational character of India will certainly throw up such forces, sooner than later.
Sanity shall prevail. In such moments of crises, poetry come to our rescue. Let us recall Faiz:
Dil naa-ummeed to nahin naa-kaam hi to hai
Lambi hai gham ki shaam magar shaam hi to hai
That eagerly awaited morning will certainly dawn tomorrow, with new ideas, new idioms, new slogans, new vision, new programmes!
It will certainly stand up to reclaim plural India with its nationalism of inclusive development!
Professor Mohammad Sajjad teaches at the Centre of Advanced Study in History, Aligarh Muslim University. He is the author of Muslim Politics in Bihar: Changing Contours Contesting Colonialism and Separatism: Muslims of Muzaffarpur since 1857.
MUST READ features in the RELATED LINKS below...
IMAGE: Prime Minister Narendra Modi with Uttar Pradesh Chief Minister Yogi Adityanath, March 21, 2017. Photograph: Press Information Bureau