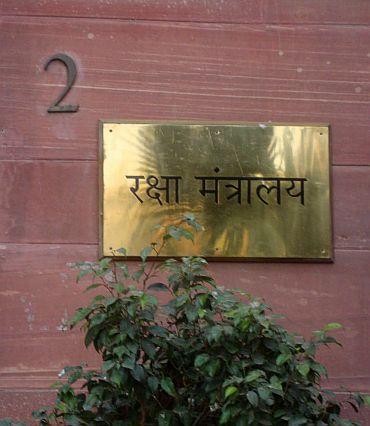 Even while rejecting Israel Military Industries' petition, the court has effectively granted foreign vendors the constitutional right to be treated equally with Indian companies, says Ajai Shukla
The Ministry of Defence should have been pleased on May 29, when the high court in New Delhi dismissed a petition filed by the IMI against the MoD's blacklisting of the Israeli arms vendor and the cancellation of a Rs 1,060-crore contract for artillery ammunition explosives.
Paradoxically, the MoD is considering challenging that judgment, which has potentially opened the doors for legal challenges by foreign arms vendors against MoD procurement decisions. Even while rejecting IMI's petition, the court has effectively granted foreign vendors the constitutional right to be treated equally with Indian firms.
MoD officials rightly point out that governments worldwide impose conditions on defence contracts that are designed to favour domestic defence industry. The United States, to name just one country, prohibits Indian entities from bidding for federal contracts.
But Justice Rajiv Shakdher has upheld IMI's claim to equality, which he finds "flows from Article 14 of the Constitution of India which is available to all persons, including persons who are not citizens of India."
Article 14 provides equality before the law to all people within the territory of India, including foreign nationals. Article 19 provides Indian citizens (but not foreign nationals) freedoms, such as those of speech, assembly, formation of unions, etc. Article 19(1)(g) specifically allows Indian citizens "to practise any profession, or to carry on any occupation, trade or business."
The legal question at the heart of the matter is: Can a foreign company claim constitutional protection under Article 14 without it being read through the window of Article 19(1)(g). Or, as the MoD official questions, "Can a foreign company that does not have the constitutional right to do business in India, claim the constitutional right to be treated equally with an Indian company that does have that right?"
Last month's judgment finds that foreign companies like the IMI cannot claim rights under Article 19 to do business in India. The judgment says: "the petitioner (IMI) cannot invoke rights under Article 19, and in this case rights under Article 19(1)(g), as those are rights available only to a citizen."
But, while denying IMI rights under Article 19, the Delhi high court has allowed it protection under Article 14. This ruling provides foreign vendors a constitutional remedy to challenge MoD contracts, through a writ petition under Article 14.
So far, foreign companies had only the time-consuming recourse of a civil legal challenge.
Interestingly, while arguing the case, the MoD's lawyers failed to inform the court that governments legitimately structure defence tenders and contracts to benefit their own companies.
Nor did the MoD lawyers point out that the high court and Supreme Court had come up against the question of equal rights for foreign vendors in 2010, when Italian company Selex Sistemi Integrati challenged the award of a Rs 1,094 crore contract for modernising air force airfields to the lowest bidder, Tata Power (Strategic Electronics Division).
While dismissing Selex's petition on May 24, 2010, the two-judge Supreme Court bench avidly wondered, in verbal remarks, whether an Italian court would have even allowed a petition from an Indian company on a matter of such vital strategic importance as the modernisation of air force bases.
However, having rejected Selex's petition on merit, the apex court did not address the question of whether a foreign company can claim constitutional protection under Article 14, without it being read through the window of Article 19(1)(g).
Commenting on the need for the government to react against this judgment, respected public procurement website,BuyLawsIndia.com, notes: "(T)here may still be some scope for Government to try attracting the attention of the courts, either in revision or appeal, or to take appropriate alternative legislative steps…"
Contacted for a comment on its course of action, the MoD has not responded.
IMI's petition followed the MoD's cancellation, on Mar 5, 2011, of a contract for IMI to manufacture Bi-Modular Charge Systems, a component of artillery shells, at a new Ordnance Factory to be set up at Nalanda, Bihar.
The MoD also debarred the Israeli company for 10 years from dealing with the Ordnance Factory Board. This followed a Central Bureau of Investigation charge sheet that alleged that IMI had bribed several OFB officials, including former OFB Chairman Sudipta Ghosh.
Along with IMI, five other companies were blacklisted -- Singapore Technologies Kinetics; Rheinmetall Air Defence, Zurich; Corporation Defence, Russia; TS Kisan & Co, New Delhi; and RK Machine Tools, Ludhiana.