'The bottom line is that at least now we should take an honest look at this business of NSG membership (or Masood Azhar for that matter.),' says Ambassador M K Bhadrakumar.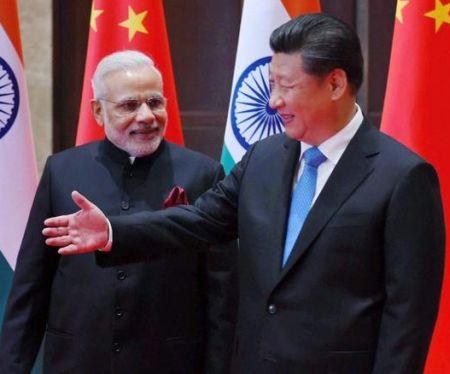 External Affairs Minister Sushma Swaraj seldom if ever would say a bloomer. Therefore, her remark on June 6 seems odd, where she reportedly said that India will take Russia's help 'to convince China' of the merits of its case for membership of the Nuclear Suppliers Group.
To my mind, chances of Russia making India's NSG membership a major 'talking point' with China are remote, and even if it does, the prospects of the latter kowtowing to a Russian demarche are virtually nil.
The South Block mandarins ought to have briefed Swaraj on how the Russia-China quasi-alliance works in practice.
The robustness (and durability) of Russia-China ties, which the two sides regard to be at their highest point in history at present, lies, paradoxically, in their mutual willingness to accord to each other enough space to pursue each side's core concerns and vital interests.
They coordinate on the foreign policy front, but each side also separately pursues its national interests.
Thus, Russia pursues strategic partnership with Vietnam with which China has a problematic relationship, while China regards Germany as a strategic partner, although Berlin is the flag carrier of Western sanctions against Russia.
Besides, won't Russia know that it is two years too late for it to play a mediatory role between Delhi and Beijing?
So much water has flowed under the bridge, which phenomenally degraded the India-China relationship.
Just see the Chinese reaction to Swaraj's remarks in Delhi on India's NSG membership, articulated during the foreign office spokesperson's regular press conference in Beijing on June 6:
QUESTION: 'Indian External Affairs Minister Swaraj also talked with the press about China having reservations about India's application for the Nuclear Suppliers Group membership.'
'She called on friends of China, including Russia, to impress upon China India's candidature. What is China's comment on that?'
ANSWER: 'On your first question, non-NPT countries joining into the NSG is a multilateral issue which should be decided by all NSG members through consultation.'
'The Chinese side is in close communication with other NSG members including Russia on this issue.'
'All parties agree that a decision should be made in strict accordance with the NSG rules and mandate through consultation.'
'The Chinese side has stated repeatedly its stance on India's joining the NSG.'
'Our position remains unchanged. We support the group in handling the issue with a 'two-step' approach through open and transparent inter-governmental procedures, following the principle of reaching an agreement through consultation.'
'What is imperative is to work out a non-discriminative solution applicable to all non-NPT States, and on that basis, discuss applications filed by specific non-NPT States.'
'The NSG plenary will be held this month in Bern, during which the Chinese side would like to continue with its constructive discussion with all the other parties on the relevant issue in accordance with the mandate of last year's Seoul plenary.'
The Russian foreign ministry will be unprofessional if it overlooks the above Chinese stance, articulated unequivocally, and still proceeds to push the NSG envelope on India's n behalf.
Russia had no role in the series of events through the past two or three years that have, according to Beijing, 'damaged' the Chinese-Indian relationship.
How can the Modi government now expect the Russians to carry our can of worms?
Wasn't it when new Cold War tensions were building up and there was open talk about an American nuclear attack on Russia within the realms of possibility that the Modi government went ahead to sign the Logistics Agreement giving access to Indian military facilities for US forces?
Friendship is a two-way street, isn't it?
To be sure, Russia probably understands as well that with Barack Obama becoming history, Indian policies are reinventing the wheel.
The bottom line is that at least now we should take an honest look at this business of NSG membership (or Masood Azhar for that matter.)
Does NSG membership really bring dividends to India in tangible terms?
To my mind, that's far from the case. In reality, it was one of those irritants that gave verve to our 'muscular diplomacy' vis-à-vis China.
Evidently, with 'America First' being the prevailing doctrine under a new sheriff in town and the India-US nuclear deal itself having become a bit of an embarrassment, it is about time we discard this NSG bit also in the dustbin.
On the contrary, if NSG membership is indeed of earth-shaking importance for India's development, South Block should chase the vision realistically -- namely, applying our diplomatic ingenuity to find a compromise formula based on the principles guiding the grouping's functioning, which can somehow accommodate non-NTP nuclear weapon States as well as members.
For that to happen, the US, which in the first instance had dictated the NSG's norms of membership (with a view to ostracise India specifically) should help us now to unscramble the omelette.
Swaraj should know that the road runs through Washington -- not Moscow or Beijing. PM Modi should raise this with Donald Trump whenever the latter grants a meeting.