'Dulat's professional successors in the game would now find it that much harder to access/create meaningful sources/assets needed for effective functioning in a place like Kashmir.'
'By blowing their cover the former top spy has undone whatever he might have been able to add to his organisation's resource kitty,' says veteran Kashmiri commentator Mohammad Sayeed Malik.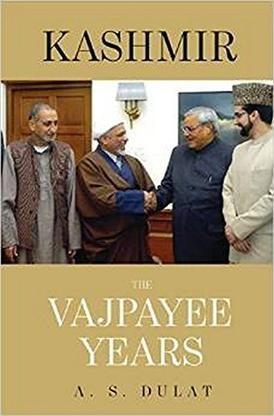 Kashmir is India's perpetual work in progress. And Pakistan's too. Retrospective documentation of men and matters, in the quick sands of Kashmir politics, is always fraught with credibility issues despite its irresistible temptation and inherent reader-appeal.
Kashmir: The Vajpayee Years co-authored by A S Dulat, the former chief of the Research and Analysis Wing, and Aditya Sinha is making waves even as the advisability of its publication as well as the authenticity of its contents are being questioned both, in Kashmir and outside.
Dulat's extensive knowledge about Kashmir and his long first-hand experience in handling its tricky Intelligence affairs distinctly come through his memoir. His known signal achievement on the ground has been his vast network of personal contacts, friends, and acquaintances and of course faceless intelligence 'assets.'
No mean achievement in the treacherous operational ground of the troubled border state and with the not-so-hidden hand of the Inter Services Intelligence ever present to undermine what hurts it. Perhaps within the security establishment nobody can rival Dulat on this score.
However, going by his published account, Dulat's enviable over-ground versatility does not seem to be matched by his corresponding track record on the operational front. There is nothing to show by way of any decisive contribution in influencing or effecting favourable course correction on the (hostile) political ground. His three-decade track record at various levels and in different positions does not reflect any brilliant streak.
Dulat happens to be the second highest ranking Indian Intelligence official to publish his Kashmir-centric memoir, after veteran B N Mullick's My Years With Nehru: Kashmir, published in 1971.
While Dulat's arrival on the Kashmir scene coincided with the outbreak of Pakistan-sponsored armed insurgency (1989-1990), Mullick was not stationed in Srinagar but remote controlled things from New Delhi with then prime minister Jawaharlal Nehru and (for some time) then home mMinister Sardar Vallabhbhai Patel virtually breathing down his neck.
Mullick's longest, six-week, stay in Kashmir was necessitated by his remarkably successful direct intervention in the explosive situation triggered by the sensational theft of the Holy Relic from Hazratbal Shrine in Srinagar in December 1963.
Earlier in 1953, Mullick's outfit (the Intelligence Bureau) had played a (retrospectively right or wrong?) key role in the circumstances preceding Sheikh Abdullah's controversial dismissal and arrest in 1953 and later in dealing with its bloody political aftermath.
These two momentous events marked important turning points in Kashmir's history. The political landscape as well as the balance of power between the Centre and the state changed beyond recognition as a result. Mullick's backstage role in shaping the course of events on the ground has been acknowledged even by some of the dramatis personae.
Unlike Dulat, Mullick chose not to go public with how the central intervention, of which he was a hidden prop, had stemmed explosive anti-India mass revolt in Kashmir in 1963-1964 with the mysterious recovery of the Holy Relic by his sleuths.
However, his memoir evasively recorded that the 'secret of the theft and recovery of the Holy Relic would go into the grave along with me. We who worked for the cause were only puppets in the game. Glory to the Moe-e-Muqaddas (Holy Relic),' is how he concludes the topic in his book.
Mullick only underlined the role (generally positive) played by certain key figures like Maulana Mohammad Sayeed Masoodi (assassinated by militants three decades later) in facilitating identification of the Relic. No one has been ridiculed or mentioned derisively.
My Years With Nehru: Kashmir, in that particular respect, qualifies to be acknowledged as a more serious professional work than Kashmir: The Vajpayee Years.
Dulat's account, unlike Mullick's, leaves nothing to imagination. He has, rather callously, named names, harming the reputation of mainstream as well as separatist leaders and endangering the lives of more vulnerable ones amongst them.
If one were to take him seriously, the entire lot of Kashmir leadership (barring the Abdullahs) is a saleable commodity and some of them can even be hooked merely by exploiting their devotion to Bacchus.
As if that was not enough, Dulat, in a recent interview, endorsed then national security advisor Brajesh Mishra's cynical sweeping observation that 'The only thing straight in Kashmir is the poplar tree.'
Dulat's professional successors in the game would now find it that much harder to access/create meaningful sources/assets needed for effective functioning in a place like Kashmir. By blowing their cover the former top spy has undone whatever he might have been able to add to his organisation's resource kitty.
To put the record straight, Dulat did not make any new disclosure about clandestine money flowing into the coffers of certain -- generally identifiable -- groups and individuals in J&K. Local grapevine has always updated itself on providers and recipients of such 'funds' flowing in, since 1947, from across the Jawahar tunnel in the south and via Uri-Muzaffarabad route in the west. Only that it is for the first time that a high ranking Indian official had chosen to go public, for whatever reason.
From this particular angle, Dulat's carefree (or careless?) account bears strikingly close resemblance to what Diwan Jarmani Das had unabashedly revealed in his 1971 book Maharaja that sold like hot cakes and induced the author to follow up with a still more salacious reprint titled Maharani.
Jarmani Das was a minister in the pre-Independence Maharaja-ruled states of Patiala and Kapurthala (Punjab) for nearly half a century. He had the authentic insider knowledge, (like Dulat), of how the maharajas were grappling with the twin pressure from British colonial masters and from the Indian nationalist freedom movement.
But his 400-page book became an instant hit largely because he 'wasted' only a small portion to cover serious issues while being liberal in packing his memoir with salacious anecdotes about the obsessive sex lives of the fun-loving maharajas and maharanis.
Dulat has used quite a few pages of his book to reveal minute personal details about human weaknesses of certain prominent Kashmiri leaders who allegedly could be influenced with money and/or liquor: Farooq Abdullah could change his mind after 'downing two glasses of whisky, Mufti Sayeed loves his Black Label.' G M (Gul) Shah complained of shortage of 'bullets' (money) from New Delhi.
This mirch, masala chapter stands out like a tantalising 'item number' in an unattractive Hindi movie. Whether it was so intended or not, more readers in Kashmir have been buying the book for this reason than any other. Rivals are exchanging embarrassing printed stuff as readymade ammunition against each other. Comparatively, the rest of the contents of Dulat's book has attracted comparatively negligible attention here, in Kashmir.
Even within these limiting parameters, Dulat's memoir betrays subjective soft corner for the Abdullah dynasty in comparison with others mentioned in the book. Farooq's fondness for whisky has been mentioned in passing. Otherwise, the Abdullahs are on the whole presented as more a wronged party than wronging; also more trust-worthy. Co-author Aditya Sinha looks to be on the same page.
Sinha's own earlier book, Farooq Abdullah: Kashmir's Prodigal Son (1996), leaves nothing to doubt on that score. Largely drawing from intelligence inputs, Sinha's book introduces Farooq as the 'best known symbol of Kashmiriyat.'
Whether their common wavelength had pre-determined the co-authorship of Dulat's memoir cannot be said with certainty. But there is no doubt that Sinha has not totally depended upon Dulat's input or on his memory.
In an interview to the Indian Express (July 15) Sinha candidly said: 'Along with laying down the rules that he (Dulat) had to submit to my leadership in this project, what actually happened is that in two months Dulat began to open... In the end, once I submitted the manuscript, Dulat and the publishers sat together and scrubbed clean many parts of it. That is distressing for me because of the work I put in -- taking a 74 year old's scattered reminiscences and putting them in order, and shaping them into a gripping narrative.'/p>
A year or so before the his book was out, Dulat's name was in circulation as the probable next governor of J&K. Governor N N Vohra is half way through his second term. But the speculation about Dulat faded out soon after. Maybe that had something to do with the timing of his book release.
If it is really so, Kashmir: The Vajpayee Years would eminently qualify to be equated with as its author's parting selfie, just as every departing visitor to Kashmir instinctively likes to do for the record.

Mohammad Sayeed Malik is a veteran commentator on Kashmir.
ALSO READ