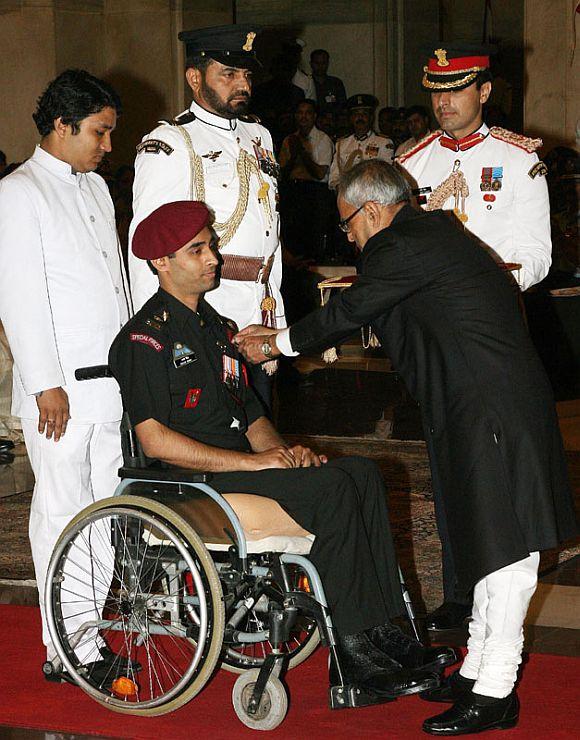 An insecure political class, with little knowledge of the military, has unquestioningly internalised the fear that a powerful tri-service chief would threaten democracy, says Ajai Shukla.
At the emotional high point of President Barack Obama's State of the Union speech last Tuesday, he turned to Sergeant First Class Cory Remsburg, an army ranger seated next to Michelle Obama. The president invoked Sergeant Remsburg, blind in one eye and riddled with shrapnel from a roadside bomb on his tenth combat deployment in Afghanistan, as a reminder of the price paid to uphold America's values. Sergeant Remsburg's father helped him to his feet. The audience rose and cheered, many cheeks wet with tears.
Two days earlier, on Republic Day, India's leaders had paid homage to our martyrs. Prime Minister Manmohan Singh drove in a heavily protected convoy down Rajpath to lay a wreath impassively at what serves as a national war memorial. Later, President Pranab Mukherjee, without a flicker of emotion, handed a medal and certificate to Karunam Venkatam, the 67-year-old father of sub-inspector K Prasad Babu, an Andhra Pradesh policeman who died last April fighting Maoists. Venkatam, who struggled not to break down, was clearly alone in his personal encounter with a patrimonial, uncaring State.

It is no secret that India's political and bureaucratic class is oblivious to its armed forces; nor can one expect better from a governing class whose indifference to its starving and undernourished millions has been described in these pages as a crime against humanity. Still, the instinct for self-preservation alone should focus our rulers' attention on the military's dire financial and organisational state, which -- appallingly -- is due at least partly to the fear that too much nurturing and strengthening might turn the armed forces into a threat to our own corrupt elites rather than to those ill-disposed towards India.

Several articles have highlighted the worrying state of military modernisation. This year the military got just Rs 2,955 crore for new equipment, while Rs 64,680 crore of the modernisation budget went towards instalments for weaponry bought during previous years. Next year, there could be even less for new buys.

More funds would be welcome, but India's fiscal position limits military expenditure. Yet it costs nothing to optimise expenditure by co-ordinating between the army, navy and the air force. With the services competing, as organisations do, to build their respective empires, roles, responsibilities and capabilities are wastefully duplicated. Yet politicians and bureaucrats fear appointing a tri-service chief who could co-ordinate budgeting and long-term planning to curb wasteful expenditure.
In 2001, a group of ministers (India's strongest version of a committee) recommended appointing a five-star "chief of defence staff", or CDS, who would command all three services. In 2012, a warier Naresh Chandra Task Force recommended appointing a "permanent chairman, chiefs of staff committee", or permanent chairman COSC -- a significantly less powerful, four-star, tri-service chief whose role would be limited to tri-service planning, long-term budgeting and acquisitions.
Yet senior bureaucrats say they would never allow a tri-service chief, since that would concentrate too much power in the hands of a military commander. An insecure political class, with little knowledge of the military, has unquestioningly internalised the fear that a powerful tri-service chief would threaten democracy. The last army chief, V K Singh, bolstered this nonsensical argument by facing off with the government because of his desire for another year in office.

The politicians and bureaucrats miss the point that V K Singh could never have credibly threatened democracy. Army power is distributed among six field armies, each headed by a lieutenant general; a successful coup would require support from all six army commanders. There are five operational air force commands, each with the firepower to stop a coup. The navy has another three operational commands. The idea that a rogue tri-service commander could subvert three service chiefs and 14 field commanders is incredible and mischievous.

Indeed, the Naresh Chandra recommendation to appoint a permanent COSC -- a fourth four-star general to supplement the existing three service chiefs -- diffuses, rather than concentrates, military power. Currently, the senior-most service chief, General Bikram Singh, ex-officio chairs the COSC. Appointing a permanent chairman would obviously lessen his power, while strengthening tri-service functioning.

To justify their inaction on appointing a tri-service chief, the last two governments -- the National Democratic Alliance and the United Progressive Alliance -- have both cited the need for "political consultations". Since 2001, each time the Prime Minister's Office has enquired about this issue, the ministry of defence has truthfully -- and deceitfully -- reported that there was no consensus. A former top bureaucrat once told me, "Stalling is easy because complete political consensus is impossible. As long as, say, the Khobragade Group of the Republican Party of India has not actively committed support, I can truthfully say we have no consensus yet."

Stalling tri-service reform is a cynical disservice to every soldier, sailor and airman; to national security; and to those who pay the opportunity cost for our fiscal inefficiency in defence. It is ironic that one of the world's most ineffective and self-serving bureaucracies and a deeply corrupted political class feel threatened by a military that is consistently cited as India's most admired and respected institution.
Defence Minister A K Antony should see the writing on the wall: if he fails to appoint a tri-service chief in his last days in office, his (probably non-Congress) successor probably will. Antony still has the time to do what is obviously right.
Image: President Pranab Mukherjee presenting the Shaurya Chakra to Lieutenant (now Captain) Manish Singh of Special Forces, at an investiture ceremony in April 2013. Photograph: PIB.