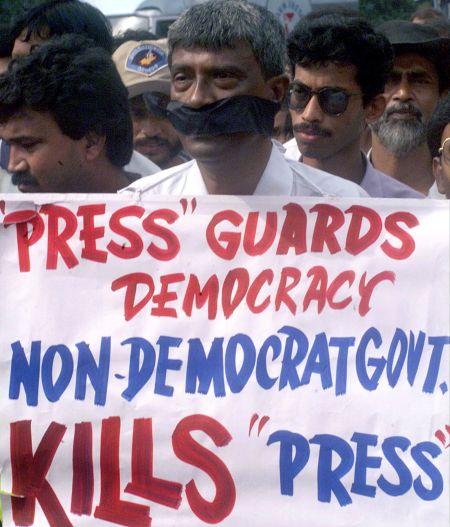 The murder of a dozen journalists (including cartoonists) in the office of a French satirical magazine is an extreme manifestation of intolerance and hate, and to be condemned. Islamist elements are now well known for their intolerance of anything that they consider offensive to their religion, but perhaps it is not them alone.
Remember that a rationalist campaigner was murdered in 2013 on a Pune street. Those in India who might argue that the French magazine had the right to publish whatever it did, even if it caused offence, have to reckon with the fact that the country's most famous painter, M F Husain, had to live out his last years in Dubai because a painting of his had caused offence. Do attitudes or interpretations of the law on free speech change, depending on which religion is involved?
Many societies, especially those who are a part of the Western Enlightenment, admit to few if any limits on the right to free speech -- including the right to offend. Free speech was included in the "Declaration on the Rights of Man" during the French Revolution as "one of the most precious" rights of man.
India has a more nuanced approach; the right to free speech is a fundamental but not an absolute right; the Constitution limits it on grounds of 'public order' as well as 'decency and morality', all of which are elastic terms. Why, even writing that could affect relations with friendly countries is debarred. Apart from the issue of principle, there is the practical difficulty that there is no approved list of friendly and unfriendly countries. More to the point, in the broad tradition of Sarva Dharm Sadbhav (respect for all religions), it is pretty much inconceivable that any Indian publication would publish a cartoon of Mohammed in the full knowledge that it would cause offence to millions.
Salman Rushdie, whose Satanic Verses was banned in the 1980s before most people had a chance to read it, has argued that the right to offend is part of the right to free speech, and that accepting limits on that would start a society down the slippery slope. But even in societies that would agree with this, there are legal limitations on (for instance) praising Hitler, racist comment and hate speech targeting Jews. Just as the use of pejorative terms for African-Americans in the United States would be considered beyond the pale, in India casteist comment against Dalits would invite court action. So it is futile to pretend that cultural traditions and political correctness do not come into play.

Still, the willingness to take offence has grown. Aamir Khan's latest film, PK, has been watched by millions, but it has raised hackles among those professing to speak on behalf of both Hindus and Muslims. Fortunately, calls for the film to be banned have sensibly been ignored, but it has not always been that way.
Meanwhile, the police had to be called in as a precautionary measure when a Hindutva brigade protested outside the office of The Indian Express in New Delhi merely because the newspaper had questioned the government version on the nature of the cargo in the boat that got blown up off the Gujarat coast. The right to free speech includes the right to protest - but not to threaten violence.
On another tack, the politician (now minister) who said that those who opposed Modi should go to Pakistan was roundly criticised, just as another minister who said that those who were not followers of Ram were illegitimate had to apologise. In neither case was legal sanction sought against patently outrageous comments. So even when the law is reasonably liberal, the court of public opinion can come into play. The question is, when does public opinion uphold good sense, and when can it undermine the liberal intent of the law?