'The talk in police circles is that Maria was about to crack the money transaction trail in the Sheena Bora case,' says Neeta Kolhatkar.
'The Mumbai police's Economic and Offences Wing had begun investigations into the money trail and Mumbai police officers had visited Singapore in this connection.'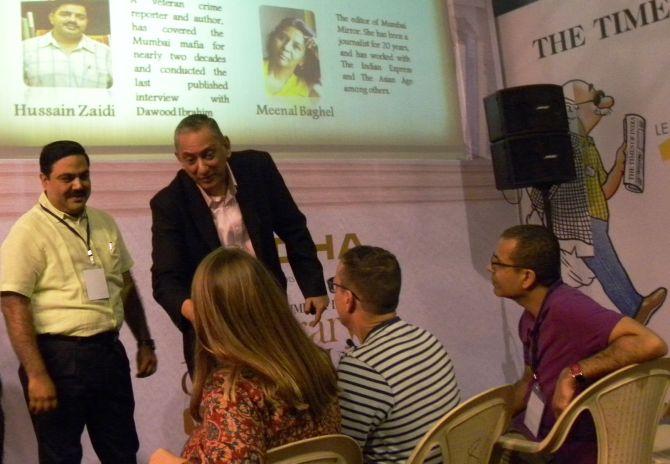 Mumbai Police Commissioner Rakesh Maria had 20 odd days in office before he was promoted to director general of police, when on Monday, September 7, night, Maharashtra Chief Minister Devendra Fadnavis signed an order -- just before he left for Tokyo -- to promote and transfer Maria from his post.
Maria, an Indian Police Service officer from the 1981 batch, was replaced by another IPS officer, Ahmed Javed (from the 1980 batch), who has only 4 months and 21 days before he retires!
It is apparent that the Mumbai police force is divided politically from top to bottom. Conspiracies theories abound, but it is an absolute insider's job!
Most in police circles believe Maharashtra Director General of Police Sanjeev Dayal has shown who calls the shots while Fadnavis has sent a message to the police force that he is the real boss.
Dayal had tried earlier to make Javed the Mumbai police commissioner. But the Nationalist Congress Party issued threats to then chief minister Prithviraj Chavan that it was prepared to risk the collapse of the Congress-NCP government in the state, but would not allow Javed to become police commissioner. It was clear that NCP boss Sharad Pawar wanted Rakesh Maria as the city's police commissioner.
Maria's record as a police officer is clean. He is extremely clever; he is said to be political, but someone who has always allowed matters to cool down, someone who maintains a low profile in the midst of controversies.
The change of government in Maharashtra last year meant Maria was not the most favoured police officer around, someone who was seen as a Pawar camp officer. The controversy a few weeks ago of Maria meeting Lalit Modi in London at a time when the IPL creator was in the midst of a raging national political storm stirred the bickering in the city's IPS ranks once again.
Maria does not share a fine equation with Dayal and others who were in the race before he was appointed police commissioner.
June's Malad hooch tragedy -- in which over 100 Mumbaikars lost their lives -- brought Maria into focus.
The talk in police circles was that the commissioner should have visited the the Malad police station and seen to be sympathetic after the large number of deaths. It was a missed opportunity of perception that the commissioner personally held the police officers guilty. Politically, this was noted.
It would be expected that Maria should have tried to dispel the fears and perceptions of the Fadnavis government. And that was one thing Maria would never do.
To Maria's credit he has built a strong team. And let us not forget the crucial role Maria played in cracking the march 12, 1993 Bombay serial blast case. When a few ego clashes isolated encounter specialist Vijay Salaskar -- who died in the 26/11 attacks -- Maria brought him back to the coveted crime branch. His leadership qualities are spoken of. When he headed the city's anti-terrorism squad, Maria was on top of all developments.
Maria is one police officer who has a terrific network across different strata of society. Be it business, finance, the underworld, high society, citizen groups, students, name it and Maria has his khabris (informers) and friends.
He is known to crack complicated cases as he has a sharp eye. The word is when he began questioning a suspect, almost always the accused would sing. Even his detractors admit there is no police officer with Maria's investigating prowess.
The DGP, Home Guards, is a punishment posting for Maria, a sharp reminder from the about-to-retire Dayal who the real boss is. Maria was slated to step into Dayal's shoes, but has been denied this posting, for now.
The conspiracy theory that Maria was close to Peter Mukerjea and hence transferred is rubbished by his close aides. Contrary to these rumours, sources in police circles tell me that Maria had dug deep into the Sheena Bora case, where former media baron Mukherjea's wife Indrani is alleged to have murdered her daughter.
The talk in police circles is that Maria was about to crack the money transaction trail in the crime. The Mumbai police's Economic and Offences Wing had begun investigations into the money trail allegedly linked to the crime and Mumbai police officers had visited Singapore in this connection.
Fadnavis, it is said, was tipped off about these developments and hence the rush for a change of guard. Those close to Maria say he cooled off on the Sheena Bora case after he learnt of his transfer.
The focus has now shifted to Fadnavis' intentions. Why did the chief minister bring Maria back to head the Sheena Bora investigation after removing him as police commissioner a few hours earlier? Fadnavis will have to answer these questions when he returns from Japan. This controversy will not die down.
The blame for the impact on the Sheena Bora investigation, the chargesheet and the outcome in court will now solely lie with Police Commissioner Ahmed Javed and his team.
Javed has the reputation of being a no nonsense police officer who takes Rs 1 as monthly salary. He is not media friendly, but unlike Maria, is seen on the Page 3 and party circuit.
Unlike Maria who was never seen to pay politicians a visit, Javed is known to visit Mantralaya to meet newly appointed key bureaucrats. Suave and polished, the new police commissioner will soon have to contend with a new DGP and the pressure to deliver on the Sheena Bora case.
Surely, a lot is at stake for Ahmed Javed in his short stay at the helm of the police force in this never asleep city.
IMAGE: Rakesh Maria at the Times Literary Festival, December 2013. Photograph: Zelda Pande/Rediff.com