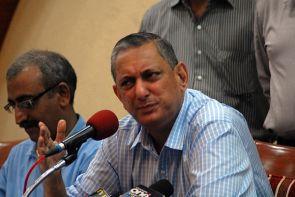 Rakesh Maria's tough posture as Mumbai police chief, it seems, ruffled feathers in the Fadnavis government, says Neeta Kolhatkar.
The Central Bureau of Investigation's questioning of Maharashtra Director General of Police (Home Guards) Rakesh Maria in the Sheena Bora murder case is a big setback for the former Mumbai police commissioner.
The embarrassment was compounded when Maharashtra Chief Minister Devendra Fadnavis told the media that Maria and other police officers had misguided him in the sensational case.
Maria was considered close to Sharad Pawar by the Bharatiya Janata Party, and Fadnavis was not keen on appointing him Mumbai police commissioner.
After news of the Sheena Bora murder broke, Maria was very active with the investigation. He ensured that Indrani Mukherjea was arrested and questioned her husband Peter Mukerjea.
Maria is a seasoned investigator. The accused in the March 12, 1993 Mumbai blasts case cracked due to the pressure imposed by the investigation teams Maria then led.
Like him or not, the fact is that this police officer has cracked tough cases and tougher criminals. He has a network of informers and believes in their importance. He also trusts his team of officers.
Maria was also the darling of the media. He was known to provide detailed briefings to the media when he was posted as joint commissioner of police (crime). His briefings were called 'Maria's class' by the media. It often seemed that an aura was spun around Maria.
When the tables turn, so do equations and relations.
The chief minister's statement has led to the inevitable conspiracy theories. Maria had no reason to go soft on Peter Mukherjea. His tough posture as Mumbai's police chief, it seems, ruffled feathers in the Fadnavis government.
Fadnavis' statement has failed to find many takers. Many ask why the chief minister waited for so long to point out that he had been misled in the Sheena Bora case.