Delhi is a year-round health hazard that visitors shun like the plague, says Sunil Sethi.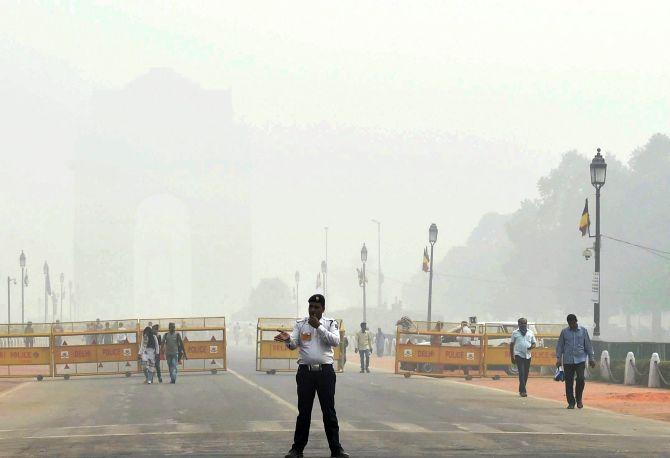 IMAGE: India Gate, obscured by Delhi's smog. Photograph: Manvender Vashist/PTI Photo
A frequent piece of advice offered to long-term visitors or foreign residents -- journalists, diplomats and suchlike -- in the capital used to be: "If you want to see the country, get out of Delhi."
It's a worthless suggestion now. They're getting out fast anyway.
Two years ago, when a disgusted New York Times correspondent Gardiner Harris wrote a long piece provoked by how he quit the post after his young son had to be hospitalised with steroids in the middle of the night upon developing severe breathing difficulties, a storm of opinion erupted, for and against. Some trashed him as a chicken-hearted foreign correspondent.
Today, every denizen and India observer would endorse his opinion as a health emergency turns the city into a gas chamber.
Like survivors on some apocalyptic planet, we are deluged with doom-laden messages.
'Arrived late last night and already coughing and choking. Return Sunday,' texts my brother on a flying visit from the coastal state he lives in.
IMAGE: A man wearing an anti-pollution mask jogs through smog at Lodhi Garden, New Delhi. Photograph: Kamal Kishore/PTI Photo
Delhi used to be a city of clearly defined seasons, with about four months of the year -- autumn with its cinnamon-scented Alstonia scholaris trees and spring with flower-filled gardens -- when the world came visiting.
It is now a year-round health hazard that visitors shun like the plague.
A friend and colleague, who moved to Delhi 40 years ago and whose birthday falls on November 9, recalls how balmy, clear weather made it a red-letter occasion. This year, however, she received a stream of warning and commiserations.
Among her painful chores was to buy a pricey 'Vogmask', recommended by her daughter's school. It sounds more like a fashion accessory than a survival kit -- 'The first ever stylish reusable mask... with active carbon and exhale valve.'
A quick check at my neighbourhood chemist confirms the brisk business in face masks, priced between Rs 50 and Rs 500.
Discussion in homes may centre on brands of face masks and air purifiers, but the larger issues -- of causes and remedies -- are shrouded in a deadly fog of murky political one-upmanship and quarrelsome decision-makers.
Too many agencies are involved in fighting the health crisis, mostly battling one another.
Farmers in neighbouring states, up in arms against the ban on burning stubble, are hostage to rivalries among chief ministers.
Arvind Kejriwal's attempt to reintroduce the odd-even scheme for vehicles has got stuck with the National Green Tribunal over exemptions for women and two-wheelers.
The stoppage of building activity is further stressing the construction business, already reeling from the pangs of demonetisation and the goods and services tax.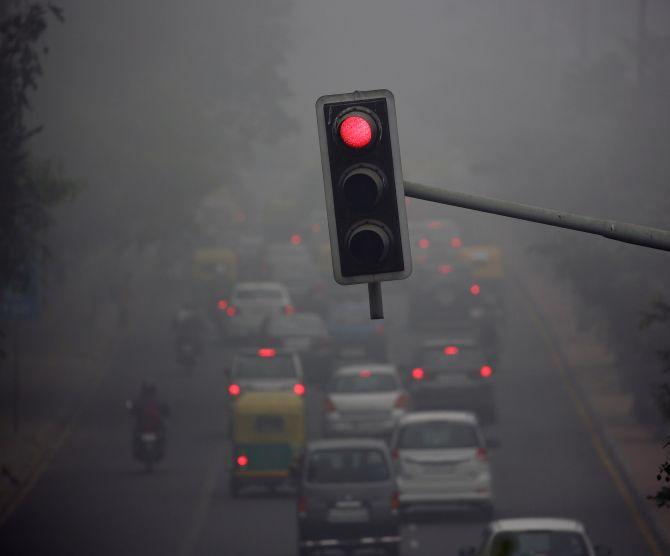 IMAGE: Visibility is just 200 metres on this Delhi road. Photograph: Cathal McNaughton/Reuters
And the biggest failure of Narendra D Modi's vaunted Swachh Bharat, is right under his nose, in the city where he lives.
Cleaner, efficient forms of waste management and disposal remain a foreign idea in Delhi, with its mounds of stinking, uncleared garbage at every corner, and epidemics of dengue, malaria, gastroenteritis and respiratory disorders rampant, obscuring the season.
Many of the anti-pollution measures being debated threadbare are part of the Graded Response Action Plan, notified by the environment ministry in January this year.
But the GRAP is not an emergency response to crisis, it is a scheme to be sustained and implemented over a length of time.
The odd-even vehicle scheme, or jacking up parking fees four-fold, can be made effective only if implemented the year round, not for a few days.
Road dust cannot be eliminated by street-sweeping machines or the bizarre spectacle of thousands of litres of water sprayed by fire tenders from a high-rise at the congested ITO crossing.
"Essential changes in road design and engineering are necessary, as in Bangalore, with ducts to lay cables and improve drainage, so that roads do not need digging and rebuilding every year. Kolkata has improved road design immeasurably, but in Delhi road construction is primitive," says Arjaka Singh, a specialist in urban policy at the Centre for Policy Research.
Ms Singh and others point to simple, tried-and-tested and relatively inexpensive solutions to cut pollution. It is no rocket science for resident welfare associations to introduce compulsory separation of organic and inorganic waste.
The idea has been effectively implemented in Auroville and surrounding villages, among other places.
The biggest killer among plastic materials is foiled wrappers for namkeens and similar packaging because they are hardest to recycle.
Burning and dumping these in landfills is both hazardous and self-defeating. Yet, no national standards mandate the kind of packaging materials permissible.
In her new book Conflicts of Interest: My Journey Through India's Green Movement (Penguin; Rs 599), leading environmentalist Sunita Narain shows how corporate lobbies and political interests scuttle the fight against environmental disaster.
It is precisely such a lack of consensus in Delhi -- between the Centre, state government, NGT, and municipalities -- that has created a crisis of unmanageable proportions.
A series of squabbling authorities scoring points and introducing hare-brained and knee-jerk ideas have made it the no-no capital of the world.