'Kejriwal has shown that not only can Modi-Shah be stopped, they can, in fact, be routed...'
'Today, as the Delhi votes are counted, it shows not only the AAP's victory or BJP's defeat. But also the Congress's final irrelevance,' says Saisuresh Sivaswamy.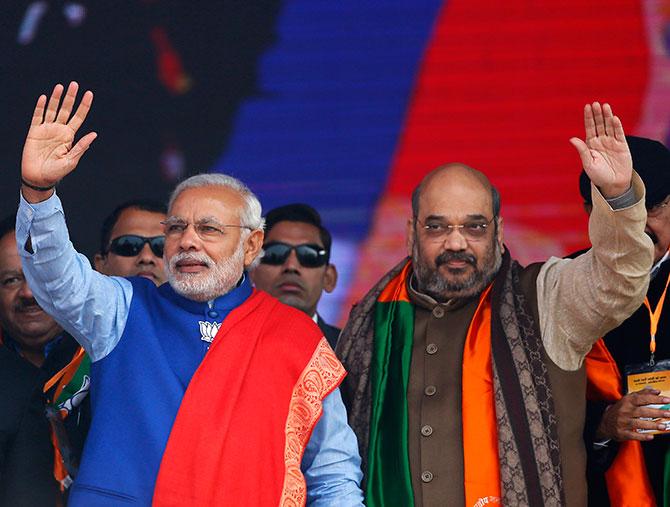 The Congress party is the biggest loser in the most one-sided election result to ever come out in India since 1952, and it is not because of the zero marks it has scored in the all-important mid-term test in Delhi.

The topper, Arvind Kejriwal, has pulled off what not even Jawaharlal Nehru at his peak, or his grandson Rajiv Gandhi in 1989 -- both impressive scores, without a doubt -- could manage. Granted, their tally was in the Lok Sabha election, while Kejriwal scored in what is dissed by some as a non-state election.

For Indians, long used to seeing pass marks and grace marks in electoral tests for 30 years, Narendra Modi scoring a first class in May 2014 came as a wow moment. Well, Kejriwal has just reminded us that it is still possible to score a double distinction in the exams, provided the student remains focused on his studies and not get distracted by other factors like caste, polarisation, etc.

Since it started sliding some time in 2011-2012, and particularly after the 2014 electoral debacle, the Congress has readily thrown in the towel, its think-tank no match for the obvious brilliance of the Modi-Amit Shah combine.

As they swallowed up swathe after swathe of regions, the mystique surrounding the PM and his Man Friday tended to grow bigger and bigger, to an extent that it almost appeared that there was no state, no election they could not win.

The Congress itself was willing to buy into this argument, hoping no doubt that in the larger scheme of things, given the level of expectations the prime minister had raised, it was only a matter of time before he tripped -- and the electorate would turn to its old and trusted friend, the natural party of governance as the Congress still tended to think of itself.

Kejriwal, the pygmy politician who has faced a level of ridicule on social media that even Rahul Gandhi cannot lay claim to, and who a month ago was given an outside chance of winning this election, has thus managed to do what the hoary Congress brains trust, that is full of more than a century's electioneering, simply could not.

Kejriwal has shown that not only can Modi-Shah be stopped, they can in fact be routed.

And this is why, more than what the numbers themselves seem to suggest, the Congress is the biggest loser in Delhi.

For Modi-Shah, a 'Congress mukht Bharat' would almost entirely be BJP territory, with minor regions here and there ruled by regional parties who, in the face of the stellar administration provided by the saffron party, would simply wither away.

The regional parties, Modi-Shah knew, sprouted and flourished because the Congress had become weak. The antidote was not to make deals and adjustments with the satraps, as the Congress has been doing, but to take them head-on, alongside aggressively building up your own organisation.

And in Modi-Shah the BJP, and its parent body the Rashtriya Swayamsevak Sangh, found it had got a political buy one, get one free offer we don't find even at Big Bazaar.

While Modi, with his currently unmatched power of oratory and communication, dazzled voters and lured them in, Shah, with his innovative and aggressive style of booth management, ensured that Modi's allure was converted into votes.

On the face of it, it was a strategy that unnerved not just the Congress with its lacklustre leadership but also the powerful regional parties, who realised that they were simply no match for the duo.

But even as Modi and Shah stitched up state after state, they were aware of one fact that the rest of us had become blind to in the dazzling lights, a fact that my politically sagacious colleague Syed Firdaus Ashraf greenlighted and made me aware of last year, that there was a large segment of voters who do not vote BJP and who had no viable alternative. Once upon a time, they would have voted Congress, but not anymore. Where do they go?

For this segment, who wants no truck with the BJP's brand of politics, or with Modi's brand of leadership, Kejriwal became the magnet.

There is this quality to life that most of us miss out on, that mistakes are not the end of the world, and sometimes there is a larger lesson to be learnt from them. But most of us spend our time in self-recrimination and/or blame games for committing mistakes, that we fail to see the positives from it, we fail to move on from that point.

Kejriwal knew he had made a mistake in 2013, when he stomped out of power after a mere 49 days in office, perhaps in the mistaken belief that Indians love those who show disdain for power.
Similarly, he knew he made a mistake in 2014, when he tried to spread his wings too wide before he had learnt to fly, entering the Lok Sabha election and offering himself up as a prime ministerial alternative.

They were mistakes, yes, and the BJP wasted no time in reminding him and the Delhi voters ad nauseam of this. Kejriwal, instead of either getting stuck on this point or being perennially defensive over it, quickly admitted to the public his error, sought their forgiveness, and promised to never repeat it.

Contrast that with Amit Shah's 'political jumla' comment for his chief vote-catcher's campaign rhetoric to bring back black money, and you see the difference between a new-age politician and the traditional.

Similarly, used as one is to seeing politicians kowtow to the caretakers of the minority vote, or the majority vote for that matter, AAP's summary dismissal of support from Imam Bukhari furthered deepened the message that here was someone who played by different rules, and not be stuck in age-old matrices.

The astute Modi-Shah saw this too, and the effect it was having on the electorate. Which is why they made Kejriwal the centrepiece of their election campaign, as they knew what he represented. And that unless he was stopped, he will emerge as the fulcrum for anti-BJP forces to gather around.

In another time and place, it would have been the Congress that would have reaped the anti-Modi votes.

Today, as the Delhi votes are counted, it shows not only AAP's victory or the BJP's defeat. But also the Congress's final irrelevance.

The Congress, having lost in the states, possibly hoped that as a national party it will be in a position to reap the anti-BJP votes in the next Lok Sabha election. Kejriwal has just shot that dream out of the ballot box.


Image: Prime Minister Narendra Modi with BJP President Amit Shah at a campaign rally before the Delhi assembly election. Photograph: Anindito Mukherjee/Reuters