'AAP will not be judged by the administration it provides.'
'If it could change the system, if it could change the very nature of the establishment, only then will it be remembered in history,' says Ashutosh, who led the AAP organisation in Delhi.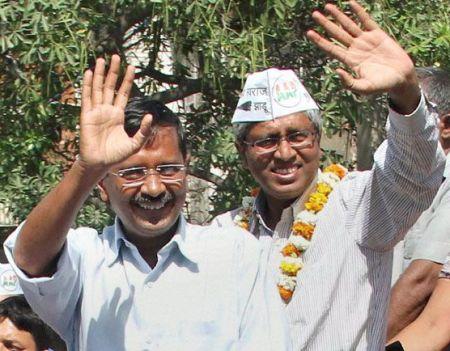 We never thought it would be such a mammoth victory. We had been expecting that the Aam Aadmi Party would form the government, but that AAP would only fail in only three constituencies was beyond my wildest imagination. It will go down in history as one of the biggest electoral victories.
But history will judge it very differently. It can't be construed as simply an electoral win or loss; it also can't be construed as a battle between the two titans -- between Narendra Modi and Arvind Kejriwal. It also can't be seen as revenge of Varanasi.
It's something else. It's not normal. It's not simple. Neither is it complicated.
While campaigning in Delhi in the last six months, I have seen a very different but a positive response from the masses. Unlike media speculation, people on the ground were very sympathetic to us.
AAP and especially Arvind had very strong goodwill. People had been coming to us with complaints and also with requests that this time we should not leave the government.
We were never treated like other politicians. They believe that we are good people and honest people. They were unhappy with Arvind's resignation, but never doubted our integrity.
It was a huge plus for all of us and it helped AAP to turn the tables on the Bharatiya Janata Party and team Modi.
It's true that we strengthened our organisation in the last few months. It's also true that we created a dozen frontal organisations which helped in reaching out to the every man/woman on the street. It is also true that we were better prepared than the BJP for elections.
We had more clarity in our strategy and campaign, but what resulted on judgement day should not be mistaken as a result of hard work of the organisation.
As the head of the organisation, I am not belittling the importance and role of thousands of volunteers, but what I am trying to say is that this was not possible only by the organisation. This was something else.
It is a vote for an alternate politics.
It is vote for an alternate model of governance and administration.
People are fed up with the corrupt establishment. It is a rejection of the old structure and a demand for the new.
Society today craves for change -- a positive change.
In the last 68 years we have created an ecosystem in which an honest transaction between the citizen and the State is not possible.
The State, which should shoulder the responsibility of fighting against corruption, itself became an engine for vices.
Citizens have had no option but to seek shelter under the banyan tree called the State for their basic survival as fighting the establishment meant fighting for their own survival and making an enemy of everyone.
This ecosystem turned vices into virtues. The more corrupt one gets, the more powerful one becomes.
The State is in no mood to leave its grip as it is the direct beneficiary, but the character of citizens has been changing over the last few years thanks to economic openness and gigantic media freedom.
AAP's decisive victory is the first authentic assertion of this animal called the Citizen in its bid to reject the present edifice.
Last year, this Citizen gave a hint of things to come in the future, but the establishment was in no mood to listen. If the message was to be loud and clear, the assertion would also have to be bold and ruthless. That is exactly what happened on February 7.
AAP should not get confused with the verdict. It is not a verdict just for good governance; that can be provided by any party. One does not need AAP for that.
AAP has to give good governance -- that is the first condition for its existence -- but it has to go beyond that. It has to provide a model for alternate politics. It has to evolve an alternate political culture.
It has to create an ecosystem in which clean politics is possible; in which affordable politics is possible; in which the transaction between the Citizen and State is transparent and without any vested interest; in which the Citizen and State are both equals and both treat each other as stakeholders in a participatory democracy, in which the State is not Goliath and the Citizen David.
AAP's role in history will not be judged by the kind of administration it provides. If it could help change the system, if it could change the very nature of the well entrenched establishment, only then will it be remembered in history.
AAP can't afford to play the role of a moderator. It has to act like an agent of change, a reformer.
It will not happen in one day. There will be backlashes, the empire will fight back. The Establishment will not leave its space so easily. AAP has to be patient.
Every member of its team will be tested. They have to all constantly go through agni pareeksha.
Can AAP do it? That is the question? Undoubtedly, it is a gigantic task. In my opinion there are five things that AAP needs to do:
1. It has to create private and public examples. Every member has to set a very high standard for himself/herself and for the organisation.
2. Zero tolerance on the issue of private and public morality. Every offender will have to pay the price, irrespective of the position one holds in the party and/or in government.
3. Strict enforcement of discipline is an absolute requirement. No war is won without the cohesion of discipline. Egos and personal agendas will not have any place in this battle.
4. New institutional frameworks have to be invented to fight corruption. Old systems will be replaced by fresh, vibrant and modern ones which should be in sync with contemporary sensibilities.
5. Absolute transparency in the structures should be the order of the day.

I know it is tough and it will not happen in a day or two. It is a long haul. There will be ups and downs. But it is not impossible. In fact, it is do-able and we will do it.
Ashutosh is a member of the Aam Aadmi Party and a former journalist.