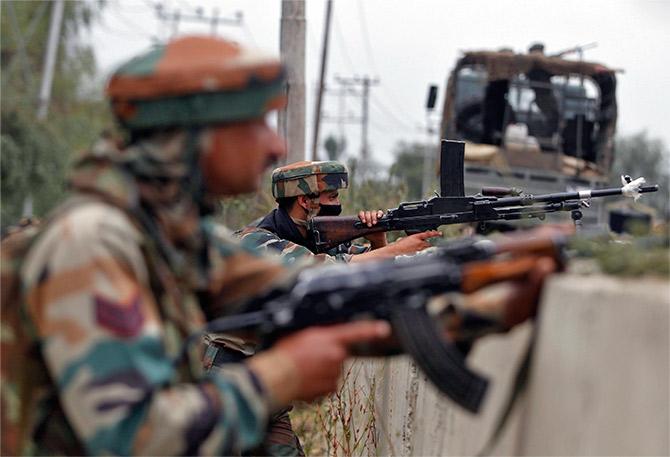 'We should build a military with the capability to fight today's war on priority -- balancing it with the requirements of the future,' says Lieutenant General Anil Chait, one of the Indian Army's most cerebral thinkers who recently retired as chief of the Integrated Defence Staff, in his agenda for the new defence minister.
Comprehensive defence reforms to deal with visible, along with invisible and evolving, threats -- a subset of the security narrative for defending and securing India and Indians -- demands doctrinal and organisational review of defence matters.
It seeks enhanced commitment of the forces and its human resource; joint-ness of services, which will make the output greater than the sum of individual parts; better coordinated civil-military relations including improved higher defence management, in addition to the process of equipping the country's defence forces with capabilities to influence opponents for winning the contest of will, through deterrence and, on its failure, by fighting.
Recommendations of an action plan for meeting the objective of defending India in support of securing Indians should include some of the steps outlined below:
Clear, holistic visualisation of 'Comprehensive national security' and the role of economic, diplomatic, military and soft power therein, to secure our interests and objectives
Comprehensive national security architecture which can give studied and achievable goals and objectives.
Responsive, credible and effective civil-military interface and architecture that can harness cumulative military power efficiently in quick time needs to be created, to facilitate an effective and speedy response. Measures such as restructuring the MoD, which have been accepted and recommended for implementation, needs to be acted upon.
Cogent and detailed doctrinal articulation on the use of military as 'an instrument of power for meeting national objectives' under the nuclear framework needs to be structured.
Appointment of Chief of Defence Staff/permanent chairman of Chief of Staff Committee and inclusion of the appointment in relation to services chiefs in allocation of business/transaction of business rules needs to be institutionalised.
A military command structure unlike the current service specific structures, empowered with the responsibility for full spectrum operational/ military strategic decisions in the midst of changing character of warfare, should be created with defined roles and responsibilities of service chiefs and chairman COSC.
Institutionalised joint planning mechanism and adaptive planning process in line with emerging future threats and security concerns needs to be organised after due deliberations.
We should build a military with the capability to fight today's war on priority -- balancing it with the requirements of the future.
The military needs to be equipped through an integrated approach -- by weapons and armaments, provisions and stores -- to generate options for use of an inclusive and joint military force, as an element of comprehensive national power.
Infrastructure projects for supporting operations against the Northern Front and through the Andaman and Nicobar Command, need to be hastened up. Road and railway infrastructure to support military operations both operationally and logistically needs to be expedited through an all-inclusive decision-making approach.
Force capabilities should be built in accordance with likely scenarios of employment, their priorities and desired outcome. Appropriation of budget allocations to meet the approved requirements of the military strategy, through a firm commitment by CCS for a two-front scenario, is an imperative.
Creation of a national military commission and a national aeronautical commission against the backdrop of the proposed National Maritime Authority in conjunction with other stake-holders, needs to be examined.
Technological and fiscal resources of Indian corporates and the Defence Research and Development Organisation for building national defence capabilities should be harnessed.
Shortfall of young officers in defence through incentivised and attractive packages and stimulus needs to be addressed.
Respect within society towards the profession of soldiering, should be inculcated.
Strategic culture and new strategic thought for proactive dealing with ambiguous, complex, volatile uncertainties in the South Asian context needs to be created. Interfacing of academia, research institutions and users for leveraging cognitive ability of war-fighters and planners will assist such a formulation.
Skills of soldiers should be realigned on retirement to make them enabled members of society, for the building of a vibrant and energetic Bharat.
India has chosen the path of defending the nation at its frontiers. It runs the risk of bearing consequences either at the borders or in the hinterland. Unless that percept changes, defence can contribute more extensively by examining the above mentioned recommendations and implementing them for the larger national ambition of a safe and secure India.
Image: Indian Army soldiers doing duty in Kashmir. Photograph: Danish Ismail/Reuters.
Lieutenant General Anil Chait recently retired as chief of the Integrated Defence Staff; he was also Central Army Commander.
Don't miss these articles by Lieutenant General Anil Chait (retd):