The defence ministry needs to focus keenly on "Made in India" projects without being distracted by "Make in India" slogans, says Ajai Shukla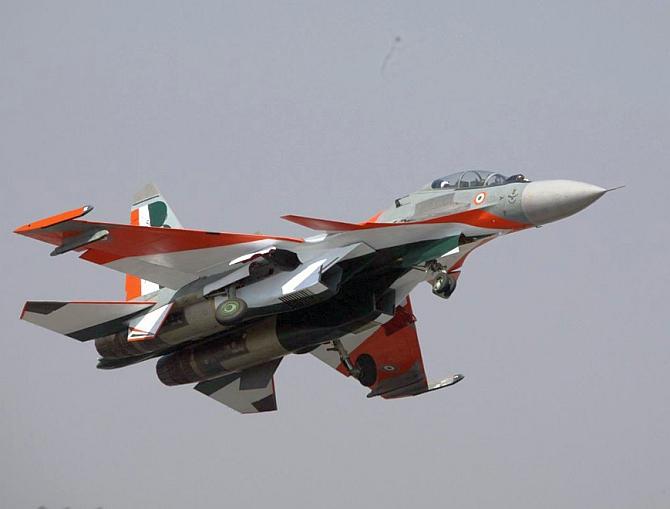 In the manner of government and entities dependent upon it, everyone in defence production from the ministries of defence and commerce, the defence industrial estate and even the military has jumped on to the Prime Minister Narendra Modi's bandwagon of "Make in India".

Defence Minister Manohar Parrikar proclaimed recently that the Bharatiya Janata Party-led government had already cleared Rs 75,000 crore worth of acquisitions, of which Rs 65,000 crore is in the "Buy and Make (Indian)" category of the Defence Procurement Policy.

He appeared to suggest that these systems -- which include submarines (Rs 50,000 crore, or $8 billion), artillery guns (Rs 15,750 crore, or $2.5 billion) and anti-tank missiles (Rs 3,200 crore, or $500 million) -- would be indigenous products.

The truth is less encouraging.

While nobody has explicitly clarified what exactly "Make in India" would be, it is being interpreted as the licensed manufacture of foreign defence equipment, which the DPP covers under the categories of "Buy and Make" and "Buy and Make (Indian)".

This is very different from a "Made in India" product, which is encapsulated in the "Make" category of the DPP, involving the ground-up development of indigenous defence platforms.

It is crucial for policymakers, strategists, economists and the public to explicitly recognise this difference.

In "Make in India", a foreign arms manufacturer is paid for transfer of technology and the licence to assemble a platform -- say, a submarine, tank or aircraft -- in India.

The vendor supplies manufacturing technology and the jigs and tooling needed for assembling components, sub-systems and systems into a full-fledged combat platform.

While hard bargaining sometimes obtains the technology to build some of those systems and sub-systems in India, vendors would seldom part with the technology to manufacture complex and high-tech systems, which they developed at enormous cost.

A high proportion of the platform, therefore, continues to be supplied from abroad.
How "Make in India" plays out is evident from the Sukhoi-30MKI assembly line in Nashik, where Hindustan Aeronautics Ltd builds the air force's front-line fighter.

While negotiating the contract for 180 Su-30MKIs in the year 2000 (which later went up to 272 fighters) India -- the world's largest operator of this aircraft -- employed all the leverage it had to extract technology from Russia.

Even so, just 51 per cent of the fighter (by cost) is made in India.

Russia insisted that all raw material -- including 5,800 titanium blocks and forgings, aluminium and steel plates, etc -- be sourced from that country.

Similarly, HAL builds the fighter's giant AL-31FP engines in Koraput, Odisha, but is bound by the contract to import 47 per cent of the engine (by cost), including high-tech composites and special alloys -- crucial secrets that Russia will not part with.

In defence, "Make in India" never provided Indian manufacturers the capability to upgrade platforms that require fresh technology as time goes by; in fact, manufacturing licensing conditions usually stipulate that the buyer can make no alterations.

That is why India, which carried out "Make in India" of the MiG-21 for decades, had to go back to Russia when it upgraded the fighter.

It is on maintenance, repair, overhaul and upgrade that foreign vendors make their real money, even on equipment that has been licence-built in India.

It is variously estimated that the MiG-21, over its lifetime, cost India 20-40 times its purchase cost.

The Mirage 2000 is another example of costs expanding ten- or twentyfold.

In contrast, a "Made in India" aircraft like the Tejas could be continually upgraded without licensing issues, altered and supplied anywhere in the world.

It is disingenuously argued that India's leverage as the world's biggest arms importer allows it to dictate terms to foreign vendors, forcing them to part with proprietary high-technology as a condition for winning a contract.

The strategic nature of defence technology allows that up to a point.

Companies negotiate contracts based on commercial interests; but the export of technology is controlled by their governments, which mostly regard technology as a strategic asset.

Even when capitals like London or Paris, which enjoy close strategic ties with New Delhi, are willing to clear technology export, they are often restrained by the political risk associated with job losses in a field as sensitive and emotive as national defence.

This is even more pronounced in the current era of defence budgetary cutbacks in arms-exporting countries, where skilled workmen are already being laid off due to reduced procurement.

"Made in India", on the other hand, involves conceiving, designing and building a defence platform in India, creating intellectual property in the country.

In the DPP, "Make" category projects involve Indian-led consortia developing defence platforms, with the defence ministry funding 80 per cent of the development cost.

While foreign components and systems go into these platforms, the basic design is custom-tailored for Indian operational requirements and user preferences.

There are seldom "end-user" issues that dog foreign platforms. Maintenance, repair, spares and overhaul are not such bugbears, and, having designed the basic platform, the Indian integrator can continually upgrade it through its service lifetime, evolving it incrementally into the platform's next generation.

This is not to say that "Make in India" serves no purpose.

First, it creates jobs, a key government goal. Second, building even low-tech defence equipment creates high-quality manufacturing capability, which goes into creating the broad-based manufacturing ecosystem that is essential for "Made in India" projects.

Weapon system designers and integrators can then focus on high-level design, assured that components -- from the lowest level of nuts, bolts, washers and fuse boxes to higher levels of pumps, actuators and sensors -- are available without needing to import or establish manufacturing units to supply them.

That is why the statement on Monday by secretary (defence production), G Mohan Kumar, that at least eight to 10 "Make" projects would be kicked off every year holds the promises of galvanising the defence industry.

While purchasing foreign defence equipment recklessly all these years, only a handful of "Make" projects have been conceived so far and none has been shepherded to fruition.

The defence ministry needs to focus keenly on "Made in India" projects without being distracted by "Make in India" slogans.

Read more defence news HERE