Unimaginative increments, persistent refusal of funds have turned the military into an underfed child scared to ask for a full meal, opines Ajai Shukla.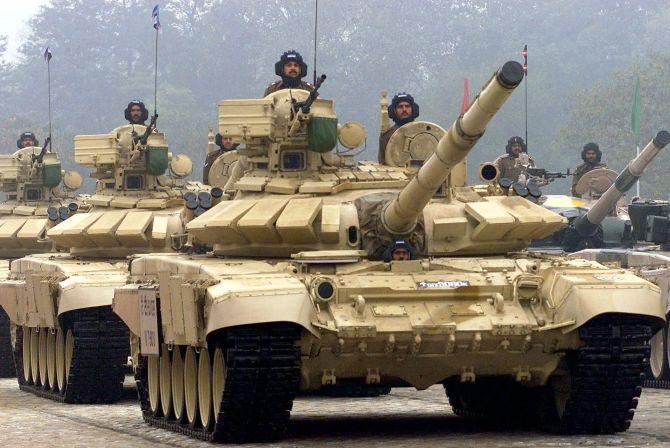 Since October, the military has been negotiating with the defence and finance ministries to finalise financial allocations for the coming financial year, 2016-17. Unfailingly unimaginative, the military's various departments have taken the current year's allocations, upped them by five to 10 per cent and projected that as next year's requirements. As usual, the finance ministry has arbitrarily cut those requests.
Like always, when revised estimates are prepared at the end of the year, the capital allocation (for equipment modernisation) will be slashed further since revenue expenditure, particularly salaries, must be paid on priority. Year after year, the military ends up spending money quite differently from what had been allocated.
Every military financial planner admits the services are consistently under-budget in both the revenue and capital heads. Weaponry sanctioned under the 15-year Long-Term Integrated Perspective Plan requires significantly higher capital allocations. Yet, like a child that has been consistently underfed for years, the military no longer dares to ask for a full meal. To stretch this analogy further, were the military to be given that full meal, it would probably be incapable of digesting it. Yet, if only as an academic exercise, it is worth reflecting on what a realistic allocation might be for the military.

In the revenue head the payroll is growing, with the government bound to accept most recommendations of the Seventh Central Pay Commission. A modest increase of 20 per cent over the current year's salary allocation and a 15 per cent increase on non-salary spending would boost the revenue allocation to Rs 1,79,621 crore ($26.6 billion).

The capital budget would grow even more. The army, while a relatively low-tech, manpower-intensive service, badly needs new equipment -- including artillery, air defence missiles, new-generation personal weapons and battlefield communication systems. Equipment worth Rs 1,81,450 crore ($26.9 billion) is already sanctioned. Assuming these contracts divide payment into 10 equal annual instalments, this year requires Rs 18,145 crore over and above the Rs 21,574 crore committed last year, which would cover liabilities committed earlier. That would take the army's capital allocation up to Rs 39,713 crore ($5.9 billion).

Urgent naval procurements include submarines, stealth frigates, logistic support vessels, anti-submarine and counter-mine vessels and, most crucially, ship-borne helicopters. This adds up to Rs 2,96,800 crore ($44 billion), of which one-tenth must be provisioned for in this budget. Catering for committed liabilities, the navy's capital allocation must rise to Rs 53,591 crore ($8 billion).

The air force, which traditionally receives the highest capital allocation, is looking to conclude contracts for the (vastly overpriced) Rafale fighter, extending the Jaguar fighter's service life, and a range of helicopters. Contracts worth Rs 1,72,600 crore ($25.5 billion) require urgent conclusion, with Rs 17,260 crore payable this year. That takes the air force's capital allocation to Rs 48,741 crore ($7.2 billion).

All this would take the capital allocation to Rs 1,63,561 crore ($24.2 billion), slightly less than the revenue allocation. That would boost the defence budget by almost 40 per cent from the current Rs 2,46,727 crore ($36.5 billion), to Rs 3,43,182 crore ($50.8 billion). As a share of the government spending, defence would rise from 13.85 per cent to 18.25 per cent; and from 1.75 per cent to 2.25 per cent of the GDP.

Can India spend 2.25 per cent of the GDP on defence, given the government's fiscal deficit targets, and the pressing need to boost spending on health care, education and food for the poor? That is a political call.
India's on-going border disputes with China and Pakistan, several long-running insurgencies, and the army's frequent employment on natural disasters require high preparedness. If the government decides it cannot spend more on defence than it already does, national strategy and the military's tasking must reflect the realities of our pocket.