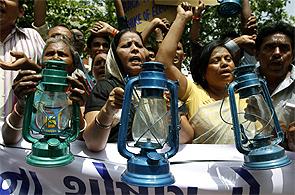 The prime minister's visit to Washington should focus more on shopping for energy security and stopping the US from snooping on us, reigning in its popular and innocuously operated instruments to gather intelligence like Google, says Tarun Vijay.
Wish the prime minister, who will be in the Oval Office soon meeting President Obama, well.
A successful trip to the United States means a lot and I hope we get energy to light up the houses of millions of our people.
China's President Xi Jingping goes globally to hunt for potential markets to buy energy. China's agreement with the Russians is at an all time high in the world energy market.
It is good politics to give your people fuel for the future and what better time can it be when the US is refreshingly thrilled with the enormous prospect of shale gas, which can be shipped in containers after converting it into liquid?
It was not thoughtful advice to have the prime minister have his significant US visit unnecessarily clouded by a meeting with Nawaz Sharif. There is absolutely nothing he gains from a meeting that is no more than a chai-shai occasion without serious consequences for peace.
The visit should have focused more on shopping for energy security and stopping the US from snooping on us, reigning in its popular and innocuously operated instruments to gather intelligence like Google.
Nothing is more important for us than have a guaranteed supply of energy for the next twenty-five years.
A growth rate stabilised at 8 per cent and providing unhindered energy to the masses, with a border under control with no war possibilities must top our agenda.
No use getting swayed by provocations and getting entangled in skirmishes that mar the prospect of putting India back on the right course of economic rejuvenation.
Look at the figures and decide if going to a war and becoming a security paranoid society is preferable to a prosperous and intelligently prepared nation?
600 million Indians live without any electricity. In the next twenty years our demand for energy is expected to grow by 95 per cent. Presently, we don't have the resources to meet the demand and possess sufficient energy sources.
At an average growth per cent of 6 to 57 per cent, our peak demand is likely to cross 255,000 MW which seems difficult to meet with our present infrastructure.
Energy pundits see energy imports as the only way out for the foreseeable future, till we decide to invest hugely in the domestic energy sector and begin building infrastructure for power production, overcoming environmental hurdles and addressing green issues.
In a country where 700 million people use traditional bio mass for cooking and consume 75 per cent of the domestic energy demand, where bad cooking fuel affects the lives and future of millions of women and girl children, where lack of power supply remains the biggest factor keeping millions of Indians poor and illiterate, can there be any other issue more important than the 'energy hunt'?
India lives in two worlds -- one where switching on and switching off lights and cooking without any worries about clean fuel supplies is a norm of life. The other India waits hours to have their small bulb light up so that their children can complete their homework and they cook their food.
Most of them depend on unclean fuel affecting their health and future badly.
Is there any hope for them?
Though coal and hydel power projects may dominate the homegrown energy sector, India will remain an energy importer and hence the significant sector of gas must find a top slot on Manmohan Singh's US visit.
The prospect of having shale gas shipped must be good news for India. Though India too has okayed a shale gas policy recently and ONGC is taking up its first shale gas exploration in the Cambay Basin in Gujarat, but it is at a nascent stage with a budget of nearly Rs 150 crores to Rs 200 crores (Rs 1.5 billion to Rs 2 billion) to drill the first set of wells and even that operation seems to be in consultation with an American energy company ConocoPhillips.
While we move in this direction, it might be prudent to explore possibilities of shale gas imports with technology transfer provision from the US. Diversifying our energy supplies and reducing dependence on traditional fuel and Arab countries will help us in the future.
India must master shale gas exploration technology and get US help. It is the fuel of the future; already, we have delayed going for shale at least by a decade.
China has the world's largest shale gas reserve and more than 20 per cent energy needs of the US are met with shale gas supplies which may be upped to 46 per cent soon. It also helps reduce green house emissions.
A study by the Baker Institute of Public Policy at Rice University concluded that increased shale gas production in the US and Canada could help prevent Russia and Persian Gulf countries from dictating higher prices for the gas they export to European countries.
The leader of the nation must be clear about his objectives and single-mindedly pursue those goals. Getting into murky and controversial nuclear liability issues won't help.
Tarun Vijay is a BJP member of the Rajya Sabha.
Image: Protestors protest the hike in electricity rates in Ahmedabad, June 2012. Photograph: Amit Dave/Reuters