China is worried about the situation post the Dalai Lama and that his reincarnation could surface in Arunchal Pradesh, a region it claims as its own, but which is part of the Indian Republic, says former RA&W Additional Secretary Jayadeva Ranade.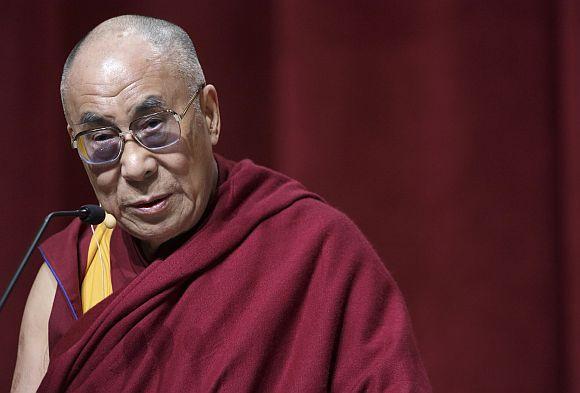 Reports in China's official media over the past month, while implicitly pointing to the continuing influence of the 14th Dalai Lama in Tibetan areas, indicate a renewed emphasis by the Chinese regime in tackling anti-China and 'separatist' tendencies especially among Tibetan officials and monks and nuns.
Amidst hints that China is preparing for the time when a successor to the Dalai Lama has to be chosen, Beijing has indicated it anticipates that some foreign elements could stir up trouble inside Tibet at that time.
Additionally, it appears to apprehend the possibility that the Dalai Lama's reincarnation could be 'discovered' in Arunachal Pradesh. The reports together suggest that the Communist regime in Beijing still feels vulnerable on the Tibet issue.
Specifically, Beijing launched campaigns this November in at least the Tibet Autonomous Region, TAR, and Qinghai province, which includes parts of Amdo region, to 'educate' monks on the 'negative influence of separatist ideas.'
The State-run Global Times on November 26, quoted Dorje, Director of the Publicity Department of the Nangqian County Party Committee of Qinghai province, as saying that 'education can ensure that monks and nuns do not participate in activities to split the country and disrupt social order.'
Qinghai province has also started recruiting officials for deployment in Tibetan Buddhist monasteries 'to guard against continued overseas influence of separatism on monks.' For example, Nangqian county in Qinghai province -- 97 per cent of the population of which is Tibetan -- announced on November 24, that it will choose 13 people from local governments and other public institutions to be stationed in the monasteries.
Lian Xiangmin, an expert at the China Tibetology Research Centre, said 'most of the monks are law-abiding, but some of them may be used by hostile foreign forces and religious extremists such as the Dalai Lama and could cause damage to both the monasteries and society.'
Earlier, on November 11, the Global Times highlighted TAR party secretary Chen Quanguo's warning that 'Party members and officials who secretly follow the Dalai Lama and those who secretly hold religious beliefs will be severely punished.'
Describing Tibet as 'a major battleground against separatism,' he stressed that party discipline will be strictly enforced 'to make sure there is no double-talking on the issue of anti-separatism in Tibet.'
Chen Quanguo warned party members and officials against participating in or supporting ethnic separatist activities, such as going on overseas pilgrimages to worship the Dalai Lama and attending prayer sessions and lectures, or sending their children and relatives to schools linked to his clique.
Within days, on November 13, the Global Times published another article authored by Li Ruohan, one of its senior journalists who often writes on military, security and religious matters. This toughly worded article is of particular relevance for India.
The article divulged that a campaign to publicise the counter-espionage law had been launched in November throughout Tibet. It stated that 22 monks and nuns from three temples in Nyingchi prefecture in southeastern Tibet, across the borders with Arunachal Pradesh, received a three-hour lecture at the Lamaling temple on the counter-espionage law.
Li Wei, an anti-terrorism expert with the China Institutes of Contemporary International Relations, affiliated to the ministry of state security, was quoted as saying that 'monks and nuns are considered vulnerable to espionage activities, as many senior officials in China often visit eminent monks. And temples have always been a focus of government to maintain the stability of Tibet.'
Li described Tibet as a significant battleground for foreign intelligence institutions, and said the trend is likely to continue as ethnic separatist forces in Tibet are good targets for those agencies. The article pointedly asserted that analysts believe that 'many overseas intelligence agencies have targeted Tibet as a critical battleground for espionage activities, taking advantage of the active ethnic separatists in the area to provoke conflict and turmoil.'
The Lamaling temple is approximately 10 miles as the crow flies from the border with Arunachal Pradesh and is among the most famous monasteries of Tibetan Buddhism's oldest Nyingma sect.
Penpa Lhamo, deputy head of the Contemporary Studies Institute of the Tibet Academy of Social Sciences, explained to Global Times that 'Nyingchi is of special importance to anti-espionage efforts because there are many military sites.'
The focus on Nyingchi suggests China's concern about the situation post the Dalai Lama and that his reincarnation could surface there. This concern was reinforced in an article Zhu Weiqun, chairman of the ethnic and religious committee of the Chinese People's Political Consultative Conference and a former vice minister of the Chinese Communist Party's central committee's united front department, published in Global Times on November 30.
The article was emphatic that 'determining the existence of the Dalai Lama lineage and the reincarnation of the Dalai Lama is not a pure religious affair, not the Dalai Lama's personal right, but it is Tibet's foremost political issue and is the embodiment of China's central government's sovereignty over Tibet.'
More recently, on December 7, another article by Li Ruohan in the Global Times, quoted Zhu Weiqun as telling China's Central Television that 'some have taken advantage of closer ties between Tibet and other Chinese cities to collect money by pretending to be Living Buddhas, and some even use the money to sponsor separatist activities.' He disclosed that the Chinese government might release a list of 'officially recognised Living Buddhas' to the public.
Wang Xiaobin, a scholar with the Beijing-based China Tibetology Research Centre, it added, had observed that 'a monk officially becomes a Living Buddha after going through a confirmation process involving historical conventions, traditional religious rituals and government approval.'
However 'some Living Buddhas bypass official approvals, a requirement which was blurred by the 14th Dalai Lama to feed his political intentions.'
The reference to Nyingchi is pertinent for India since official Chinese maps routinely depict the administrative boundaries of Nyingchi Prefecture as incorporating the entire state of Arunachal Pradesh.
Senior Chinese party and military officials travelling to TAR, including Xi Jinping, also invariably visit Bayi, the administrative capital of Nyingchi district, to inspect the military and strategic missile bases located there and implicitly assert China's claim over Arunachal Pradesh.
Jayadeva Ranade is a former Additional Secretary in the Cabinet Secretariat, Government of India and President of the Centre for China Analysis and Strategy.