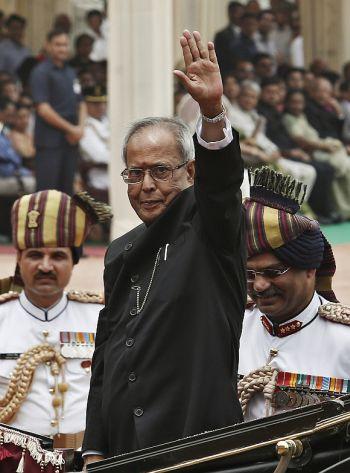 Does Pranab Mukherjee want to be 'PM' by office, not just by initials? The very prospect, with memories of the Narasimha Rao years scarred into their memories, scares the Nehru-Gandhis, says T V R Shenoy.
"Rahul is apprehensive about the old man."
"How could Dr Manmohan Singh make anyone nervous?"

"The Shahzada isn't scared by the Wazir in Race Course Road; he is thinking of the Shah in Rashtrapati Bhavan!"

And thus, according to the ever-churning rumour mills of Delhi, yet another hopeful starts to play Kaun Banega Pradhan Mantri.

Pranab Mukherjee as prime minister? The Nehru-Gandhis at any rate are taking it seriously.

Let us start with the assumption that no party will win enough seats in the 16th Lok Sabha to form a ministry on its own. What happens if even the two principal coalitions -- the UPA and the NDA -- can't reach the magic number of 272 seats?

At the risk of annoying partisans on both sides, assume that neither Narendra Modi nor Rahul Gandhi is capable of -- or even desires -- leading a rickety coalition. What are the options?

We could have a cobbled up group, supported from outside by either the BJP or by the Congress. Given the horrible history of such ministries -- Charan Singh, V P Singh, Chandra Shekhar, H D Deve Gowda, I K Gujral -- let us pray that this never happens. Stability requires a prime minister from either the BJP or the Congress.

Who could that be in the absence of Narendra Modi and Rahul Gandhi? Pranab Mukherjee enjoys decent relations with most other parties, has hands-on experience of government, and no scandal attached to his name. How many Congressmen can claim that?

But would the President accept a 'lesser' office?

John Quincy Adams was president of the United States from 1825 to 1829; he then served -- brilliantly so -- in the House of Representatives from 1831 to 1848. Andrew Johnson, US president from 1865 to 1869, was elected to the Senate in 1875. William Howard Taft, president from 1909 to 1913, was chief justice from 1921 to 1930.

In Britain, no fewer than five 20th century prime ministers -- Arthur Balfour, Stanley Baldwin, Ramsay MacDonald, Neville Chamberlain, and Alec Douglas-Home -- served as cabinet ministers after being prime minister. There were others in the tangled politics of earlier centuries.

Raymond Poincare was president of France from 1913 to 1920 before re-entering active politics as premier from 1922 to 1924 and 1926 to 1929.
Vladimir Putin, having been president of Russia from 2000 to 2008, was prime minister from 2008 to 2012, before resuming the top job.

But why should we look to the United States or Britain, France or Russia, when there is a precedent closer home?

Chakravarti Rajagopalachari was the first Indian master of that palace on Raisina Hill; as governor-general he was technically Prime Minister Jawaharlal Nehru's superior. In 1950 Rajaji served under the same Nehru as minister without portfolio and, after Sardar Patel's death, as home minister. In 1952 h stepped one rung lower in protocol, becoming chief minister of Madras.

As Rajaji was governor of West Bengal before becoming governor-general it would not be the first time that a man moved from Kolkata to Rashtrapati Bhavan to the Union Cabinet.

Which begs the question, does Pranab Mukherjee want to be 'PM' by office, not just by initials?

The very prospect, with memories of the Narasimha Rao years scarred into their memories, scares the Nehru-Gandhis. Congressmen are drawn to power, and a Prime Minister Pranab Mukherjee would exercise power more capably than a Prime Minister Manmohan Singh.

And this fear led to the drama in the Press Club of India on September 27.

Consider the sequence of events before Rahul Gandhi's dramatic burst.

On Saturday, September 21, the Congress 'Core Group' approved the decision to have an ordinance nullifying the Supreme Court's July 10 ruling disqualifying sitting legislators if they were convicted for certain offenses.

Rahul Gandhi had nothing to say.

On Tuesday, September 24, the Union Cabinet sent the ordinance to Rashtrapati Bhavan.

Rahul Gandhi had nothing to say.

Sushma Swaraj, Leader of the Opposition in the Lok Sabha, reacted the very day. She wrote on Twitter: 'Union Cabinet has approved Ordinance on convicted MPs. We are opposed to this. We request the President not to sign this Ordinance.'

Twitter feeds, unlike leaked government 'aides-memoire' cannot be falsified, and each tweet bears a time-stamp.

The next day, Wednesday, September 25, the tweet feed from @SushmaSwarajbjp read: 'We are meeting Rashtrapatiji tomorrow the 26th September at 5.30 pm against Ordinance for convicted MPs.'

On Thursday, September 26, L K Advani, Sushma Swaraj and Arun Jaitley met Pranab Mukherjee (who had just returned from a three-day trip of Karnataka, Tamil Nadu, and Puducherry.)

The President then asked Union Law Minister Kapil Sibal and Union Parliamentary Affairs Minister Kamal Nath to come over. The Congress leaders left with the clear understanding that the President would not sign the ordinance.

On the afternoon of Friday, September 27, Congress spokesman Ajay Maken was at the Press Club. It would then have been four o'clock in the morning in the United States, which is where Dr Manmohan Singh was at the time.

Rahul Gandhi burst in to denounce the proposed ordinance as 'complete nonsense' that should be 'torn up'.

Some of you may have heard of the Bharani festival held in Kodungallur in Kerala. One particular tradition has a single chorus leader hurling abuse at the rulers of the day. His followers say nothing except repeat 'That is true! That is true!'

Once Rahul Gandhi described a Cabinet and Congress Core Group decision as 'nonsense,' the rest of his party would only chant 'That is true! That is true! That is true!'

Poor Manmohan Singh had been insulted literally hours before he was to meet Barack Obama and Nawaz Sharif. But the Nehru-Gandhis had obtained their objective -- which was to prevent Pranab Mukherjee from walking away with the laurels.

But our President is too experienced to be taken aback at such manoeuvres. He saw that Dr Manmohan Singh had been criticised for meeting the prime minister of Pakistan at a time when the Pakistan army was sending infiltrators along the Keran sector in Jammu & Kashmir.

'Non-State actors are not coming from Heaven,' the President said on October 4, speaking directly to Pakistan and using its preferred term for terrorists, adding, 'They are coming from territory under your (Pakistani) control.'

Having burnished his nationalist credentials, the President took on the issue of corruption. He quashed a chargesheet filed by the Congress government in Haryana against the Indian Forest Service's Sanjeev Chaturvedi. The allegations were reportedly 'unsustainable', and the enquiry 'deserves to be revoked.'

This is not the first time that Sanjeev Chaturvedi has fallen afoul of the Bhupinder Singh Hooda ministry; an earlier chargesheet against him was quashed by President Pratibha Patil in 2011. However the amount of publicity this time around is quite surprising.

Is President Mukherjee polishing his resume with a thought of making a bid for prime ministership? Or is he just annoyed by the Nehru-Gandhi family's suspicions in general and Rahul Gandhi's boorishness specifically?

'Vaagarthaav iva samprktau vaagarthapratipattaye,' starts Kalidasa's Raghuvamsam, 'Jagatah pitarau vande paarvatiparameshvarau.' ('To join proper meaning to my words I pray to the parents of the world, Parvati-Parameshwara, who are united as the meaning is to the word'.]

Did Rahul Gandhi actually realise the meaning of 'nonsense' and 'tear it up and throw it away' when he blurted them out? Or did he have to wait for the 'Mother of the Congress' to teach him? Can he truly be so callow?

The episode has done more than expose the sycophancy of the Congress 'Bharani' chorus, that can only sing 'That is true! That is True!' when a Nehru-Gandhi speaks. It has done more than expose Rahul Gandhi's arrogance and clumsiness. It has also exposed the Congress's First Family's insecurity about Pranab Mukherjee's intentions.

Tailpiece: Andhra Pradesh is burning by day and plunged into darkness by night. What will be the President's opinion when the Cabinet note on dividing the state reaches him?
Image: President Pranab Mukherjee after his swearing-in at Rashtrapati Bhavan in July 2012. Photograph: Adnan Abidi/Reuters