China's white paper on Asia-Pacific security cooperation extends an olive branch to India.
It mentions India 15 times -- a record in all Chinese white papers issued so far.
New Delhi's response will need to be carefully calibrated, says China expert Srikanth Kondapalli.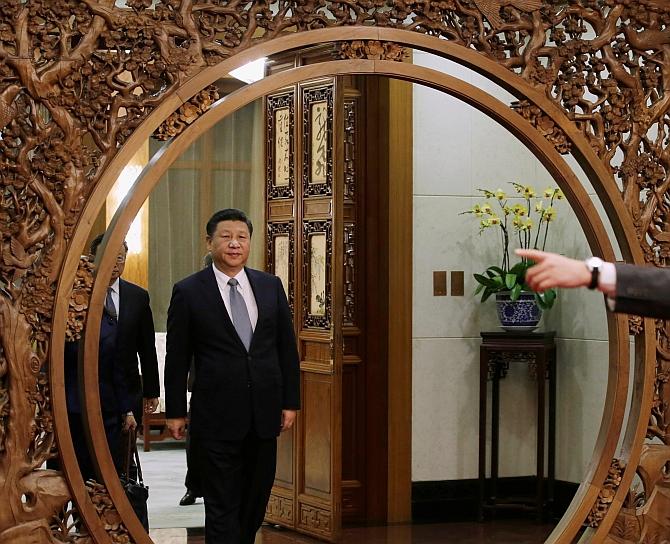 In the light of the expected overhaul in the international and regional systems with Donald Trump taking the reins of the United States, China attempted to take the initiative with a white paper on January 11 on a cooperative mechanism for the Asia-Pacific region.
China's consideration is that if a new G-2 (Group Two comprising the US and Russia) is in the making with Trump warming up to Moscow, Beijing will have to play second fiddle -- a strategic demotion considering its 2nd largest economy status in the world.
Losing no time, Beijing's mandarins quickly dusted off the two decades-old policy of qiutong zhuyi (seeking common ground) practiced under President Jiang Zemin in the 1990s and revived the policy to brace for the strategic uncertainties after Trump takes charge.
The latest white paper is intended to showcase China's charm offensive and consolidate its position among the 50-odd Asia-Pacific countries, many of whom were attracted to the Chinese flagship project of One Belt One Road.
However, although China made some progress on the One Belt One Road project, the domestic uncertainties of 'new normal' declining economic growth rates, excess capacities build-up, mounting debt to GDP ratio, stock meltdown, rising unemployment and flight of capital were coupled with set-backs on the July 2016 South China Sea ruling and global and regional challenges from the US and Japan.
The white paper argued that 'rule-setting' will be crucial for China in its rise in the international and regional orders, although Beijing knows that this could hardly be achieved in an increasingly adversarial setting under a Trump-led US or an Abe-led Japan.
China criticised both these countries in the white paper. This comes in the backdrop of President Trump's receiving of a phone call from Taiwan President Tsai Ing-wen and increasing military build-up around the Senkaku Islands and South China Sea.
Predictably, China extended an olive branch to India by suggesting building a 'closer partnership.'
The white paper mentioned India 15 times -- a record in all the white papers issued by China so far.
Moreover, in an unprecedented move, while India's position in the previous papers was relegated to the background, the current white paper brings India upfront after mentioning relations with the US and Russia.
China's Ambassador Luo Zhaohui surprised his Indian audience with the offer of a 'friendship and cooperation treaty,' in addition to a free trade agreement.
These are new signals that New Delhi carefully needs to study.
The last couple of years, relations between the two Asian giants deteriorated with China's active push through disputed Kashmir through its economic corridor investments, double standards of shielding terror accused Masood Azhar and others through technical holds at the 1267 committee of the United Nations, blocking India's membership at the Nuclear Supplies Group, selling advanced submarines and other conventional and strategic platforms to Pakistan.
New Delhi also noticed with concern China's inroads into Nepal and Sri Lanka.
India as well raised the pitch by signing the logistics maintenance agreement with the US -- with implications for the South China Sea, the Indian Ocean and Arunachal Pradesh, allowed then US ambassador Richard Verma and the Karmapa Lama to visit Arunachal Pradesh, holding an informal meeting between the Dalai Lama and the Indian President for the first time after 1957 and the like.
In the background of the bilateral spat, New Delhi has to evaluate its global and regional prospects in the background of the new situation and need to make a mid-course correction to its policies.
Firstly, India needs to make sure whether Beijing's current signalling constitutes a long-term policy of re-adjustment or a passing tactical overture to mainly 'bide for time.'
Reminded of the border skirmishes of 1962 that were preceded by Hindi Chini bhai bhai, Indian responses now have to be carefully calibrated.
Secondly, in the background of many unresolved bilateral issues with Beijing -- such as the territorial dispute, increasing trade deficit, lack of any major progress in investment profile, contributing to the aggravating of tensions in South Asia and the Indian Ocean -- New Delhi should send firm signalling commensurate to the concrete progress achieved on the above issues.
Thirdly, while accommodating to basic modes and norms of interactions with Beijing, India needs to draw up lines and insist on adherence to One India compliance.
Hitherto fore, Indian diplomacy had been reluctant to exercise the basic tenets of diplomatic reciprocity, succumbing to China's psychological war on asymmetry in power relations.
India's increasing niche areas and current global strategic reordering should be taken as opportunities by India.
IMAGE: China's President Xi Jinping at the Diaoyutai state guesthouse, Beijing. Photograph: Jason Lee/Reuters
Srikanth Kondapalli is Professor in Chinese Studies, Jawaharlal Nehru University, New Delhi.