'There is no parallel in UN history of an individual terrorist being bailed out by a world power,' points out Brigadier S K Chatterji (retd).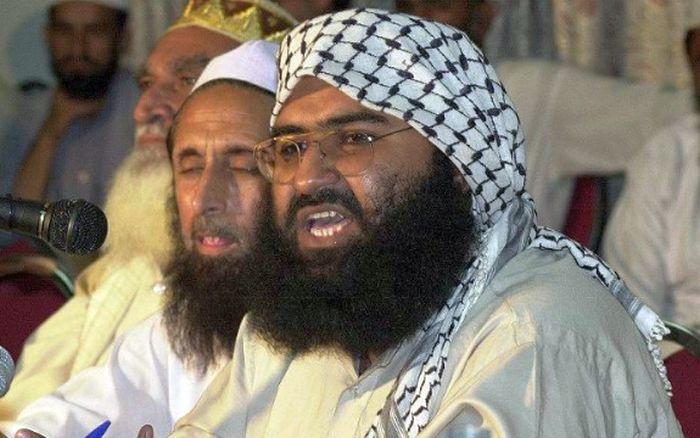 The Chinese have done it again.
The proposal to designate Masood Azhar as a terrorist by the United Nations has been torpedoed by the Chinese.
India's proposal cannot apparently resurface again at the UN, at least not too soon.
Perhaps, there is no parallel in UN history of an individual terrorist being bailed out by an assertive and rising world power.
With 14 members of the Security Council ready to designate Azhar a terrorist, China displayed anything but a commitment to combating global terror.
It is important to provide a brief bio of Masood Azhar the terrorist to put things in perspective. He was with the Harkat-ul-Ansar initially and took to arms against the Soviets in Afghanistan.
He rose in Harkat's ranks to be their fund-raiser and made multiple trips abroad developing contacts, raising funds, spreading the message of jihad. His contacts in England were involved in training and providing logistical support for the 7/7 London attackers.
In 1994, he traveled to Srinagar where he was arrested. A year later, four foreign tourists were kidnapped by terrorists in Kashmir. The Al Faran terror group took ownership for this heinous act and one of its demands was Azhar's release.
On December 24, 1999 Indian Airlines flight IC-814 flying from Kathmandu to New Delhi was hijacked by terrorists. Protracted negotiations with the terrorists followed, leading to the freeing of three terrorists incarcerated in Indian prisons.
One of them was Masood Azhar who has not looked back thereafter.
The Chinese digging in their heels at the UN Security Council and disallowing designating Azhar as a terrorist is baffling. There are a number of issues that may have influenced the Chinese decision beyond their umbilical relationship with Pakistan.
The India-US relationship being on a growth curve is certainly one of them. India taking a firm stand on the Doklam standoff and the consequent enhancement of India's stature among South East Asian countries is another.
India's definite no to the Chinese Belt and Road Initiative has irritated Beijing no end. The Chinese grip on Sri Lanka is also loosening, with India playing a substantial part in this process.
India and the US are also keen on weaning the Maldives away from China's clasp. The Chinese have been keen to develop the Maldives as an outpost to dominate communication over the sea lanes in the Indian Ocean.
In the BRICS declaration at the end of its ninth summit in September 2017, terrorist groups operating out of Pakistan have been mentioned by name. The groups referred to in the declaration include Jaish-e-Mohammed that Masood Azhar founded on his return to Pakistan after the IC-814 hijack.
The Chinese agreeing to include Jaish-e-Mohammed in the BRICS declaration, but blocking the designation of its founder as a terrorist is puzzling.
As far as Pakistan is concerned, it has been at the receiving end of late. US President Donald J Trump has lashed out at Islamabad in his typical style without mincing words.
With the prospect of further global isolation on the cards, Masood Azhar's designation as a global terrorist is something Pakistan cannot afford at this time.
The Chinese derailing the process at the UN may be assessed at best as a tactical setback for India. However, China's repeatedly stalling Azhar's designation as a terrorist certainly casts a shadow on Beijing's commitment to combating terrorism.
China's close ties with North Korea, an international pariah and a rogue State, and its constant display of affinity with Pakistan, a country known in most world capitals as the epicentre of global jihad, does lower China's image.
India would do well to take up other cases for designation as terrorists by the UN. India and the US are due to confer next month on the methodology for designating terrorists.
Once the parameters are agreed upon, other jihadis based in Pakistan could be targeted. India has issued a list of about 60 terrorists residing in Pakistan that it wants. It won't be much effort to decide on which one or more among them should be its next focus at the UN.
The Chinese may be reticent to repeat the same modus operandi once too often.