Even since the floods happened, hitherto distant persons in our locality have suddenly discovered the neighbourhood spirit, says Ennapadam S Krishnamoorthy.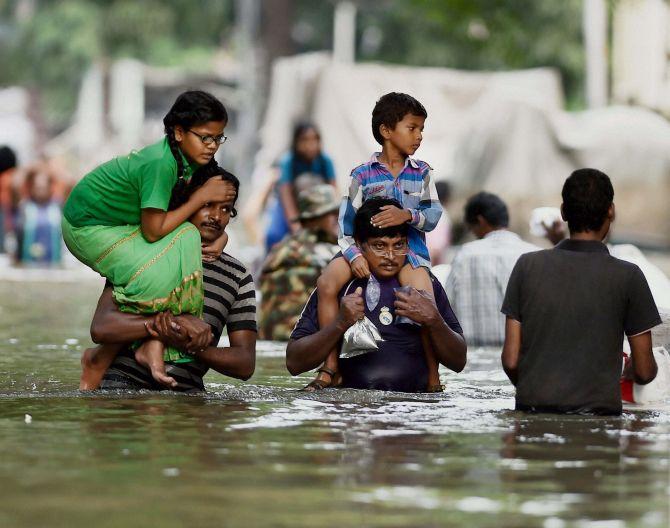 For the denizens of Chennai it has been a crazy week. A never-before cloud burst on November 30 brought the city, already reeling under unprecedented showers, to its knees.
A gargantuan gridlock on the roads resulted in 15-minute journeys lasting for three-four hours -- many returning home from work well past midnight, many others choosing to sleep over at work rather than brave the journey home.
The rains continued with ferocity on December 1 and by evening the portents of trouble were there for all to see.
Water was gushing back from the storm water drains rather than emptying into the river, which was swelling by the minute.
From our terrace we had a bird's eye view of the flooding in our low-lying area, Srinagar Colony, right beside the Adyar river.
As the water levels continued to rise through the day, apprehension in our heart became anxiety and later agitation.
We stocked up for the long haul, visiting the local supermarket and acquiring a range of supplies.
By afternoon that day, water had entered our garden (about three feet over the road level) and by evening it had risen knee-deep in our home.
With electricity having been cut off the previous evening, we had been running on the generator, intermittently used, and now we had to shut it off as well after the water engulfed it.
Marooned, like an island, we could only look at the rising tide beneath our feet and pray that it would not engulf our home.
Opposite our home, our neighbours fared much worse. Their older apartment block with an inhabited ground floor was submerged. Like us, they had no power.
Our other neighbour, who had made it to India's rich list just a few years earlier, was no exception. His ground floor inundated, he too was left standing on his first floor balcony, exchanging pleasantries. The floods had become the great equaliser.
Neighbourhood Spirit
Hitherto distant persons in our locality have suddenly discovered the neighbourhood spirit.
Our Japanese neighbour, head of a large multinational, known to be both reserved and finicky about cleanliness, waded through dirty neck-deep water, and proceeded to offer his assistance to others in the locality.
Most importantly, he produced a supply of drinking water for the construction workers next door.
A French family in our building emptied its freezer for the benefit of those with little or no food available.
Our driver and his extended family lost their home and valuables in the river water. They moved into our building, first on the ground floor and when that got inundated, onto a room in the terrace.
We were apprehensive that other inhabitants of the building would object. Instead, people stepped out with milk, bread, eggs and food in an effort to help.
As night fell and we found ourselves living in candlelight, our spirit of togetherness increased further.
We found ourselves chatting with people whom we would pass on the stairs each day with just a polite hello.
Communal dinners and board games enhanced the convivial spirit of the neighbourhood.
The great leveler

With daybreak the National Disaster Response Force teams and groups of volunteers became visible and boats started plying.
Large swathes of people living closer to the river needed rescuing and one could see the amazing job that was being done by all including boatmen recruited from near and far.
From the clothes they wore and the possessions they carried, it was clear that those being rescued represented the spectrum of society -- both rich and poor, techies and manual labourers, young and old.
Here, too, as they passed us on their boats the mood while sombre was that of an enduring spirit.
In the circumstances, people were as cheerful as one could expect.
As the water started to recede, other preoccupations took hold. Helping one another start hitherto water-logged cars, keeping car engines on to charge each others cell phones, exchanging news and bread (literally and symbolically), enquiring about each other's welfare and that of other near and dear, the neighbourhood has demonstrated great spirit.
While the worst seems to be getting over, things are far from normal in the city we love.
Many areas look like war zones and the poor who have lost everything continue to look for water, food and a roof over their heads.
Supplies are scanty, flood waters have not receded in many areas, power has not been restored in several neighbourhoods and the threat of more rain remains omnipresent.
Nevertheless, there is sunshine amidst the floods; the uniquely Indian never-say-die spirit of humanity and its ability to take the rough and the smooth with equanimity.
Curiously, rather than be despondent, I feel inspired and filled with hope. Jai Hind!
The writer is a Chennai-based neuropsychiatrist and entrepreneur. This post appeared first on his LinkedIn profile and is reproduced with his kind permission.