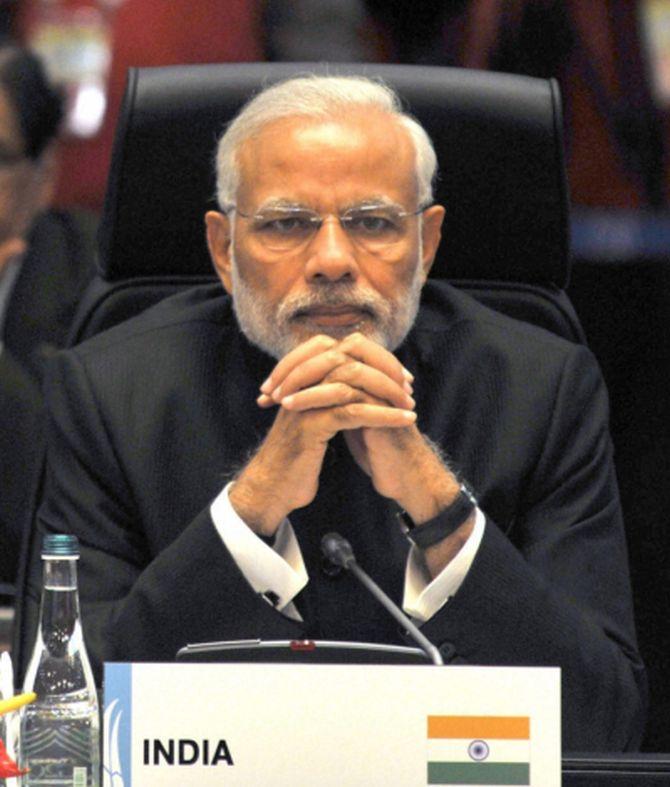 After the Bihar setback, these are the issues the PM must address to maintain the people's faith in him.
Although it is silly to extrapolate the future of a government from the results of one state election, especially since Prime Minister Narendra Modi faced a united opposition and two very strong leaders in Bihar, which is unlikely to happen everywhere. But Bihar has put the spotlight on many issues that can hobble this government.
Businessmen and investors have tended to ignore these issues so far. There are many earnest suggestions on what Modi should do now. Some are optimistically looking forward to many changes in the three years before Modi hits the general election trail again in 2019.
But, unfortunately, no one has a clear idea about how Modi's government wants to transform India.
So far, the government actions can be summed up as following: One, a strategy of impressing global leaders and the Indian diaspora, possibly to attract more investment. Two, ambitious new schemes like Swachh Bharat, Digital India, etc. Three, reshaping the previous government's many social schemes with different branding and marketing such as Jan Dhan Yojana. It is worth pondering that if Jan Dhan and the insurance schemes were indeed as successful and life-changing as claimed by the government, why they were not a big talking point during the Bihar elections.
Moreover, public sector companies continue to guzzle money. Bad loans are rising in banks but no one seems to be accountable as yet. There are clear indications that Modi also wants to continue to run a 'tax-and-spend' government. 'Taxtortion' continues as before, although there is talk about better grievance redress. The red tape that hobbles businessmen from expanding and creating jobs has barely loosened, despite Modi promising more and more jobs to the youth every now and then.
On the positive side, Modi has controlled corruption in his government and ensured that there are no major scams. However, this government has also not gone after the perpetrators of scams under the previous regime, despite its fiery pre-election rhetoric.
So what we have, so far, is the launch of many schemes, no scams and status quo on most fronts, barring the work of a couple of hard-working ministers.
Given this situation, the Bihar results have triggered fresh challenges for Modi. Here are a few issues that may trouble the government over its remaining term.
Regional parties and a united opposition
In 2017-19, four Bharatiya Janata Party-controlled states go to polls, as well as the states where the party is no force at all -- Kerala, Tamil Nadu and West Bengal. The party hopes to win Assam where it has imported the controversial politician Himanta Biswa Sarma from the Congress. There are considerable chances of the BJP emerging victorious in Uttar Pradesh if it faces a multi-cornered fight and not a combined opposition.
But there are issues brewing in the important state of Maharashtra. Sources say that the Shiv Sena, which has been smarting since the assembly elections of last year and constantly sniping at Modi, is demanding a larger pound of flesh. It is asking for three key portfolios -- home, irrigation and housing development.
Is there a reason to assume that the BJP is certain to hold power in the states it is now ruling, including securing absolute majorities in Gujarat and Rajasthan again? If not, what would be the implications? What if the opposition actually cobbles together a grand alliance against Modi in the run up to 2019?
One may advise the opposition to work together in the national interest, but they have neither the obligation nor the incentive to do so. Most likely, the entire opposition and some in the BJP are deeply jealous of Modi's rise to the top. Their moves are as much personal as political.
It would be really surprising if anything much gets done in the winter session of Parliament and in its future sessions unless something unforeseen and dramatic happens.
The economic front
Government finances are not in great shape. The fiscal deficit has been kept in check by a huge fall in oil prices over the past year and quiet tax hikes, not by cutting down unproductive government expenditure. Foreign institutional investors have not shown much interest in India and the rupee continues to weaken.
Have businessmen and investors taken into account all these and many other hurdles faced by the government when they look into the future? What the people of any country want is better infrastructure, fairer law enforcement, a better quality of life, etc -- and all at stable prices. Good intentions alone cannot deliver these. In fact, the government has shown that it could not even control spiraling dal prices.
The enormous expectations of voters
If Modi does not deliver on his promises by 2019, his dramatic 2014 demand of 'hisaab do' made to the United Progressive Alliance government may come back to haunt him. Many may argue that Modi, like all other politicians, should not be held to his many pre-election promises. He probably has his compulsions and his priorities, and deep structural changes take time in a democracy. But he does not have the compulsions of a weak coalition government.
Changing the system so as to give more freedom to people, allow meritocracy to flourish at all levels and enforce the rule of law without discrimination is a very long drawn process. Unfortunately, we are yet to embark on this tough journey; what is worse, there seems no sense of urgency to do so. This is the reality. We need to accept this reality and take decisions accordingly, keeping an open mind about the future.
It may be prudent to assume that nothing extraordinary is likely to happen in the next three years. Businessmen and investors are a naturally optimistic bunch. Optimism is essential to risk-taking. Optimism about the country is a noble sentiment. But misplaced optimism will lead to misjudgement and disappointment.
Image: Prime Minister Narendra Modi at the G-20 Summit working session on inclusive growth in Antalya, Turkey, on Sunday. Photograph: PTI Photo.