Association of caste with the way people have tended to vote in Bihar has somewhat weakened, says Mayank Mishra.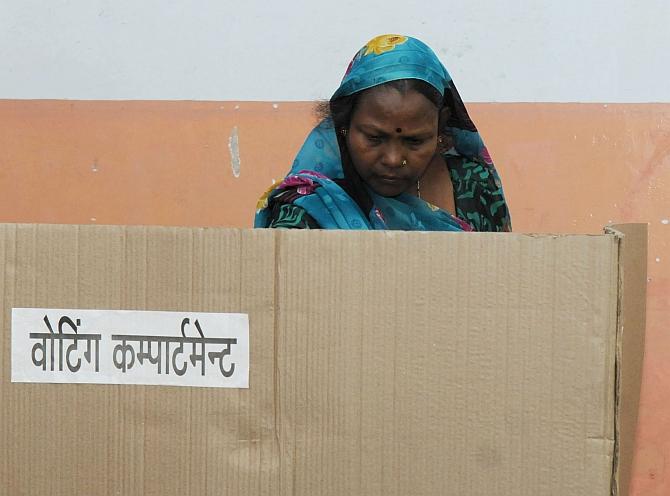 Sahdev Rai, popularly known as Mukhiyaji in his Musepur village, used to be an ardent supporter of Rashtraiya Janata Dal till recently.
His village, located near the northern gate of air force station in Bihta, one of the many Yadav-dominated villages in Patna district's Maner assembly constituency, has overwhelmingly voted for Lalu Prasad's RJD in most elections.
But Rai, also a former pradhan of his village, is looking for other options now.
"It is a fact that Lalu has promoted no one but his family members. He has not allowed any other Yadav leader to grow. We have voted for him because he happens to be a Yadav leader. But it must stop now," Rai, himself a member of the community, told this reporter.
Scores of other villagers, many of them in their 20s and 30s, sitting nearby nodded in agreement.
The Yadav-dominated Maner assembly seat has been a RJD stronghold for more than two decades.
Locals here say that Yadavs' disenchantment with Lalu began a few years ago.
In fact, in the 2014 Lok Sabha elections, a sizeable section of them may have voted for the Bharatiya Janata Party.
Lalu's daughter Misa Bharti, who contested the Patliputra Lok Sabha constituency as an RJD candidate, did manage to take a lead in the assembly segment, but with a very slender margin.
In the neighbouring assembly segment of Danapur, also a Yadav-dominated constituency, Misa trailed by over 24,000 votes.
Sahdev Rai and the other villagers are of the view that the idea of voting for a party -- just because it is seen to be protector of a particular caste -- is long gone.
A young associate of Rai puts across his point as thus: "Henceforth, we will vote for candidates, not their caste or the party they belong to."
At least a dozen other villagers nodded in agreement. They, however, concede that a large section of their fellow caste men may still go with the RJD. But Lalu must not take their votes for granted, they caution.
The outcome of the 2014 Lok Sabha elections gave ample evidence of the new trend.
Of the 243 assembly constituencies in the state, as many as 72 seats are estimated to have a considerable Yadav influence.
Muslims, the other social group to have supported Lalu Prasad, have a sizeable presence in 42 assembly seats.
But Lalu's RJD could take the lead in just 32 assembly segments.
The rethink of association of caste with politics is not confined to one social group.
The mood was no different in the Bhumihar-dominated Amraha, a village situated close to the soon-to-be-inaugurated Indian Institute of Technology campus in Patna district.
Bhumihars are supposed to be at the core of BJP's support base in the state.
But the sense one gets after talking to the people in the village is that the party may not get unconditional support of this influential social group.
"The fact that the BJP government at the Centre has done almost nothing for farmers may go against the party. And the kind of leaders who are getting associated with the party may not go down well with the people in this village," says Ravindra Sharma, fresh from his afternoon nap.
He and other villagers refer to the alliance between the BJP and former Bihar Chief Minister Jitan Ram Manjhi's party.
Locals here say that the people of Manjhi's caste have had confrontational relations with the Bhumihars in this area.
With Manjhi being promoted by the BJP, other members of the caste he belongs to may feel empowered, aggravating the already tense social relations in the area, they argue.
People belonging to the same social group in other villages like Naubatpur, Bhadsara and Milki in Bikram block of Patna district expressed similar opinion.
"The BJP is working on the theory that since Yadavs and Bhumihars cannot vote for the same party, the latter will have no option but to vote for the saffron party. I do not think the idea will work long enough," says an influential voice in Amraha village.
He did not wish to be named as he has close relations with a political party.
Elsewhere at a school building in Mubarakpur village of Nalanda district, nearly 30 farmers are discussing the ways and means to cope with a deficient monsoon.
There is an extended pause the moment the discussion shifts to politics.
A villager says in a feeble voice: "We all are Nitish Kumar supporters."
This Kurmi-dominated village is not very far away from Nitish Kumar's village of Kalyan Bigha in Nalanda district.
Probed further, a villager lets his frustration known.
"In the name of Nitish Kumar, we have been voting for any candidate his party fields from this constituency for the last 30 years. But there is a limit to what we can do. Local representatives just do not care for us," says Triveni Kumar.
These clearly indicate that the association of caste with the way people have tended to vote thus far in Bihar has somewhat weakened.
The fact that people of three influential caste groups of Bihar -- Yadavs, Bhumihars and Kurmis -- who have dominated politics in the last few years are rethinking their electoral strategy seems to suggests that the role of caste in politics has diminished somewhat.
"Because of strong socialist and communist movement in the state, caste was not a dominant factor in politics till the late 80s. No wonder, leaders like Acharya Kriplani, Ashok Mehta, Madhu Limaye and George Fernandes successfully contested elections here despite being outsiders," argues Shaibal Gupta of Patna-based Asian Development Research Institute.
Analysts point out that almost a decade of high economic growth has given rise to the emergence of small but influential group of middle class, who tend to view elections not through the prism of caste.
They have now begun to focus on development outcomes.
"The process was visible in the 2010 assembly elections. The BJP would not have got the kind of mandate it did in the 2014 Lok Sabha elections if members from different castes had not voted for the party. The fact that people from different castes, sometimes with seemingly conflicting interests, have tended to vote together shows that the hold of caste has somewhat reduced," observes a senior Patna-based journalist, who works for a leading national news channel.
No wonder, even proponents of social justice like Lalu Prasad have begun to seek votes in the name of "development with social justice".