The Indo-Japanese nuclear deal may not come easy considering India's Civil Nuclear Liability Act provisions which had earlier put off suppliers like General Electric, says Debalina Ghoshal.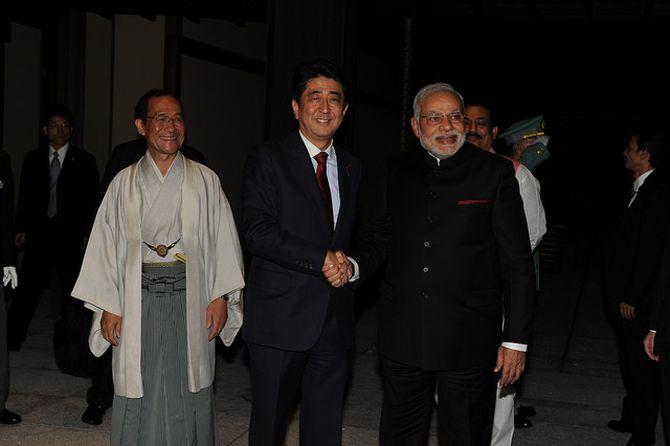 Japan's Prime Minister Shinzo Abe's visit to India is scheduled from December 11-13, 2015. Ahead of this visit, there have been apprehensions of whether a nuclear deal between Japan and India would be struck this time. As Japan and India seek to strengthen their bilateral ties, the issue of nuclear cooperation would be a dominating agenda for Prime Minister Narendra Modi.
The Indo-Japan Civil Nuclear Deal has progressed at a snail's pace so far. This lackadaisical approach on the progress of the nuclear deal is due to India's refusal to sign the Nuclear Non Proliferation Treaty. Japan, an NPT member and a victim of nuclear catastrophe in 1945, has been critical of India not signing the NPT. As recently as December 2015, Yoshihide Suga, Japan's chief cabinet secretary stated (external link), 'India has not signed the NPT and the government is aware of various arguments concerning nuclear cooperation with India.'[1] Also, following the Fukushima crisis, the nuclear cooperation negotiations between India and Japan had slowed down.
However, there has been some progress on the approach to the nuclear deal by both India and Japan since September 2014. During Modi's visit to Japan in 2014, both Modi and Abe issued a joint statement which affirmed 'the importance of civil nuclear cooperation' under the Agreement for Cooperation in the Peaceful Uses of Nuclear Energy. Modi was also quoted stating that the understanding between Japan and India on civil nuclear cooperation had also 'improved' (external link).

For India, a nuclear deal with Japan opens another avenue to avail of advanced nuclear technology. In the recent past, India has struck nuclear cooperation deals with countries like Canada, Australia, the United Kingdom, France, the US, Russia, Mongolia, Kazakhstan, South Korea and Argentina. India has also discussed the possibilities of nuclear cooperation with China. As India seeks to acquire clean energy and acquire a nuclear generation capacity of 63 gigawatts by 2032 (external link), whereby it aims to supply nine pc of its energy needs through nuclear energy by 2032, nuclear cooperation (external link) with countries with advanced nuclear technology would be a priority.
According to Sekhar Basu, secretary at the department of atomic energy, 'A deal with Japan would strengthen ties to US reactor suppliers Westinghouse Electric Co, controlled by Toshiba Corp, and General Electric Co, which has a venture with Hitachi Ltd. It will also help India access cheaper financing and specialised steel from Japan used for nuclear projects.'
Japan Steel Works which dominates the nuclear forging business can 'fabricate large single piece pressure vessels" for India's nuclear reactors only if a nuclear deal is signed between the two. India may also not be able to lay its hands on some advanced nuclear technology from the US and other countries which have received these technologies from Japan unless there is a nuclear deal between India and Japan.
Japan too gains from a nuclear cooperation with India. Japan's nuclear industry has undergone a slow growth following the Fukushima disaster. In sum, Japan's economic growth has suffered due to the shutdown of nuclear power plants following the disaster. An energy hungry India is a big market for Japan. Japan has supported India's bid for the Missile Technology Control Regime membership while also seeking to enhance their defence cooperation with New Delhi.
Both India and Japan are to make nuclear safety and nuclear non-proliferation as crucial agendas to strengthen nuclear cooperation. India has affirmed its commitment to not diversify the nuclear technologies and materials from Japan for developing weapons of mass destruction (external link). Post Fukushima, nuclear safety has become a prior concern for countries subscribing to nuclear energy.
However, the nuclear deal may not come easy considering India's Civil Nuclear Liability Act. General Electric has refused to participate in India's civil nuclear programme due to India's liability clause. Therefore, the liability clause could impose some complications on the success of the nuclear deal with Japan.
India had also requested Japan in 2014 to allow the reprocessing of spent fuel, probably for its Fast Breed Reactors. Now reprocessed spent nuclear fuel can have military applications too and hence, could be a hindrance in the progress of the nuclear cooperation between Japan and India since they pose major challenges to Japan's non-proliferation efforts. Though in mid 2015, it was reported that Japan has agreed to allow India to reprocess its spent fuel from Japanese-made reactors.
India is also resisting the clause of stringent inspections of nuclear power plants in India while also resisting the clause of prohibition of any future nuclear weapons test by either of the two countries.
That said, India-China border clashes, China-Pakistan's close nuclear cooperation and Japan's territorial disputes with China in the East China Sea, would also determine the progress of Indo-Japan nuclear deal negotiations. This would make it more favourable for the two countries to strengthen nuclear cooperation.
Secondly, as India fosters nuclear cooperation with South Korea, another country with whom Japan experiences territorial disputes in the East China Sea, strengthening bilateral ties with India, therefore, becomes crucial for Japan.
Image: Prime Minister Narendra Modi being received by Prime Minister Shinzo Abe of Japan at the state Guest House in Kyoto in September 2014. Photograph: MEAPhotogallery/Flickr.
Debalina Ghoshal is a research associate with the Delhi Policy Group.