For the chief minister and Assam alike, the road ahead is full of challenges, notes Aditi Phadnis.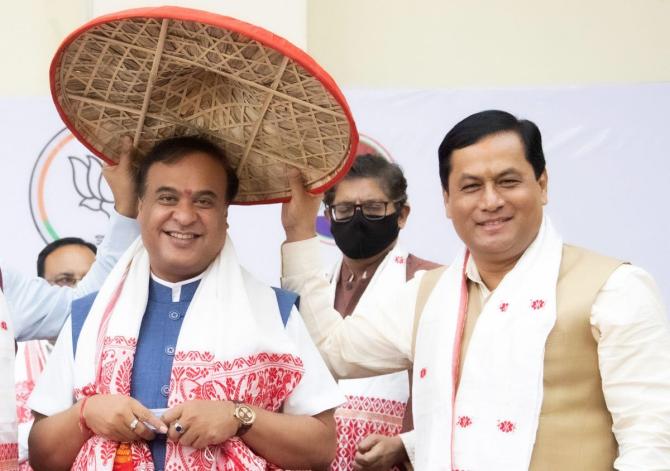 It's happened at last. Himanta Biswa Sarma, once the right-hand man of Congress leader and former Assam chief minister, the late Tarun Gogoi, is now chief minister.
His political journey to the position is an interesting story.
Mr Sarma began his political career in the All Assam Students' Union, but left that organisation in a move that made history when in the 2001 assembly election, he defeated Bhrigu Kumar Phukan from the Asom Gana Parishad.
It was under Mr Phukan's tutelage that Mr Sarma was initiated into politics.
He later joined the Congress and gradually became a pan-Assamese face of the party.
He thrived in the organisation. His relationship with Mr Gogoi could have been that of father and son.
Except that Mr Gogoi had a son who is now MP from Assam.
Still, Mr Sarma hoped his party would recognise his undeniable talent and promote him over family claims.
Mr Gogoi was not a leader to be trifled with: He had taken the Congress to victory for the third consecutive time in 2011 and became chief minister, winning 78 of the 126 seats in the Vidhan Sabha.
But Mr Sarma felt part of the credit was due to him.
In July 2014, Mr Gogoi attacked Mr Sarma by name.
'I used to trust him a lot. Now he wants to become chief minister, no less. I am no longer on good terms with him,' Mr Gogoi said at a public meeting.
Stung into retaliation, Mr Sarma got together enough dissidents to get a meeting of the Congress Legislature Party convened where it was proved pretty much conclusively that he had more followers in the CLP than the chief minister: He claimed support of 52 of the 78 legislators that the party had in the assembly and staked claim to become the CLP leader.
This was soon turned down by then Congress vice-president Rahul Gandhi.
The dissidents let it go and did not stand by Mr Sarma because, rumour has it, Mr Gogoi burst into tears.
Mr Sarma realised he'd hit a brick wall and sent a message to the BJP: Joining the party in August 2015.
It would have happened sooner. But the BJP had only two leaders in Assam who were well known: Kamakhya Tasha and Sarbananda Sonowal.
Then minister Kiren Rijiju and Mr Sonowal held a press conference and highlighted Mr Sarma's role in the Louis Berger bribery scandal days before he was to join the party.
Mr Sonowal made it clear that he considered Mr Sarma a corrupt politician.
The allegations related to Mr Sarma's tenure as Guwahati development department minister between 2006 and 2011 when US firm Louis Berger, indicted by US courts for bribing Indian lawmakers to get the contract to provide water to the city, was at work.
But the files in Guwahati relating to that contract have been 'lost'.
The Enforcement Directorate's eastern region office has registered a complaint under the Prevention of Money Laundering Act against 'unknown individuals'.
No one has ever been arrested in Guwahati. And presumably now, no one ever will.
When Mr Sonowal became chief minister, it was immediately clear it was Mr Sarma who was super CM.
It was to him that then party president and Home Minister Amit Shah turned for all issues relating to the northeast.
Kiren Rijiju lost his privileged position.
Mr Sarma was made finance minister and is credited with ensuring delivery of services, but most importantly, regulating the microfinance sector where Assam has the largest number of delinquencies -- and suicides because of unpaid debts.
Many believe the Assam legislation on microfinance violates RBI rules.
But as it was a clearly political intervention that worked, no one is complaining.
For the chief minister and Assam alike, the road ahead is full of challenges.
What happens to the National Register of Citizens? Will it fall on Mr Sarma to sequester millions of people who have been living in Assam for decades simply because they don't have the papers to prove this?
What will happen to these people?
Will they be kept in camps?
Will they be returned to wherever they came from?
Assam is headed for more religious polarisation.
The most important political development in the 2021 election is not that the BJP returned to power or that the Congress lost significant ground.
It is that the All India United Democratic Front, headed by Lok Sabha MP Badruddin Ajmal, won 16 seats, three more than in 2016.
Having contested just 20 seats of the 126, the AIUDF's strike rate was an impressive 80 per cent.
Obviously, this has implications for the future.
Himanta Biswa Sarma is likely to have his hands full.