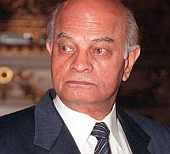 Amidst the glowing tributes for National Security Advisor Brajesh Mishra, who died last week, it must not be forgotten that he was pivotal to bringing about far-reaching but questionable shifts in India's security and foreign policy stances and forging a hard-line national security apparatus, says Praful Bidwai.
Glowing tributes have been lavished on Brajesh Mishra, the former principal secretary to Prime Minister AB Vajpayee and national security adviser who died last week, mourning him as a visionary and statesman. Any death is a human tragedy to be mourned. But amidst the deluge of eulogies about Mishra's 'steely determination', conceptual clarity, and his 'guile' coupled with 'generosity', it must not be forgotten that he was pivotal to bringing about far-reaching but questionable shifts in India's security and foreign policy stances and forging a hard-line national security apparatus.
Mishra was indeed a key figure who wrought a radical right-wing transformation in India's conventional posture of non-alignment, neutrality and peace, reshaped her relations with the great powers, in particular by building a 'strategic partnership' with the United States, effectively abandoned the goal of a nuclear weapons-free world, and pushed India into the global arena of competitive but cynical realpolitik and jockeying for dominance. 
Mishra's clear-headedness, brilliance and decisiveness, all undeniable, endeared him to many people. The media, which loves simple, clear, unambiguous briefings, admired him. But these virtues must be judged against the content of the policy shifts he executed and the merits of pursuing a primarily militarist approach to security threats. He built up a massively armed, but democratically unaccountable, national security structure which could be used as effectively against India's own citizens as against their enemies.
Judged thus, Mishra wasn't a 'modern-day Chanakya', as Prime Minister Manmohan Singh admiringly described him, but a narrowly-focussed and -minded hawk obsessed with military power, who had a strong pro-US bias.
The difference is this: Kautilya's Arthashastra propounds a vision of good and just governance even as it commends pragmatism to deal with day-to-day challenges.
Mishra's approach always lacked such an enlightened vision. It was crude, based on the belief that only single-minded willingness to use force and project power could earn you respect globally and promote the 'national interest'. He never paused to interrogate the problematic notion of the 'national interest', on which more below.
True, Mishra wasn't the only person to influence the reshaping of India's foreign and security policies. PV Narasimha Rao decided in 1991 that the West had won the Cold War, and the US's would be the only game left in a 'unipolar' world. So if that means a shift to reckless 'free market' policies and a pro-US stance, so be it! One only has to read his pseudo-fictional novel, The Insider, to note this and understand why he gave Dr Singh a carte blanche to unleash neo-liberalism.
Similarly, other NSAs, hawkish strategists like K Subrahmaniam and his Institute for Defence Studies and Analyses camp-followers, and foreign ministry officials like JN Dixit (who went on to become the NSA under the United Progressive Alliance government in 2004), also contributed to hardening India's security posture. As did former army chief K Sundarji to some extent.
Dixit, India's foreign secretary in the early 1990s, radically changed the balance in India's atomic policy-making between the nuclear establishment and his own ministry of external affairs, who opposed the doctrine of nuclear deterrence and promoted nuclear disarmament in international forums. This change paved the way for opposing the Comprehensive Test Ban Treaty in 1995-96, and prepared the ground for the embrace of nuclear deterrence in 1998.   
However, it was Mishra, who was pivotal, with Vajpayee and the Rashtriya Swayamsevak Sangh, in taking the final, crucial step of crossing the nuclear threshold within weeks of the Bharatiya Janata Party-dominated National Democratic Alliance coming to power in March 1998. By then, Mishra had already made up his mind that the topmost priority of the new government would be to 'go nuclear' and said so to many journalists off the record. The five Pokharan-II nuclear blasts followed on May 11 and 13.  
The decision to conduct the tests was hidden not only from the Cabinet, but until May 9 from the armed services chiefs, and even from Defence Minister George Fernandes. However, the RSS was privy to it. Former RSS sarsanghchalak KS Sudarshan boasted as much within days, and further revealed that the RSS had asked for nuclear tests even in 1996 when the BJP formed a government, which collapsed within two weeks.
The BJP had declared in its February 1998 election manifesto and in the NDA's 'national agenda for governance' of March that it would 'review India's nuclear policy' and consider inducting nuclear weapons only after conducting a proper assessment of India's strategic environment and security needs. No such assessment was made.
Mishra had no use for such niceties. His mind was made up on an issue on which successive governments beginning with Lal Bahdur Shastri's -- which was asked to respond to the Chinese nuclear tests of 1964 -- had hesitated to take a stand because of the nature of nuclear armaments as weapons of mass destruction and India's long-standing advocacy of their abolition.
Decisive on this Mishra certainly was. But as if for abundant caution, he drafted the infamous May 11 letter from Vajpayee to then US President Bill Clinton, justifying the tests by blaming China and Pakistan. The US treated this with utter contempt and promptly leaked it to The New York Times. The whole world now knew that India had breached its own international pledges and the domestic consensus which favoured maintaining a nuclear capability but not crossing the threshold. This wasn't done for security reasons, but out of a false sense of international 'prestige'.
Exploiting his proximity to Vajpayee, and his powerful dual position as his principal secretary and NSA, Mishra usurped all manner of powers and redefined India's strategic posture and evolved its nuclear doctrine through the National Security Advisory Board headed by fellow-hawk K Subrahmaniam. This further hardened India's nuclear stance by demanding a 'triadic' arsenal, based on land, air and the sea, with no limits on its technological capacities, and a token commitment to no-first-use of nuclear weapons, which was soon diluted.
Yet, for all his legendary Machiavellian shrewdness, Mishra failed to anticipate that Pakistan too would conduct six nuclear tests on May 28 and 30 -- to 'get even' with India's recent five blasts plus the 1974 test. Nor did he estimate the profoundly destabilising regional impact of nuclearisation, which took a menacing form with the Kargil war a year later, when both States readied their nuclear weapons, and taunted and challenged each other to use them. Such scary exchanges were repeated twice during the 10-months-long eyeball-to-eyeball confrontation after the 2001 Parliament attack.
Perhaps equally damaging was Mishra's enunciation of a tough policy towards India's neighbours, regarded as threat sources, and his adoption of a hard-line attitude bordering on Islamophobia towards internal security problems, especially terrorism.
Thus, hundreds of Muslim youths have been detained for long periods on mere suspicion of their terrorist links, and draconian laws like TADA, POTA, Unlawful Activities Act, Armed Forces Special Powers Act and the Public Safety Act have been indiscriminately applied and widely abused.
All this had the effect of removing the making of India's domestic and external security policy from the ambit of parliamentary accountability and concentrating it in the NSA. Yet, so entrenched had Mishra's influence and his methods become that Dr Singh offered him the NSA's job in 2004.
After Mishra refused, out of loyalty to Vajpayee, he was nevertheless frequently consulted both by Dr Singh and NSA Dixit and given India's second-highest civilian honour. The hard-line security template Mishra created has never been changed or even questioned. 
Mishra repaid his debt to Dr Singh by breaking ranks with the BJP on the US-India nuclear deal and supporting it at a critical juncture just before the vote of confidence of July 2008. This revealed not so much Mishra's independence as his long-standing pro-US inclination. In 2003, he was all for sending Indian troops to Iraq to assist the US invasion. He and LK Advani had made such a commitment during a recent US visit. But Mishra couldn't break Vajpayee's reluctance to risk the consequences of such a radical alignment with Washington.
Mishra justified all his actions, including building a strategic alliance with a malign superpower which has badly destabilised the world and added to its insecurities, by citing the national interest and 'realism'. Both these notions must be questioned. The national interest idea must be critiqued in the light of the cardinal truth that States are not neutral but represent certain class and social-group interests, as distinct from the universal interests of citizens.
Realism passively accepts existing power relations, especially military equations, as unchangeable, and fails to understand the crucial role played in history by non-State actors and public perceptions. Realists cannot, for instance, explain why colonialism and apartheid ended despite the enormous power of the rulers.
History has a different story to tell. People like Mishra never listened to it or understood that real security is human security, based on the fulfilment of people's needs and rights.