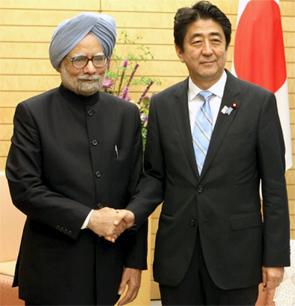 India and Japan have a shared interest in countervailing China's hegemonic ambitions in Asia. Although neither has an interest in forming an overt anti-China alliance, Tokyo and New Delhi feel increasingly obligated to work together to find ways to guard against a muscular Beijing's power sliding into arrogance, says Brahma Chellaney.
The strong new bonds with Japan stand out as one of the few foreign-policy successes in the decade-long tenure of Manmohan Singh, India's weakest prime minister since Independence.
Although Dr Singh has unreservedly promoted closer cooperation with Japan, it is Japanese Prime Minister Shinzo Abe who has been the prime architect of the entente between the two countries.
This partnership holds the potential to shape Asian geopolitics in much the same way as China's rise or America's Asian 'pivot'.
Highlighting the fast-multiplying ties between Asia's second-and third-largest economies, Abe was the guest of honour at India's Republic Day celebrations, just weeks after venerated Japanese Emperor Akihito and Empress Michiko's landmark Indian tour.
Abe's presence at India's Republic Day parade, which included a display of the nuclear-armed country's military might, symbolised the emerging Japan-India strategic alliance.
Abe, an admirer of India, has been investing substantial political capital in forging closer ties on the publicly articulated premise that these relations hold 'the greatest potential of any bilateral relationship anywhere in the world'.
In his 2007 book Toward a Beautiful Country: My Vision for Japan, Abe said it would not surprise him if 'in another decade, Japan-India relations overtake Japan-US and Japan-China ties'.
In fact, it was during Abe's first stint as prime minister in 2006-2007 that Japan and India unveiled their 'strategic and global partnership' -- a significant milestone that set in motion the rapid expansion of bilateral cooperation.
In a 2011 speech in New Delhi, Abe said: 'A strong India is in the best interest of Japan, and a strong Japan is in the best interest of India.'
Today, no other leader of a major power underlines the centrality of building strategic bonds with India as Abe does.
The driving force behind the growing Indo-Japanese collaboration undoubtedly is China's increasing assertiveness in Asia. Through persistent nibbling and other strong-arm tactics, a resurgent China is seeking to disturb the territorial status quo.
While most international attention has focused on Chinese incursions in the South and East China Seas, China has also been active along its long Himalayan border with India and in the waters of the Indian Ocean.
India and Japan have a shared interest in countervailing China's hegemonic ambitions in Asia. Although neither has an interest in forming an overt anti-China alliance, Tokyo and New Delhi feel increasingly obligated to work together to find ways to guard against a muscular Beijing's power sliding into arrogance.
Asia's balance of power will be shaped largely by events in East Asia and the Indian Ocean. By linking these two regions, the Indo-Japanese entente -- underpinned by close maritime cooperation -- can ensure Asian power equilibrium and help safeguard vital sea lanes.
Japan and India, according to the January 25 joint statement, value 'Freedom, democracy and rule of law' and seek to 'contribute jointly to the peace, stability and prosperity of the region and the world, taking into account changes in the strategic environment' -- an allusion to the ascent of a muscular China.
India and Japan, natural allies strategically located on opposite flanks of Asia, are energy-poor countries heavily reliant on oil and gas imports from the Persian Gulf region.
The two maritime democracies are seriously concerned by mercantilist efforts to assert control over energy supplies and the transport routes for them. So, the maintenance of a peaceful and lawful maritime domain, including unimpeded freedom of navigation, is critical to their security and economic well-being.
This is why they are holding joint naval exercises since 2012 -- just one sign of a shift from emphasising shared values to seeking to protect shared interests.
During Abe's visit, India invited Japan to join this year's US-Indian naval maneuvers, known by their Indian name, 'Malabar'.
The Indo-Japanese relationship, remarkably free of any strategic dissonance or bilateral dispute, traces its roots to the introduction of Buddhism in Japan in the sixth century CE. The Todaiji Temple in the ancient capital city of Nara is home to Japan's most famous statute -- a great gilt bronze image of Lord Buddha.
The statue's allegorical eyes-opening ceremony in 752 CE was conducted by a priest from India in the presence of Emperor Shomu, who declared himself a servant of the 'Three Treasures' -- the Buddha, the Buddhist law, and the monastic order. Japan's cultural heritage from India extends to Sanskrit influence on the Japanese language.
The Japanese emperor's tour in early December indeed was a watershed moment in relations with India, traditionally respected in Japan as Tenjiku, or the heavenly country of Buddhism.
Japan boasts the world's oldest continuous hereditary monarchy, the origins of which can be traced to 660 BCE, yet no emperor had previously been to India. Although under Japan's US-imposed post-war constitution, the emperor is merely the 'symbol of the State', any of his rare overseas visits is deeply political.
The fact is that Japan has gone from aiding China's economic rise through technology transfers and generous Official Development Assistance, ODA, to trying to balance China's emergence as a military threat. Japan has emerged as India's critical source of capital and commercial technology.
India overtook China a decade ago as the largest recipient of ODA, which is currently funding more than 60 Indian projects.
Since 2011, Japan has emerged as India's largest source of foreign direct investment from a major industrialised nation.
Indeed, there cannot be a better partner for India's development than the country that was Asia's first modern economic-success story, inspiring other Asian States.
Japan, spearheading Asia's industrial and technology advances since the 19th century, was also the first country in the non-Western world to emerge as a world power in modern history -- a success that opened the path to its imperial conquests.
Today, for a politically rising Japan that is beginning to shed its pacifist blinkers, India is central to both its economic revival and security-building strategies.
Abe's dynamic leadership and control of both Houses of parliament is aiding his moves to return Japan to the right track. 'Abenomics', for example, has succeeded in weakening the yen, making exports more competitive and boosting corporate profits.
As part of his broader strategy of 'proactive pacifism' to create a web of interlocking partnerships with countries in China's periphery, Abe has pushed for close, enduring collaboration with New Delhi.
Dr Singh has supported such collaboration, saying that Indians see 'Japan as a natural and indispensable partner in our quest for stability and peace in the vast' Indo-Pacific region, marked by the confluence of the Indian and Pacific Oceans.
A growing congruence of strategic interests led India and Japan to sign a Joint Declaration on Security Cooperation in 2008, a significant step in building a stable balance of power in Asia.
This joint declaration was modeled on Japan's 2007 defence-cooperation accord with Australia -- the only other country with which Japan, a US military ally, has a security cooperation arrangement. The India-Japan security declaration, in turn, spawned a similar Indian-Australian accord in 2009.
The budding alliance between Japan and India holds the potential to redraw the Asian geopolitical map. Through close collaboration with each other and with other like-minded Asian States, Asia's two main democracies must lead the effort to build freedom, prosperity and stability in Asia.
Dr Brahma Chellaney, a geostrategist, is the author, among others, of Asian Juggernaut (Harper Paperbacks).
Image: Dr Manmohan Singh with Japanese Prime Minister Shinzo Abe. Photograph: Reuters.