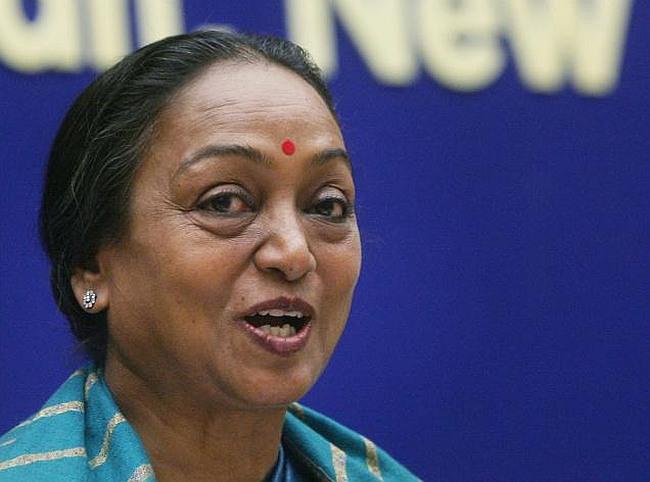 In the first phase of elections in Bihar, voting will happen on April 10 in six Lok Sabha constituencies. These six constituencies are reserved seats of Sasaram, Jamui and Gaya, Karakat, Aurangabad and Nawada.
The contest in Sasaram has become four cornered with Meira Kumar, the Lok Sabha Speaker who is the sitting MP facing K P Ramaiah of the Janata Dal-United and Chhedi Paswan of the Bharatiya Janata Party. Paswan is a former JD-U minister has been elected twice from this very constituency in 1989 and 1991 on a JD-U ticket. He is the sitting MLA from Mohania assembly constituency.
Tetara Devi of CPI-ML Liberation is also contesting but her performance in 2010 assembly elections for Mohania was quite poor when JD-U, RJD, Congress and BSP had performed better and as JD-U candidate Chhedi Paswan had won. The BJP had no presence in this assembly constituency.
In the current Lok Sabha elections, BSP and RJD have not fielded candidates and Chhedi Paswan, JD-U MLA of Mohania has become a BJP candidate. RJD is in explicit alliance with the Congress and the BSP is in implicit alliance with the Congress candidate.
This election in Sasaram is likely to be a verdict on issue of incomplete Karamchat dam or the Durgavati reservoir project whose foundation stone was laid in 1976 by Jagjivan Ram, the then Union minister of the Indian National Congress. This project exposes Congress party's claims to the core.
Besides this there is a possibility that Medhavi Kirti, the granddaughter of Jagjivan Ram who is opposed to Meira Kumar and who attempted to contest on BSP and Indian National Congress (Jagjivan) ticket might play some role that can spoil the chances of Meira Kumar for good.
Sasaram Lok Sabha constituency has six legislative assembly constituencies which are Mohania, Bhabua, Chainpur, Chenari, Sasaram and Kargahar.
In Karakat, the contest is between sitting JD-U MP Mahabali Singh, RJD candidate and former Union Minister, Kanti Singh, CPIML-Liberation's Rajaram Singh, a former MLA and Upendra Kushwaha of the Rashtriya Lok Samata Party which is in alliance with BJP. Karakat Lok Sabha constituency comprises six Vidhan Sabha (legislative assembly) segments. These are six assembly constituencies namely Bikramganj, Dehri, Karakat, Goh, Obra and Nabinagar under this Lok Sabha constituency. This constituency came into existence in 2008 on the recommendations of the Delimitation Commission of India. CPI-ML Liberation has won Karakat legislative assembly seat in the past.
In Gaya, the contest is between sitting JD-U MLA and minister, Jitan Manjhi, BJP candidate Hari Manjhi, former BJP MP Ramji Manjhi and Niranjan Kumar of CPI-ML-Liberation. Gaya Lok Sabha constituency has six legislative assembly constituencies namely, Sherghati, Barachatti, Bodh Gaya, Gaya Town, Belaganj and Wazirganj. Except for Gaya town from where Prem Kumar became a MLA, BJP does not much presence in this Lok Sabha constituency.
In Jamui, JD-U's sitting MLA, Uday Narayan Choudhary who is the speaker of Bihar state assembly, faces contest from former MLA, Sudhanshu Bhaskar who is the RJD candidate, Chirag Paswan, the candidate from LJP which is in alliance with BJP and Jaiprakash Das of CPIML-Liberation. This Lok Sabha constituency includes Tarapur, Sheikhpura, Sikandra, Jamui, Jhajha and Chakai assembly constituencies.
This area has been represented by Indian National Congress, Communist Party of India and Janata Dal (United). In 2009, JD-U had won this seat. The presence of LJP or BJP isn't visible.
In Aurangabad, former minister Bagi Kumar Verma is JD-U's candidate who faces tough battle from sitting MP Sushil Kumar Singh who left JD-U and joined the BJP ahead of the elections and Congress candidate, Nikhil Kumar, former governor of Kerala. This constituency has six legislative assembly seats, namely, Kutumba, Aurangabad, Rafiganj, Gurua, Imamganj and Tikari. Nikhil Kumar had won this seat in 2004. This constituency did not have BJP's presence in the past.
In Nawada, electoral battle is between RJD candidate Rajballabh Yadav, a former minister, JDU's Kaushal Yadav and BJP's Giriraj Singh, a former minister. BJP's siiting MP from this constituency, Bhola Singh is contesting from Begusarai. Giriraj Singh wish to contest from Begusarai was not granted. This constituency has six legislative assembly seats namely, Barbigha, Rajauli, Hisua, Nawada, Gobindpur and Warsaliganj. This seat does have significant presence of BJP since 1999. But this seat has been represented by Bharatiya Lok Dal, Indian National Congress, Communist Party of India (Marxist), Rashtriya Janata Dal and BJP besides an independent. It cannot be deemed safe seat for any party.
In terms of electoral fortunes, in all likelihood, the status quo is not going to change in any significant manner. These six seats from Bihar are unlikely to give any clear signal to UPA, NDA or Federal Front.
Image: Meira Kumar is one of the candidates in Sasaram